Hi mystery fans!
---
Sponsored by Hanover Square Press and Guess Who by Chris McGeorge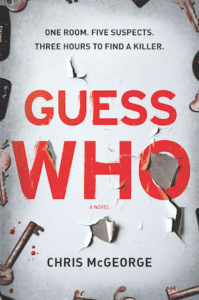 At eleven years old, Morgan Sheppard solved the murder of a teacher when everyone else believed it to be a suicide. The publicity surrounding the case laid the foundations for his reputation as a modern-day Sherlock Holmes. He parlayed that fame into a gig as TV's "Resident Detective," solving more typical mysteries such as "Who is the Father?" and "Is He Cheating?" Until, that is, Sheppard wakes up handcuffed to a bed in a hotel room. Around him, five strangers are slowly waking up as well. Soon, they discover a corpse in the bath. And Sheppard is challenged to put his skills to the test: He has three hours to solve the murder. If he doesn't find the killer, they all die.
---
From Book Riot And Around The Internet
25 Best Suspense Books From 2018
On this episode of Get Booked, Liberty and Jenn get asked for some cozy mysteries!
By the Book: Reese Witherspoon "Well, I should start by saying that I don't get my ideal reading experience ever. I work a lot and I have kids and a husband and about a thousand side hustles. But in theory, it would be alone in a cabin by a lake."
The Literary Life with Mitchell Kaplan podcast: Walter Mosley on his unique childhood, an appreciation of Edwidge Danticat, philosophy and his latest book, John Woman.
Adaptations And News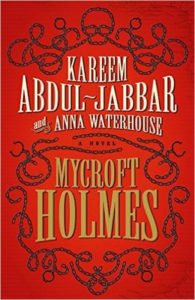 Kareem Abdul Jabbar–who you may know as a basketball legend–will be in the Veronica Mars writing room! If you didn't know, he's been writing Sherlock mystery novels recently.
William Landay's novel Defending Jacob is going to be an eight-episode limited series for Apple. The good news: Chris Evans is starring and producing (I vote for bearded Evans!). The bad news: Apple has bought a bajillion shows so far and has yet to announce how the service will work and it seems there may be issues with wanting no sex and violence in their shows.
We're not getting Idris Elba as bond (Boo!) but we are getting Cary Joji Fukunaga as director (Yay!) for James Bond 25 starring Daniel Craig.
Netflix's Sacred Games, adapted from Vikram Chandra's novel, has been renewed for a second season.
Michael B. Jordan will star as John Clark in new film series based on Tom Clancy novels.
Kindle Deals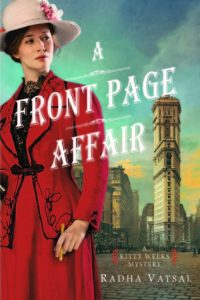 A Front Page Affair (Kitty Weeks Mystery Book 1) by Radha Vatsal is $2.51! (Historical mystery perfect if you're looking for a break from violence against women right now: Review) (And the 2nd in the series was super good: Murder Between The Lines.)
Today in I had no idea: The creator of the TV show Monk along with the author of the Stephanie Plum series started an FBI and con artist series and it's $2.99! The Heist (Fox and O'Hare Series, Book 1) by Janet Evanovich and Lee Goldberg.
Audiobooks On Hoopla! (Hoopla is a fantastic app that many libraries use, which has no holds and everyone is picking from the same catalog regardless of your library.)
Forty Acres by Dwayne Alexander Smith, Andre Blake (Narrator) (For fans of Get Out: Review) (TW rape/ suicide)
Tear Me Apart by J. T. Ellison, Narrators: Eva Kaminsky, Rebekkah Ross, Jacques Roy, Caitlin Davies, Amy McFadden, Pete Simonelli (For fans of domestic thrillers and characters with interesting jobs.) (TW rape/ pedophile/ self-harm/ suicide)
Browse all the books recommended in Unusual Suspects previous newsletters on this shelf. And here's an Unusual Suspects Pinterest board.
Until next time, keep investigating! And in the meantime, come talk books with me on Twitter, Instagram, and Litsy–you can find me under Jamie Canaves.
If a mystery fan forwarded this newsletter to you and you'd like your very own you can sign up here.