Hi Kid Lit friends,
Once again, I have an amazing list of new releases for you today. Some are funny, some are serious, ALL are fun and worth taking a look at. What books catch your eye?
As usual, the book descriptions are from Goodreads, but I'll add a
if I have had a chance to read it and loved it.
---
Sponsored by Vesuvian Books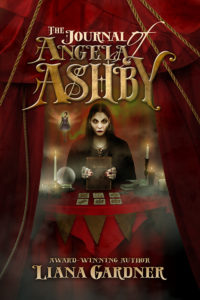 A mysterious fortune-teller at the school carnival gives twelve-year-old Angela Ashby a journal and warns her to use it wisely. Nothing prepares Angela for the journal's power—when she pours her heart onto its pages her desires come true. But the unintended consequences alienate her best friend and puts her favorite teacher in danger of losing her job. After she shares her deepest desire of all—that her parents get back together—her adversary steals the journal, and Angela must find it before the school descends into chaos.
---
Picture Book New Releases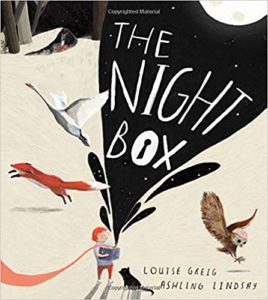 The Night Box by Louise Greig and Ashling Lindsay
When a little boy opens the Night Box, darkness swoops out, a fox uncurls, and a thousand stars sparkle and shine. Night flows freely then, cavorting and exploring, caring for all its creatures until morning comes, and it's time for Night to rest again. With its soothing cadences and air of quiet wonder, The Night Box is sure to charm any sleepy listener who wonders what happens between sunset and sunrise.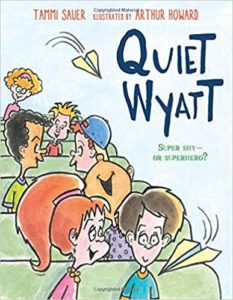 Quiet Wyatt by Tammi Sauer
Wyatt likes quiet. And being quiet works for Wyatt. He's the model visitor at museums, the perfect tree in the school play—and he's the absolute star of his ninja camp. But when Wyatt is paired with noisy Noreen on a class field trip, his quiet world is shattered. She's a know-it-all, and just too loud! So loud, in fact, that she might unintentionally cause some alarming problems . . . Can Wyatt overcome his shyness and speak up in time to save the day?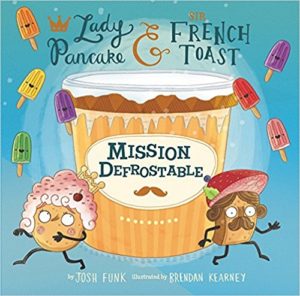 Lady Pancake and French Toast: Mission Defrostable by Josh Funk, illustrated by Brendan Kearney
Brrr! There's a frost in the fridge—and it's hardened Pudding Pond and frozen Yogurt Falls. Agent Asparagus is on the case, and she begs Lady Pancake and Sir French Toast to join her superspy team. But when the enemy snatches Asparagus, Pancake and French Toast have only one dough man to turn to for help: the evil Baron von Waffle! Will he help them save the fridge . . . or are they doomed to become frozen food?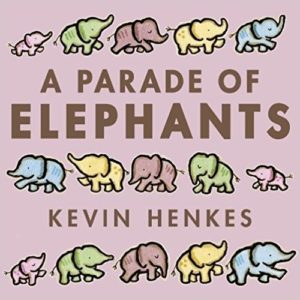 A Parade of Elephants by Kevin Henkes
Up and down, over and under, through and around . . . five big and brightly colored elephants are on a mission in this picture book for young children by Caldecott Medalist Kevin Henkes. Where are they going? What will they do when they get there? It's a surprise!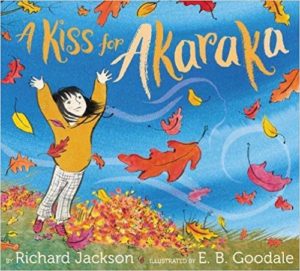 A Kiss for Akaraka by Richard Jackson, illustrated by E.B. Goodale
Richard Jackson's enchanting story about love, family, and the power of the imagination follows Lula and her daddy as they rake leaves together on a crisp autumn day. Can Daddy see Akaraka, Lula's imaginary friend? Perhaps not, but he is willing to try, much to Lula's delight.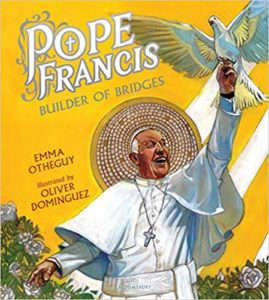 Pope Francis: Builder of Bridges by Emma Otheguy, illustrated by Oliver Dominguez
Jorge Bergoglio was a typical boy growing up in Buenos Aires, Argentina, jumping into pick-up soccer games and listening to lively music on the city streets. His grandma Rosa taught him the importance of doing good and inspired his passion to help others. This passion and years of hard work led him to become a Jesuit priest, a bishop, and then a cardinal.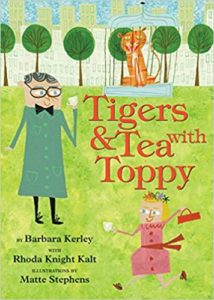 Tigers & Tea with Toppy by Barbara Kerley with Rhoda Knight Kalt, illustrated by Matte Stephens
Rhoda loves spending time with Toppy. He is not only her beloved grandpa, but also the world-famous wildlife artist Charles R. Knight! Every outing with Toppy — from visits to the American Museum of Natural History and the Central Park Zoo to tea parties at The Plaza Hotel — is filled with fun and adventure. Lovers of animals, art, natural history, and New York City will relish this vivacious and winsomely depicted true story. Presented through Rhoda's eyes, it celebrates the enchantment of scientific inquiry, a tender grandparent-grandchild bond, and the vision of a pioneering artist who opened our eyes to the wonders of the ancient world.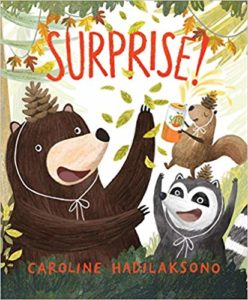 Surprise! by Caroline Hadilaksono
Bear, Squirrel, and Raccoon have been friends a long time. A loooooooong time. So when a family of city folks comes to the neighborhood, the friends think that a surprise welcome party is just the kind of fun they've been looking for. Well, the party turns out to be quite the surprise indeed, but maybe not exactly what Bear, Squirrel, and Raccoon were imagining?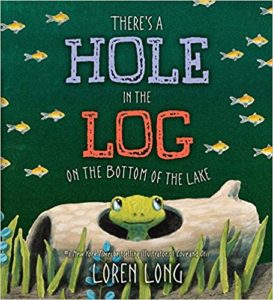 There's a Hole in the Log on the Bottom of the Lake by Loren Long
There's a log on the bottom of the lake
There's a log on the bottom of the lake
There's a log?
There's a log!
There's a log on the bottom of the lake.
But it turns out there's a a whole lot more than just a log on the bottom of this lake!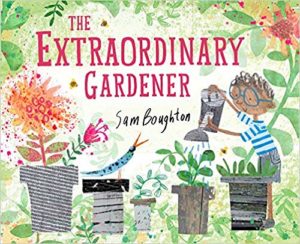 The Extraordinary Gardener by Sam Boughton
Joe is a boy just like any other, but with a bigger imagination. Joe lives in an ordinary apartment building in a rather ordinary city. His world is rather gray. But he spends his time imagining a wonderful, colorful world filled with exotic plants and unusual animals. One day, Joe decides to plant a seed on his balcony. He waits and waits, but nothing happens! Joe gives up and returns to his daily life, but when he least expects it, he sees that the seed has taken root and turned into the most beautiful tree.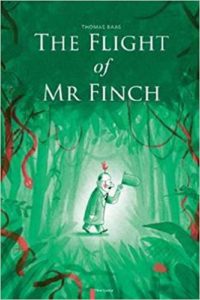 The Flight of Mr. Finch by Thomas Baas
Mr. Finch leads a quiet life with his best friend, a small red bird. Nothing very exciting ever happens to them, and that suits Mr. Finch just fine. Until one day when Mr. Finch's one and only friend disappears! Worried, Mr. Finch heads off in search of the bird, right into the heart of a jungle that has recently invaded the city. Suddenly, Mr. Finch finds himself on an extraordinary journey that teaches him a lot about himself. Will this journey allow the two friends to take flight and finally find true happiness?
Chapter Book New Releases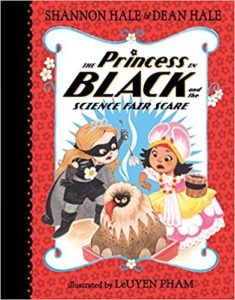 The Princess in Black and the Science Fair Scare by Shannon Hale & Dean Hale, illustrated by LeUyen Pham
Princess Magnolia is excited. Excited and nervous. She's going to the Interkingdom Science Fair today to present her poster about seeds and plants, and when she arrives, she sees that her friends are there too! Princess Honeysuckle made a mole habitat, Princess Sneezewort has built a blanket fort, and Tommy Wigtower has a talking volcano that's saying "EAAAAT!" Wait, what? A surprise goo monster makes this a job for the Princess in Black, and the Princess in Blankets is on the scene to lend a hand. But will two masked heroes be enough to save the science fair?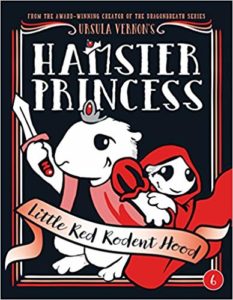 Hamster Princess: Little Red Rodent Hood by Ursula Vernon
Most monsters know better than to mess with Princess Harriet Hamsterbone. She's a fearsome warrior, an accomplished jouster, and is so convincing that she once converted a beastly Ogrecat to vegetarianism. So why would a pack of weasel-wolf monsters come to her for help? Well, there's something downright spooky going on in the forest where they live, and it all centers around a mysterious girl in a red cape. No one knows better than Harriet that little girls aren't always sweet. Luckily there's no problem too big or bad for this princess to solve.
Middle Grade New Releases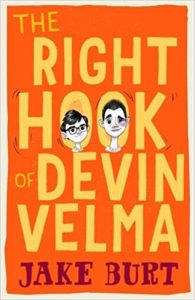 The Right Hook of Devin Velma by Jake Burt
Devin wants to hit it big on the internet by pulling a stunt at an NBA game―one the entire nation will be watching. Addison can't turn Devin down, but he can barely manage talking to his teachers without freezing up. How's he supposed to handle the possibility of being a viral sensation? Addi's not sure why Devin is bent on pulling off this almost-impossible feat. Maybe it has something to do with Devin's dad's hospital bills. Maybe it all goes back to the Double-Barreled Monkey Bar Backflip of Doom. Or maybe it's something else entirely. No matter what, though, it's risky for both of them, and when the big day finally comes, Devin's plan threatens more than just their friendship.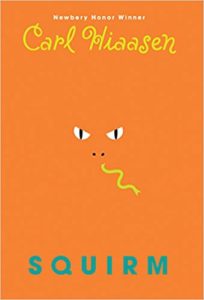 Squirm by Carl Hiaasen
Some facts about Billy Dickens:
* He once saw a biker swerve across the road in order to run over a snake.
* Later, that motorcycle somehow ended up at the bottom of a canal.
* Billy isn't the type to let things go.

Some facts about Billy's family:
* They've lived in six different Florida towns because Billy's mom insists on getting a house near a bald eagle nest.
* Billy's dad left when he was four and is a total mystery.
* Billy has just found his dad's address–in Montana.
This summer, Billy will fly across the country, hike a mountain, float a river, dodge a grizzly bear, shoot down a spy drone, save a neighbor's cat, save an endangered panther, and then try to save his own father.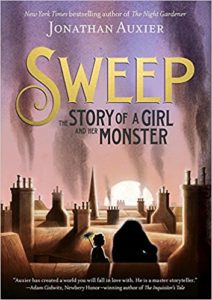 Sweep: The Story of a Girl and Her Monster by Jonathan Auxier
It's been five years since the Sweep disappeared. Orphaned and alone, Nan Sparrow had no other choice but to work for a ruthless chimney sweep named Wilkie Crudd. She spends her days sweeping out chimneys. The job is dangerous and thankless, but with her wits and will, Nan has managed to beat the deadly odds time and time again. When Nan gets stuck in a chimney fire, she fears the end has come. Instead, she wakes to find herself unharmed in an abandoned attic. And she is not alone. Huddled in the corner is a mysterious creature—a golem—made from soot and ash.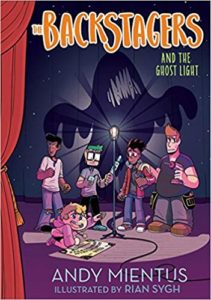 The Backstagers and the Ghost Light by Andy Mientus, illustrated by Rian Sygh
The stage crew at St. Genesius Prep—or Backstagers, as they like to call themselves—are ready for whatever the theater world can throw their way: the madness of tech week, inevitable prop malfunctions, and all the paranormal activity that goes on behind the scenes. Luckily Jory, Hunter, Sasha, Beckett, and Aziz are up for the job! But lately, someone—or something—seems set on ruining their production of Phantasm. It all started when an actor brought a Spirit Board to the cast party, and the ghost light blew out. Every good theater kid knows that a ghost light must be left on to keep ghosts from moving in the shadows of an empty theater. To figure out what's haunting the theater and save the show, the Backstagers will have to use their smarts, bravery, and a little bit of magic!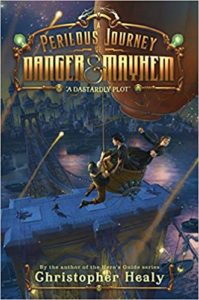 A Perilous Journey of Danger and Mayhem by Christopher Healy
It's 1883—the Age of Invention! A time when great men like Thomas Edison, Alexander Graham Bell, Nicola Tesla, and George Eastman work to turn the country into a land of limitless opportunity. And it all happens at the world famous Inventor's Guild headquarters in New York City—a place where a great idea, a lot of hard work, and a little bit of luck can find you rubbing elbows with these gods of industry who will usher humanity into the future. Unless, of course, you're a woman. Molly Pepper, daughter of brilliant but unknown inventor Cassandra Pepper, lives with her mother in New York. By day, they make ends meet running a pickle shop; but by night, they toil and dream of Cassandra taking her place among the most famous inventors in America.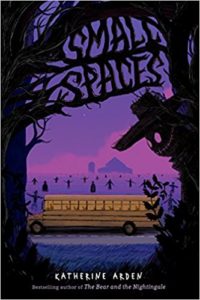 Small Spaces by Katherine Arden
After suffering a tragic loss, eleven-year-old Ollie only finds solace in books. So when she happens upon a crazed woman at the river threatening to throw a book into the water, Ollie doesn't think–she just acts, stealing the book and running away. As she begins to read the slender volume, Ollie discovers a chilling story about a girl named Beth, the two brothers who both loved her, and a peculiar deal made with "the smiling man," a sinister specter who grants your most tightly held wish, but only for the ultimate price.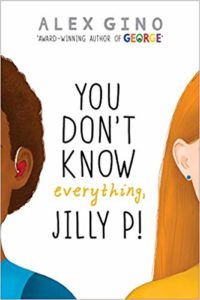 You Don't Know Everything, Jilly P! by Alex Gino
Jilly thinks she's figured out how life works. But when her sister, Emma, is born deaf, she realizes how much she still has to learn. The world is going to treat Jilly, who is white and hearing, differently from Emma, just as it will treat them both differently from their Black cousins. A big fantasy reader, Jilly makes a connection online with another fantasy fan, Derek, who is a Deaf, Black ASL user. She goes to Derek for help with Emma but doesn't always know the best way or time to ask for it. As she and Derek meet in person, have some really fun conversations, and become friends, Jilly makes some mistakes . . . but comes to understand that it's up to her, not Derek to figure out how to do better next time–especially when she wants to be there for Derek the most.
Graphic Novel New Releases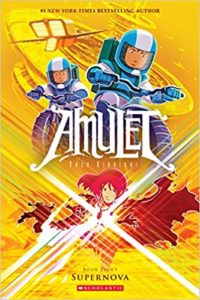 Amulet #8: Supernova by Kazu Kibuishi
Emily has lost control of her Amulet and is imprisoned in the Void, where she must find a way to escape the influence of the Voice. Meanwhile, Emily's brother, Navin, travels to Lighthouse One, a space station where the Resistance is preparing to battle the approaching Shadow forces that would drain planet Alledia of all its resources. Emily and Navin must be smarter and stronger than ever to ensure Alledia's survival.
Nonfiction New Releases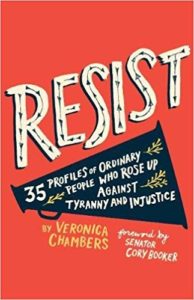 Resist: 35 Profiles of Ordinary People Who Rose Up Against Tyranny and Injustice by Veronica Chambers
Before they were activists, they were just like you and me. From Frederick Douglass to Malala Yousafzai, Joan of Arc to John Lewis, Susan B. Anthony to Janet Mock—these remarkable figures show us what it means to take a stand and say no to injustice, even when it would be far easier to stay quiet. Resist profiles men and women who resisted tyranny, fought the odds, and stood up to bullies that threatened to harm their communities. Along with their portraits and most memorable quotes, their stories will inspire you to speak out and rise up—every single day.
Backlist Book Recommendations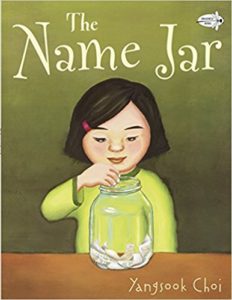 Picture Book Recommendation: The Name Jar by Yangsook Choi
Being the new kid in school is hard enough, but what about when nobody can pronounce your name? Having just moved from Korea, Unhei is anxious that American kids will like her. So instead of introducing herself on the first day of school, she tells the class that she will choose a name by the following week. Her new classmates are fascinated by this no-name girl and decide to help out by filling a glass jar with names for her to pick from. But while Unhei practices being a Suzy, Laura, or Amanda, one of her classmates comes to her neighborhood and discovers her real name and its special meaning. On the day of her name choosing, the name jar has mysteriously disappeared. Encouraged by her new friends, Unhei chooses her own Korean name and helps everyone pronounce it—Yoon-Hey.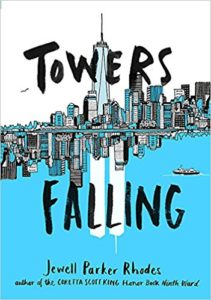 Middle Grade Recommendation: Towers Falling by Jewell Parker Rhodes
When her fifth-grade teacher hints that a series of lessons about home and community will culminate with one big answer about two tall towers once visible outside their classroom window, Dèja can't help but feel confused. She sets off on a journey of discovery, with new friends Ben and Sabeen by her side. But just as she gets closer to answering big questions about who she is, what America means, and how communities can grow (and heal), she uncovers new questions, too. Like, why does Pop get so angry when she brings up anything about the towers?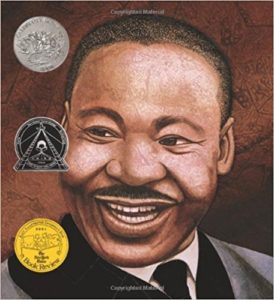 Nonfiction Book Recommendation: Martin's Big Words by Doreen Rappaport, illustrated by Bryan Collier
This picture-book biography is an excellent and accessible introduction for young readers to learn about one of the world's most influential leaders, Dr. Martin Luther King, Jr. Doreen Rappaport weaves the immortal words of Dr. King into a captivating narrative to tell the story of his life. With stunning art by acclaimed illustrator Bryan Collier, Martin's Big Words is an unforgettable portrait of a man whose dream changed America-and the world-forever.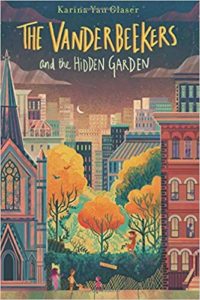 In addition to all of these fabulous new releases, I wanted to let you know that my second middle grade book, The Vanderbeekers and the Hidden Garden, releases today! The story is set in the summer, six months after The Vanderbeekers of 141st Street. I look forward to hearing what you think!
I would love to know what you are reading this week! Find me on Twitter at @KarinaYanGlaser, on Instagram at @KarinaIsReadingAndWriting, or email me at karina@bookriot.com.
Until next week!
Karina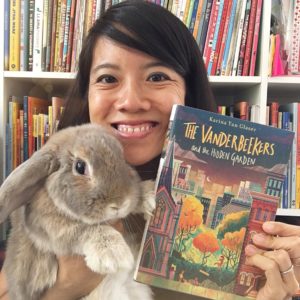 *If this e-mail was forwarded to you, follow this link to subscribe to "The Kids Are All Right" newsletter and other fabulous Book Riot newsletters for your own customized e-mail delivery. Thank you!*