This edition of Today in Books is sponsored by Unclaimed Baggage by Jen Doll.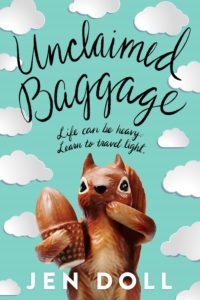 ---
Google Celebrates Mister Rogers With A Doodle
I'd be willing to bet that today's Google Doodle made more than a few people claim to have something in their eyes. Google celebrated Mister Rogers, and the 51st anniversary of the taping of the very first episode of Mister Rogers' Neighborhood, with an animated Doodle. Give it a watch, go behind the scenes to see how the Doodle was created, and grab a Kleenex.
Not A Good Look
After Yandy announced their "sexy" Handmaid's Tale costume, we all sat back and waited for the inevitable apology. And here it is. Somehow these "let's make The Handmaid's Tale sexy" ideas keep getting approved. People actually decide this is a good idea.
Sorry, Comics Shop Staff
You might want to hold onto that copy of Batman: Damned because DC Comics withdrew a page that showed, for the first time, Batman's genitals. They're not visible in the digital editions, which means fans, collectors, etc. are scrambling to get their hands on the last remaining copies of the unaltered issue.