Happy Alleged Autumn, bookworms! Welcome to In The Club, a newsletter of resources to keep your book group well-met and well-read. I've got more Hispanic Heritage Month fun for you today along with tears for Michelle Obama, banned book love, and more. I'm also asking one of you to help me out with a teensy tiny several-hour literary + culinary favor. Somebody's got to be down, right? Anyone? Beuller?
*crickets*
Fine then, on to the book stuff!
---
This newsletter is sponsored by Epic Reads.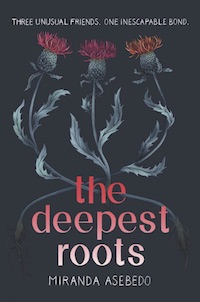 Cottonwood Hollow, Kansas, is a strange place. For the past century, every girl has been born with a special talent, like the ability to Fix any object, Heal any wound, or Find what is missing.
To best friends Rome, Lux, and Mercy, their abilities often feel more like a curse. Rome may be able to Fix anything she touches, but that won't help her mom pay rent. Lux's ability to attract any man with a smile has always meant danger. And although Mercy can make Enough of whatever is needed, even that won't help when her friendship with Rome and Lux is tested.
---
Don Quixote Droppin' Knowledge – Rioter Romeo Rosales opens this list of five works by Hispanic authors with a gem from Don Quixote: " He who reads a lot and walks a lot, knows a lot and sees a lot." Here's to reading and walking and knowing and seeing as much as you can during Hispanic Heritage Month.
Book Club Bonus

: Here's the deal with subjects of specific awareness days/weeks/years: you shouldn't partake exclusively during one particular time of year, but it's totally cool to use that moment to kick-start good habits. Hispanic Heritage Month is a great time for your book club to get hip to the word magic of these and countless other Latinx authors. Just keep that same energy flowing all year round.

Related: I have been dying to try quail in a rose petal sauce ever since reading Like Water for Chocolate

as a teen. If any of you out there is bold enough to attempt the recipe, holler at your girl. Here's hoping I have a less, err, visceral reaction to your culinary masterpiece than Gertrudis.
New in November – The one reader to rule them all Liberty Hardy has put together a list of hot November releases to put on hold at your local library now. Whether la libreria is your jam or you're pre-ordering for purchase, get these hot reads on your radar with the quickness.
Book Club Bonus: Believe your eye holes: Michelle Obama's book Becoming is coming at last. When the time comes, let the hot, stinging tears of longing remembrance stream down your face as your group discusses her greatness! From her humble roots in South Side, Chicago to her time at 1600 Pennsylvania Ave, unpack how particularly stunning her personal successes and professional accolades are in light of the unique challenges faced by black women in America.
Stitch It, Stitch It Good – The indie bookstore where I work is right next to a cute yarn shop and a few of our regulars are just as avid knitters as they are readers. That got me thinking about how knitting and reading might go hand in hand, which reminded me of these cross stitch patterns for book lovers. I don't know a %$#*ing thing about knitting but would embarrass myself with an attempt just to make myself a sweet wall hanging or bookmark.
Book Club Bonus

: For those of you with the knitting knack, why not make your knitting circle a book club too? The ladies and gents of your group could select an audiobook and knit away while you listen, then gather again to stitch while you talk about the book when you're done. You could stretch the book over as many sessions as you like and revel in your multi-tasky brilliance. Also, I'm totes available if you need help naming your combination book/knitting group. Stitch & Bitchin' Bookworms? Needles in a Book Stack? And your book selection could be your 'knit pick!" Who's with me??
Mind the Gap – On last week's episode of Get Booked, a listener wrote in looking for books for her mother, who she'd recently discovered to have "some cringeworthy misconceptions" about the Civil War, slavery, and its long-lasting effects. I was pleasantly surprised to hear that her mother specifically asked for books to educate herself, which I thought was freakin' rad. You can listen to the episode here, and subscribe while you're at it!
Book Club Bonus:

Book club is a perfect space for acknowledging the gaps in our progressive ideologies; odds are each of us has at one point also clung to a cringey misconception in our journey towards wokeness. We move forward by examining our ignorance and battling it with knowledge. So do the work: have a frank discussion with your group members about what subjects you could all stand to learn more about and pick a book around that topic. 
The Banned and The Beautiful – September 23 kicks off Banned Books Week! The theme this year is Banning Books Silences Stories and I would legit purchase that t-shirt if someone made one. In the meantime, I'll just be over here prancing around in my banned books socks and drinking from my banned books mug.
Book Club Bonus: In honor of Banned Books Week, take this sweet quiz that will tell you which banned book to read next. I took it and got Truman Capote's In Cold Blood

which is

exactly

what I'm in the mood for! Don't be selfish though: take your quiz as a group so everyone gets a say in the selection.

Related: Novel level Book Riot Insiders: don't forget that September's deal is 30% off your order in case you want to nab some of those banned book goods! Not a member yet? Click here to start your FREE two week trial.
---
Adios for now! If you want to be friendly on the innanets, you can find me on el Twitter or the gram @buenosdiazsd. You can always shoot me an email at vanessa@riotnewmedia.com if you have any feedback or just to say hola. 
Forever bad & bookish,
Vanessa
More Resources: 
– Our Book Group In A Box guide
– List your group on the Book Group Resources page