Hello, friends, and happy Tuesday! I have returned from my trip to Ireland and my (alas, unsuccessful) attempt to find Tir na nÓg, so I will just have to make do with books. Today I'm reviewing Rosewater by Tade Thompson and talking about some exciting new trailers, cover reveals, adaptations, and more.
---
This newsletter is sponsored by LitHunters Publishing.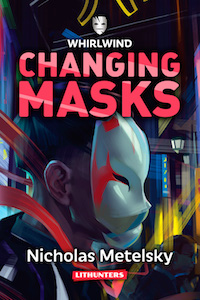 For a limited time only, Changing Masks is available for $3.99 instead of $6.95! Tokyo, an epicenter of clan wars in this parallel universe, is a place where you have to watch your back. Follow Shinji on his adventure in this sci-fi YA novel! This is the ultimate adventure of a lifetime. It is full of tricky fights, modern magic, mechas and the fault of human pride. In this explosive mixture of science fiction and human error, our hero has to fight for his place… hiding his true self behind a mask.
---
File under: adaptations, book news, and new releases:
Luke Arnold, a.k.a. John Silver from Black Sails, is writing a fantasy series and I admit I am curious, even though I kind of hated Silver in Season 1.
There's a new Outlander trailer, and it has created some questions!
This is slightly old news but did you already peep Guy Gavriel Kay's cover reveal for A Brightness Long Ago? I love the layering on this.
A Twitter thread has turned into a horror comedy, because why not!
The new Chilling Adventures of Sabrina trailer is YESSSSSS; I am a horror-lite person generally speaking, but I will absolutely be watching this, and have the comics on my TBR!
Superman quit, apparently? Or actually isn't leaving at all? Who knows! We did a recast anyway.
In better comics news, Miles Morales is BACK and will be written by Saladin Ahmed with art by Javier Garron. VERY EXCITING.
Also exciting: we're giving away a 6 month subscription to OwlCrate Jr! Enter here!
And in "out this week" news, we've got:
Time's Convert by Deborah Harkness, the newest installment in the All Souls trilogy;
What the Woods Keep by Katya de Becerra, which I haven't read yet but very much want to;
and today's featured review!
Rosewater by Tade Thompson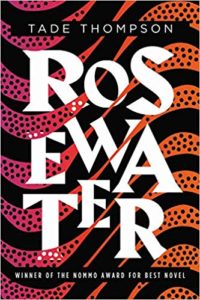 Dear fellow readers of the New Weird: have I got a book for you. Aliens have landed in Nigeria and built themselves an enclosed biodome, and no one can get inside — well, almost no one. Kaaro has been inside once and would prefer not to talk about it, thanks very much. And while the alien presence is largely a mystery, their effects on Earth are pronounced. Spores from the biodome have granted certain people an array of mental powers, creatures occasionally escape and cause carnage, and there are a variety of governments, organizations, and forces that all want to control anything and everything they can. All Kaaro wants to do is his mid-level, relatively cushy job at a bank, but he's been recruited by a shadowy government operation and a quiet life is not in the cards. And when his fellow super-powered citizens start being killed off, Kaaro finds himself on a desperate mission to save himself.
This book twists, turns, and spirals back on itself in more ways than one. Kaaro's non-linear narrative treats us to his childhood and early adult years as well as his present, very complicated life. We also get documents — transcripts, emails — from the shadow organization to flesh out the story, but as is the way of redacted information, it often only serves to complicate the picture. Kaaro himself is an unreliable narrator as well as a jerk, not to put too fine a point on it. (Other characters call him out more than once, and every time it happened I found myself emphatically agreeing.)
Suffice it to say, every time I thought I knew where this book was going it threw me another curveball, and I loved every weird, gross, vaguely horrifying page of it. Not for the faint of heart or stomach, this one is for readers of Jeff VanderMeer, Lauren Beukes, China Mieville, and Tananarive Due.
Bonus: Sharifah and I decided it was the perfect book to organize a read-along around, so get your copy now and stay tuned for our SFF Yeah! book club episode in October!
And that's a wrap! You can find all of the books recommended in this newsletter on a handy Goodreads shelf. If you're interested in more science fiction and fantasy talk, you can catch me and my co-host Sharifah on the SFF Yeah! podcast. For many many more book recommendations you can find me on the Get Booked podcast with the inimitable Amanda.
Your fellow booknerd,
Jenn