Hey Kid Lit friends,
New books are out into the world today! I'm so excited for all of these new releases, but before we get to that I have a cover reveal for you!
---
Sponsored by Zora & Me: The Cursed Ground by T.R. Simon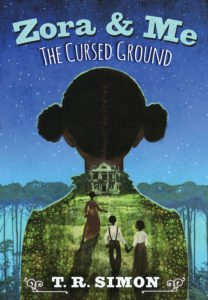 When Zora Neale Hurston and her best friend, Carrie Brown, discover that the town mute can speak after all, they think they've uncovered a big secret. But Mr. Polk's silence is just one piece of a larger puzzle that stretches back half a century to the tragic story of an enslaved girl named Lucia. As Zora's curiosity leads a reluctant Carrie deeper into the mystery, the story unfolds through alternating narratives. Lucia's struggle for freedom resonates through the years, threatening the future of America's first incorporated black township — the hometown of author Zora Neale Hurston (1891–1960). In a riveting coming-of-age tale, award-winning author T. R. Simon champions the strength of a people to stand up for justice.
---
Tiny T. Rex and the Impossible Hug by Jonathan Stutzman and illustrated by Jay Fleck is an adorable new picture book coming out with Chronicle Books on March 5, 2019.
Synopsis: Tiny T. Rex has a HUGE problem. His friend Pointy needs cheering up and only a hug will do. But with his short stature and teeny T. Rex arms, is a hug impossible? Not if Tiny has anything to say about it! Join this plucky little dinosaur in his very first adventure—a warm and funny tale that proves the best hugs come from the biggest hearts. An unforgettable new character on the picture book scene, look out for Tiny T. Rex stomping into the hearts of readers everywhere in this winning series.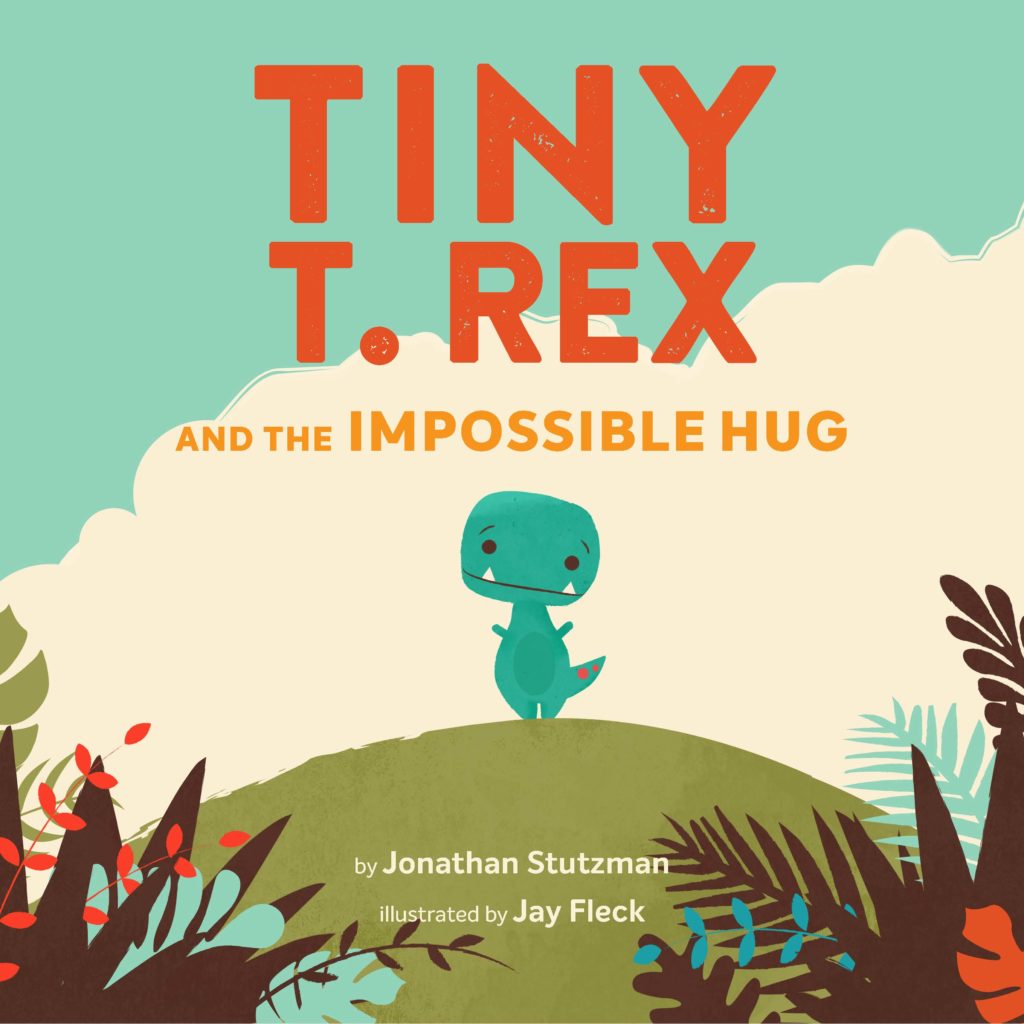 Jonathan Stutzman is an award-winning filmmaker and writer. His short films have screened at film festivals all over the world and on television. He lives in Palmyra, Pennsylvania.
Jay Fleck is an Illinois-based designer and illustrator who has illustrated many books for children. He lives south of Chicago.
Tiny T. Rex and the Impossible Hug comes out on March 5, 2019.
And now… new releases! As usual, the book descriptions are from Goodreads, but I'll add a 
 if I had a chance to read it and I loved it.
Picture Book New Releases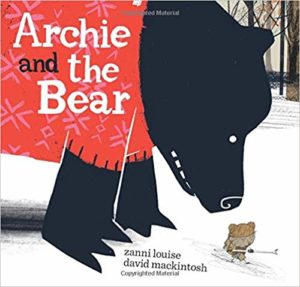 Archie and the Bear by Zanni Louise, illustrated by David Mackintosh
A very small boy in a bear suit and a very large bear in a boy suit share the fun of pretending, adventuring in the woods, and a honey sandwich next to a warm fire on a cold day. Which is really the boy, and which is the bear? It doesn't matter—you are who you say you are. With minimal text and bold, dramatic illustrations, this picture book offers a thought-provoking take on identity and brings a fresh vision to the theme of finding connections hidden behind visual differences.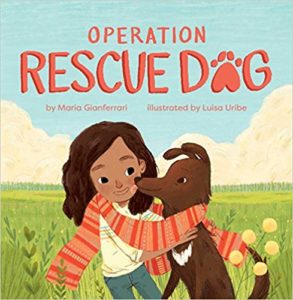 Operation Rescue Dog by Maria Gianferrari, illustrated by Luisa Uribe
Lulu's ears flap in the wind
as the rescue truck rolls into the lot.
Lulu's tail thumps—
Everything smells . . . new.
Lulu sleeps under the moon, drinking from mud puddles and is covered in ticks until she is rescued. She waits for the Operation Rescue Dog truck, scared and uncertain. Alma misses her Mami, who is far away in Iraq. Alma wears Mami's scarf around her like a hug. She wonders: Can a dog feel like a hug?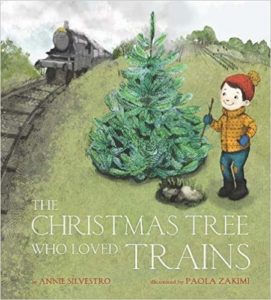 The Christmas Tree Who Loved Trains by Annie Silvestro, illustrated by Paola Zakimi
A pine tree grew in the farthest corner of the tree farm on a small patch of land that bordered the train track. The tree loved trains. She loved to watch them ZOOM by on the tracks beside the tree farm. Her branches would ripple in the wind as the trains roared past. But one morning, when a little boy picks her to be his Christmas tree, she is uprooted and brought to a home far from the ZOOMING trains she loves…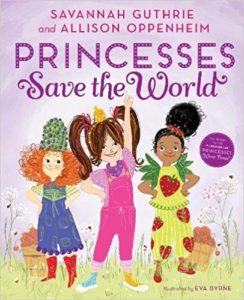 Princesses Save the World by Savannah Guthrie and Allison Oppenheim, illustrated by Eva Byrne
Penny knows the power of teamwork, so she calls a meeting of the Fruit Nations! And princesses from around the land—from Princess Beatrice Blueberry to Princess Kira Kiwi—answer the call to help a friend in need. With a little creative thinking and a whole lot of girl power, the princesses work together for bee-utiful results. TODAY's beloved coanchor Savannah Guthrie and educator Allison Oppenheim have crafted another irresistible tale that celebrates how nothing is sweeter than friendship.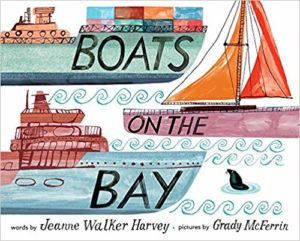 Boats on the Bay by Jeanne Walker Harvey, illustrated by Grady McFerrin
A large-format picture book about a bunch of boats found on a busy bay, buoyed by simple, spare, and lyrical text. Inspired by the San Francisco Bay but with universal appeal, the book features a spectacular double-spread gatefold finale showing a boat parade and fireworks glowing against a city backdrop.
Chapter Book New Releases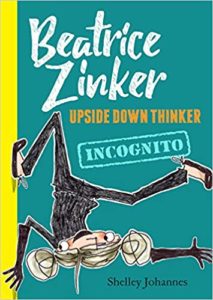 Beatrice Zinker, Upside Down Thinker: Incognito by Shelley Johannes
Beatrice Zinker's top-secret plan, Operation Upside, is finally in full swing! And she's REALLY EXCITED ABOUT IT! But when Beatrice impulsively awards her teacher, Mrs. Tamarack, an UPSIDE of her own-with the words Most Strict lettered in gold-the team has to put the entire mission on hold to avoid suspicion. Lying low isn't exactly Beatrice's strong suit . . . and her classmate Wes desperately needs to be recognized. When Wes's certificate falls into the wrong hands, Beatrice and her best friend, Lenny, must find a way once again, to save Operation Upside-and themselves-from big trouble.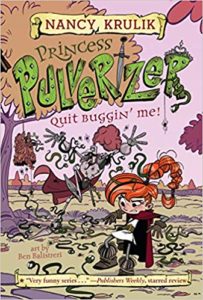 Princess Pulverizer 4: Quit Buggin' Me! by Nancy Krulik, illustrated by Ben Balistreri
Princess Pulverizer and her friends, Lucas and Dribble the dragon, are on the hunt for another good deed to complete on her Quest of Kindness. So when they hear about a mysterious evil beast who's been capturing townspeople, the trio sets out to find it and rescue the prisoners. But when Lucas and Dribble get caught themselves, it's up to Princess Pulverizer to free her friends!
Enough! 20 Protesters Who Changed America by Emily Easton, illustrated by Ziyue Chen
America has been molded and shaped by those who have taken a stand and said they have had enough. In this dynamic picture book, stand alongside the nation's most iconic civil and human rights leaders, whose brave actions rewrote history. Join Samuel Adams as he masterminds the Boston Tea Party, Ruby Bridges on her march to school, Colin Kaepernick as he takes a knee, and the multitude of other American activists whose peaceful protests have ushered in lasting change.
Middle Grade New Releases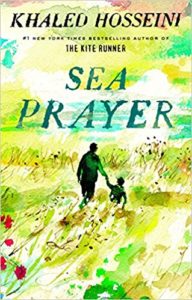 Sea Prayer by Khaled Hosseini, illustrated by Dan Williams
A short, powerful, illustrated book written by beloved novelist Khaled Hosseini in response to the current refugee crisis, Sea Prayer is composed in the form of a letter, from a father to his son, on the eve of their journey. Watching over his sleeping son, the father reflects on the dangerous sea-crossing that lies before them. It is also a vivid portrait of their life in Homs, Syria, before the war, and of that city's swift transformation from a home into a deadly war zone.
 Winnie's Great War by Lindsay Mattick and Josh Greenhut, art by Sophie Blackall
Here is a heartwarming imagining of the real journey undertaken by the extraordinary bear who inspired Winnie-the-Pooh. From her early days with her mama in the Canadian forest, to her remarkable travels with the Veterinary Corps across the country and overseas, and all the way to the London Zoo where she met Christopher Robin Milne and inspired the creation of the world's most famous bear, Winnie is on a great war adventure.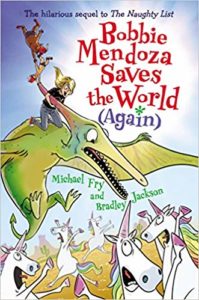 Bobbie Mendoza Saves the World (Again) by Michael Fry and Bradley Jackson
Some nasty imaginary creatures have just escaped into the real world, and it's an emergency! Bobbie and her friends must take on unicorns, farting spiders, a giant nightmare squid, and a scary Viking bounty hunter who is determined to land the whole gang in Trans-Dimensional prison. But Bobbie will learn that sometimes the things that scare us most aren't actually so terrifying once you've faced them.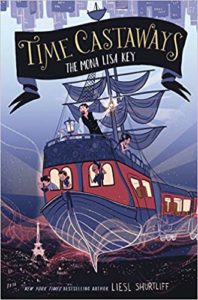 Time Castaways: The Mona Lisa Key by Liesl Shurtliff
Mateo, Ruby, and Corey Hudson's parents don't have too many rules. It's the usual stuff: Be good. Do your homework. And never ride the subway without an adult, EVER. But when the siblings wake up late for school, they have no choice but to break a rule. The Hudson siblings board the subway in Manhattan and end up on a frigate ship in Paris…in the year 1911. As time does tell, the Hudson family has a lot of secrets. The past, present, and future are intertwined—and a time-traveling ship called the Vermillion is at the center. Racing to untangle the truth, the kids find themselves in the middle of one of the greatest art heists of all time.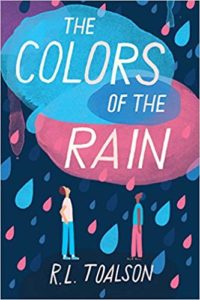 The Colors of the Rain by R.L. Toalson
Ten-year-old Paulie Sanders hates his name because it also belonged to his daddy-his daddy who killed a fellow white man and then crashed his car. With his mama unable to cope, Paulie and his sister, Charlie, move in with their Aunt Bee and attend a new elementary school. But it's 1972, and this new school puts them right in the middle of the Houston School District's war on desegregation.
Property of the Rebel Librarian by Allison Varnes
When twelve-year-old June Harper's parents discover what they deem an inappropriate library book, they take strict parenting to a whole new level. And everything June loves about Dogwood Middle School unravels: librarian Ms. Bradshaw is suspended, an author appearance is canceled, the library is gutted, and all books on the premises must have administrative approval. But June can't give up books . . . and she realizes she doesn't have to when she spies a Little Free Library on her walk to school. As the rules become stricter at school and at home, June keeps turning the pages of the banned books that continue to appear in the little library. It's a delicious secret . . . and one she can't keep to herself.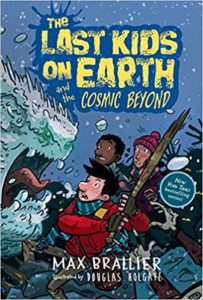 The Last Kids on Earth and the Cosmic Beyond by Max Brallier, illustrated by Douglas Holgate
It's the first winter after the Monster Apocalypse. For Jack and his buddies, that means sled catapults, epic snowball battles, and one monstrous Christmas celebration. But their winter wonderland turns dark when a villainess begins hunting them. And this villainess is different—she's a human. When the villainess steals Jack's prized monster-slaying tool, the Louisville Slicer, he vows to get it back. But it won't be easy. Jack and his friends soon discover that the Louisville Slicer is the key to a dark plan that threatens the entire world—and beyond…
Graphic Nonfiction New Releases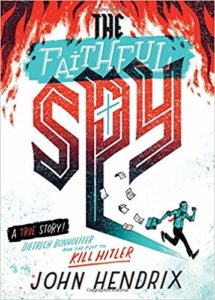 The Faithful Spy: Dietrich Bonhoeffer and the Plot to Kill Hitler by John Hendrix
Adolf Hitler's Nazi party is gaining strength and becoming more menacing every day. Dietrich Bonhoeffer, a pastor upset by the complacency of the German church toward the suffering around it, forms a breakaway church to speak out against the established political and religious authorities. When the Nazis outlaw the church, he escapes as a fugitive. Struggling to reconcile his faith and the teachings of the Bible with the Nazi Party's evil agenda, Bonhoeffer decides that Hitler must be stopped by any means possible!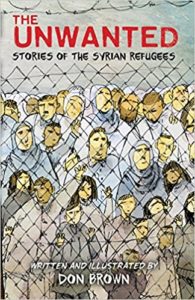 The Unwanted: Stories of Syrian Refugees by Don Brown
Starting in 2011, refugees flood out of war-torn Syria in Exodus-like proportions. The surprising flood of victims overwhelms neighboring countries, and chaos follows. Resentment in host nations heightens as disruption and the cost of aid grows. By 2017, many want to turn their backs on the victims. The refugees are the unwanted. Don Brown depicts moments of both heartbreaking horror and hope in the ongoing Syrian refugee crisis. Shining a light on the stories of the survivors, The Unwanted is a testament to the courage and resilience of the refugees and a call to action for all those who read.
Nonfiction New Releases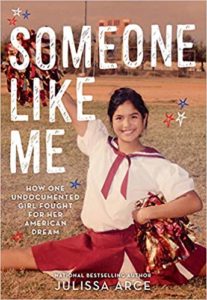 Someone Like Me: How One Undocumented Girl Fought for Her American Dream by Julissa Arce
Born in the picturesque town of Taxco, Mexico, Julissa Arce was left behind for months at a time with her two sisters, a nanny, and her grandma while her parents worked tirelessly in America in hopes of building a home and providing a better life for their children. That is, until her parents brought Julissa to Texas to live with them. From then on, Julissa secretly lived as an undocumented immigrant, went on to become a scholarship winner and an honors college graduate, and climbed the ladder to become a vice president at Goldman Sachs.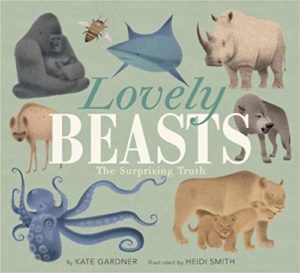 Lovely Beasts by Kate Gardner, illustrated by Heidi Smith
Spiders are creepy. Porcupines are scary. Bats are ugly. Or are they…? This captivating book invites you to learn more about awe-inspiring animals in the wild. After all, it's best not to judge a beast until you understand its full, lovely life.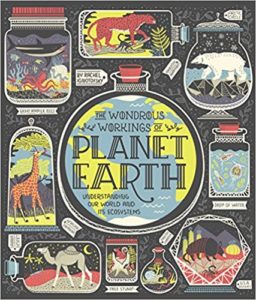 The Wondrous Workings of Planet Earth by Rachel Ignotofsky
Making earth science accessible and entertaining through art, maps, and infographics, The Wondrous Workings of Planet Earth explains how our planet works—and how we can protect it—from its diverse ecosystems and their inhabitants, to the levels of ecology, the importance of biodiversity, the cycles of nature, and more. Science- and nature-loving readers of all ages will delight in this utterly charming guide to our amazing home.
 The Atlas Obscura: An Explorer's Guide to the World's Hidden Wonders by Dylan Thuras, Rosemary Mosco, illustrated by Joy Ang
Created by the same team behind Atlas Obscura, the #1 New York Times bestseller that has over 600,000 copies in print in its first year, The Atlas Obscura Explorer's Guide for the World's Most Adventuruous Kid is a thrillingly imaginative expedition to 100 weird-but-true places on earth. And just as compelling is the way the book is structured—hopscotching from country to country not by location but by type of attraction. For example, visit the site of the Tunguska event in Siberia, where a meteor slammed into the earth in 1908—and then skip over to the Yucatan, ground zero for the ancient meteor crash that caused the mass extinction of dinosaurs. Then, while in Mexico, tour the fantastical Naica caves, home to crystals ten times larger than the average person—then, turn the page to Vietnam to a cave so vast you  could fly a 747 through it.
Soccer School by Alex Bellos and Ben Littleton, illustrated by Spike Gerrell
Coaches (and authors) Alex Bellos and Ben Lyttleton cleverly use the lens of soccer to immerse kids in math, geography, biology, and more. Loaded with awesome true stories and science, the first book in the Soccer School series is illustrated throughout with cartoons that will have young soccer fans laughing out loud. Quizzes at the end of each chapter keep readers on their toes as they learn some truly weird trivia, like the hidden meaning behind a team's uniform colors, how you might play soccer on Mars, or even the most opportune time for players to go to the bathroom. Entertaining and informative, this book is sure to score a goal with soccer fanatics everywhere (when they're not on the field, of course).
Backlist Book Recommendations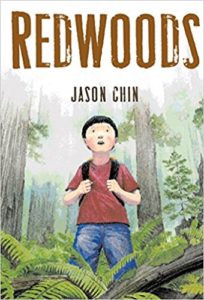 Picture Book Recommendation: Redwood by Jason Chin 
A ordinary subway trip is transformed when a young boy happens upon a book about redwood forests. As he reads the information unfolds, and with each new bit of knowledge, he travels―all the way to California to climb into the Redwood canopy.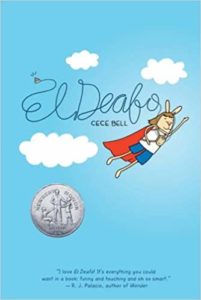 Graphic Novel Recommendation: El Deafo by Cece Bell
Going to school and making new friends can be tough. But going to school and making new friends while wearing a bulky hearing aid strapped to your chest? That requires superpowers! In this funny, poignant graphic novel memoir, author/illustrator Cece Bell chronicles her hearing loss at a young age and her subsequent experiences with the Phonic Ear, a very powerful—and very awkward—hearing aid. The Phonic Ear gives Cece the ability to hear—sometimes things she shouldn't—but also isolates her from her classmates. She really just wants to fit in and find a true friend, someone who appreciates her as she is. After some trouble, she is finally able to harness the power of the Phonic Ear and become "El Deafo, Listener for All." And more importantly, declare a place for herself in the world and find the friend she's longed for.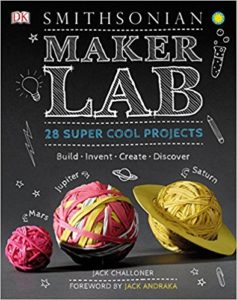 Activity Book Recommendation: Maker Lab: 28 Super Cool Projects by Jack Challoner
Each step-by-step activity is appropriate for kids ages 8–12, and ranked easy, medium, or hard, with an estimated time frame for completion. Requiring only household materials, young makers can build an exploding volcano, race balloon rocket cars, construct a lemon battery, make sticky slime, and more. Photographs and facts carefully detail the "why" and "how" of each experiment using real-world examples to provide context so kids can gain a deeper understanding of the scientific principles applied.
I would love to know what you are reading this week! Find me on Twitter at @KarinaYanGlaser, on Instagram at @KarinaIsReadingAndWriting, or email me at karina@bookriot.com.
Until next week!
Karina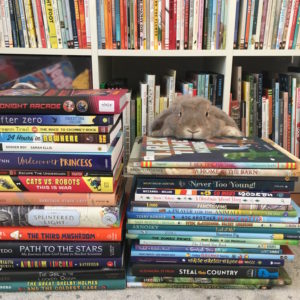 *If this e-mail was forwarded to you, follow this link to subscribe to "The Kids Are All Right" newsletter and other fabulous Book Riot newsletters for your own customized e-mail delivery. Thank you!*