Hey Kid Lit friends,
September is a big month for new books, and this week is no exception. There are some amazing books coming out today, and I can't wait to hear what you think about them.
As usual, the book descriptions are from Goodreads. In the past I have added a 
 if I particularly loved a title, but I pretty much loved all of the books releasing today, so just read them all, okay? They are all awesome! 
---
Sponsored by Merci Suárez Changes Gears by Meg Medina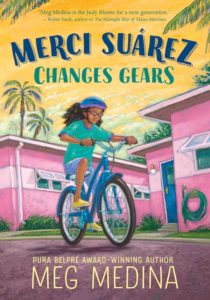 Merci has never been like the other kids at her private school in Florida, because she and her older brother, Roli, are scholarship students. They don't have a big house or a fancy boat, and they have to do extra community service to make up for their free tuition. So when bossy Edna Santos sets her sights on the new boy who happens to be Merci's school-assigned Sunshine Buddy, Merci becomes the target of Edna's jealousy. Things aren't going well at home, either: Merci's grandfather and most trusted ally, Lolo, has been acting strangely lately. In a coming-of-age tale full of humor and wisdom, award-winning author Meg Medina gets to the heart of the confusion and constant change that defines middle school — and the steadfast connection that defines family.
---
Picture Book New Releases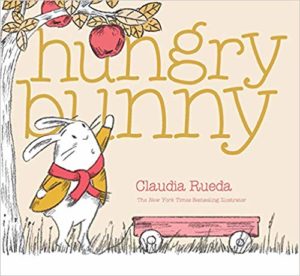 Hungry Bunny by Claudia Rueda
It's fall, which means it's the perfect time for mama's apple pie. The only problem? These apples are hard to reach! But Bunny has some ideas. Young readers will delight in using the red ribbon to help Bunny reach new heights and pick those tasty apples. But the fun doesn't end there! Readers will also rock the book back and forth and turn it round and round for a one-of-a-kind roller-coaster adventure on Bunny's way home.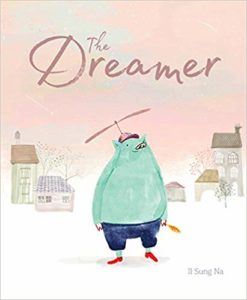 The Dreamer by Il Sung Na
Once, there was a pig who admired birds. But he could never join them. Or could he? Thus begins the journey of a pig with big dreams, and the perseverance to make them come true. He develops flight plans, builds experimental contraptions, and has far-flung adventures, but at the end of the day, his favorite thing to do is still to sit and watch for those he loves best: the birds. Il Sung Na creates a world at once whimsical and aspirational, where anything is possible and, yes, even pigs can learn to fly.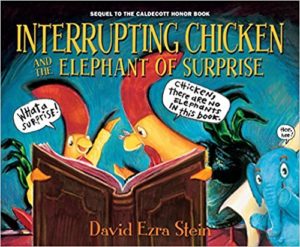 Interrupting Chicken and the Elephant of Surprise by David Ezra Stein
It's homework time for the little red chicken, who has just learned about something every good story should have: an elephant of surprise. Or could it be an element of surprise (as her amused papa explains)? As they dive in to story after story, looking for the part that makes a reader say "Whoa! I didn't know that was going to happen," Papa is sure he can convince Chicken he's right. After all, there are definitely no elephants in "The Ugly Duckling," "Rapunzel," or "The Little Mermaid" — or are there? Elephant or element, something unexpected awaits Papa in every story, but a surprise may be in store for the little red chicken as well.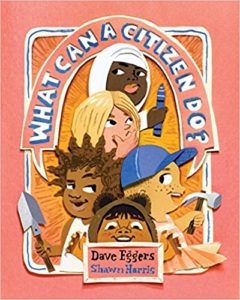 What Can a Citizen Do? by Dave Eggers, illustrated by Shawn Harris
Across the course of several seemingly unrelated but ultimately connected actions by different children, we watch how kids turn a lonely island into a community—and watch a journey from what the world should be to what the world could be.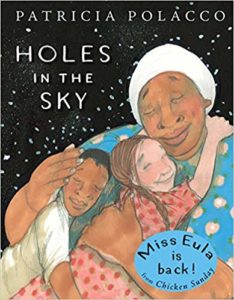 Holes in the Sky by Patricia Polacco
There will never be anyone like her grandmother, Patricia Polacco thinks, when her grandmother passes away. But when she and her family move to California–in the middle of a drought–she meets a new friend, the irrepressible Stewart, and his amazing grandmother, Miss Eula, who not only takes Trisha under her wing, but, with Trisha and Stewart, steps up to lead their entire extraordinarily diverse neighborhood to help a hurting neighbor–and her once lush garden–survive the drought.
Trisha's grandmother's old saying about the stars being Holes in the Sky turns out to be Miss Eula's, too, convincing Trisha that she has miraculously discovered another unforgettable grandmother.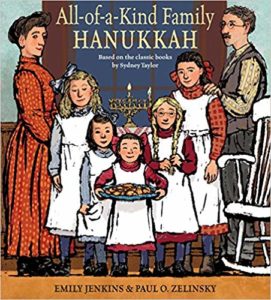 All-of-a-Kind Family Hanukkah by Emily Jenkins, illustrated by Paul O. Zelinsky
Acclaimed author Emily Jenkins and Caldecott Award-winning artist Paul O. Zelinsky bring the beloved All-of-a-Kind Family to life in a new format. Fans, along with those just meeting the five girls ("all of a kind," as their parents say), will join them back in 1912, on the Lower East Side of NYC, and watch as preparations for Hanukkah are made. When Gertie, the youngest, is not allowed to help prepare latkes, she throws a tantrum. Banished to the girls' bedroom, she can still hear the sounds and smell the smells of a family getting ready to celebrate. But then Papa comes home and she is allowed out–and given the best job of all: lighting the first candle on the menorah.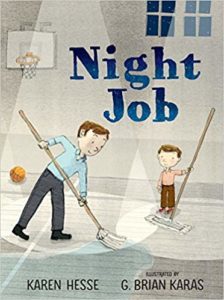 Night Job by Karen Hesse, illustrated by G. Brian Karas
When the sun sets, Dad's job as a school custodian is just beginning. What is it like to work on a Friday night while the rest of the city is asleep? There's the smell of lilacs in the night air, the dusky highway in the moonlight, and glimpses of shy nighttime animals to make the dark magical. Shooting baskets in the half-lit gym, sweeping the stage with the game on the radio, and reading out loud to his father in the library all help the boy's time pass quickly. But what makes the night really special is being with Dad.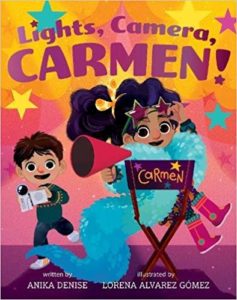 Lights, Camera, Carmen! by Anika Denise, illustrated by Lorena Alvarez Gómez
In the vein of Eloise, Olivia, and Fancy Nancy, Carmen is a little girl with a BIG personality. She loves the spotlight and fame that comes with being an actress, and she only grudgingly shares attention with her adoring little brother, Eduardo – especially when the prize is a starring role in a commercial.
Carmen and her family speak a mix of English and Spanish, inspired the author's loving exchanges with her father as a little girl.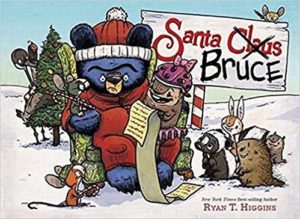 Santa Bruce by Ryan T. Higgins
One thing Bruce is not? Santa Claus. But that doesn't stop the whole forest from lining up to give him their Christmas wishes when he becomes the victim of mistaken identity-again. Kids will howl with laughter as award-winning author-illustrator Ryan T. Higgins delivers another hilarious story about this bear who just can't catch a break.
Chapter Book New Releases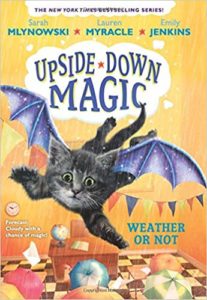 Upside Down Magic: Weather or Not by Sarah Mlynowski, Lauren Myracle, Emily Jenkins
When Willa's upside-down magic rains, it pours. Clouds form under ceilings. Classrooms get flooded. Umbrellas must always be nearby, just in case Willa has an outburst. Willa hates being the source of such sogginess. Even worse, the more she rains, the badder she feels . . . and the badder she feels, the more she rains. All the storminess is threatening to drown her good grades and flood all her friendships. Is there any way to use magic to make the clouds disappear? Or is the storm of the century on its way?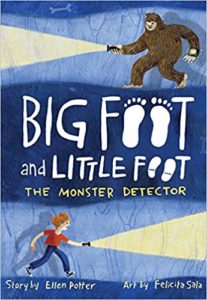 Big Foot and Little Foot: The Monster Detector by Ellen Potter, illustrated by Felicita Sala
Hugo is a young Sasquatch. Boone is a young boy. After an unlikely encounter, they've become an even unlikelier pair of best friends. After saving up his Monster Card wrappers, Hugo sends away for a special prize in the mail—a Monster Detector! Using the watchlike device, Hugo quickly spots a monster right in his own cavern. Spooked, but still excited about his prize, Hugo heads to school and finds yet another surprise—his friend Boone! Boone announces he wants to go to Sasquatch school, but no human has ever gone before, and not everyone is as happy about it as Hugo.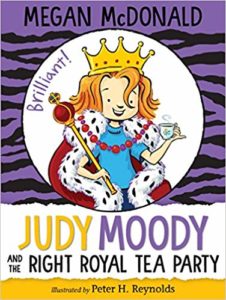 Judy Moody and the Right Royal Tea Party by Megan McDonald, illustrated by Peter H. Reynolds
Judy Moody is in a royal purple-mountain-majesties mood. Make that Majesty with a capital M! With Grandma Lou's help, Judy has dug up proof that some old-timey Moodys (aka the brave Mudeyes) lived in merry olde England. In fact, if her grandpa's notes are right, Judy might even be related to — royal fanfare, please — the Queen herself! Should Judy start packing her purple robe for a sleepover at Buckingham Palace? But then Judy's family tree gets a few more shakes — thanks to her nemesis, Jessica "Fink" Finch — and some more surprises come tumbling out.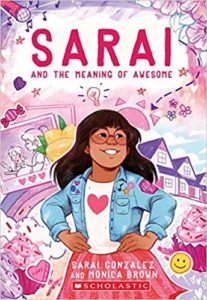 Sarai and the Meaning of Awesome by Sarai Gonzalez and Monica Brown
Fourth grader Sarai Gonzalez can do anything. She can bake, dance, and run her own cupcake business. But when Sarai's grandparents are forced to move, even Sarai's not sure what to do. So she hatches a super-awesome plan with her younger sisters and cousin to buy back the house. But houses are more expensive than she ever thought, her sisters won't listen, and she's running out of time. Will Sarai find a way to save the day?
Middle Grade New Releases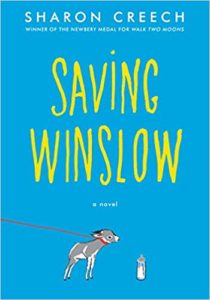 Saving Winslow by Sharon Creech
Louie doesn't have the best luck when it comes to nurturing small creatures. So when his father brings home a sickly newborn mini donkey, he's determined to save him. He names him Winslow. Taking care of him helps Louie feel closer to his brother, Gus, who is far, far away in the army. Everyone worries that Winslow won't survive, especially Louie's quirky new friend, Nora, who has experienced loss of her own. But as Louie's bond with Winslow grows, surprising and life-altering events prove that this fragile donkey is stronger than anyone could have imagined.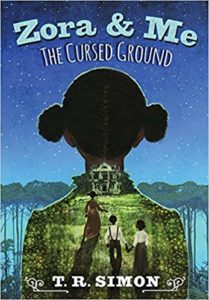 Zora & Me: The Cursed Ground by T.R. Simon
When Zora Neale Hurston and her best friend, Carrie Brown, discover that the town mute can speak after all, they think they've uncovered a big secret. But Mr. Polk's silence is just one piece of a larger puzzle that stretches back half a century to the tragic story of an enslaved girl named Lucia. As Zora's curiosity leads a reluctant Carrie deeper into the mystery, the story unfolds through alternating narratives. Lucia's struggle for freedom resonates through the years, threatening the future of America's first incorporated black township — the hometown of author Zora Neale Hurston (1891–1960). In a riveting coming-of-age tale, award-winning author T. R. Simon champions the strength of a people to stand up for justice.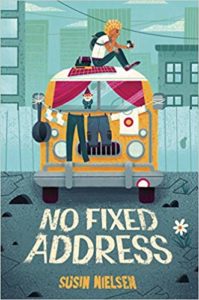 No Fixed Address by Susin Nielsen
Twelve-and-three-quarter-year-old Felix Knutsson has a knack for trivia. His favorite game show is Who What Where When; he even named his gerbil after the host. Felix's mom, Astrid, is loving but can't seem to hold on to a job. So when they get evicted from their latest shabby apartment, they have to move into a van. Astrid swears him to secrecy; he can't tell anyone about their living arrangement, not even Dylan and Winnie, his best friends at his new school. If he does, she warns him, he'll be taken away from her and put in foster care.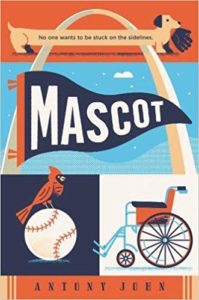 Mascot by Antony John
Noah Savino has been stuck in a wheelchair for months. He hates the way people treat him like he's helpless now. He's sick of going to physical therapy, where he isn't making any progress. He's tired of not having control over his own body. And he misses playing baseball—but not as much as he misses his dad, who died in the car accident that paralyzed Noah. Noah is scared he'll never feel like his old self again. He doesn't want people to think of him as different for the rest of his life. With the help of family and friends, he'll have to throw off the mask he's been hiding behind and face the fears that have kept him on the sidelines if he ever wants to move forward.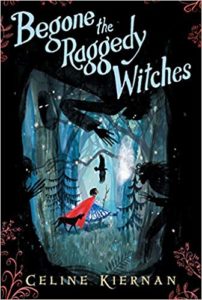 Begone the Raggedy Witches by Celine Kiernan
On the night that Aunty dies, the raggedy witches come for Mup's family. Pale, cold, and relentless, the witches will do anything for the tyrannical queen who has outlawed most magic and enforces her laws with terror and cruelty — and who happens to be Mup's grandmother. When witches carry off her dad, Mup and her mam leave the mundane world to rescue him. But everything is odd in the strange, glittering Witches Borough, even Mam. Even Mup herself. In a world of rhyming crows, talking cats, and golden forests, it's all Mup can do to keep her wits about her. And even if she can save her dad, Mup's not sure if anything will ever be the same again.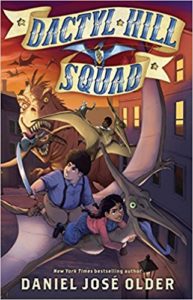 Dactyl Hill Squad by Daniel José Older
It's 1863 and dinosaurs roam the streets of New York as the Civil War rages between raptor-mounted armies down South. Magdalys Roca and her friends from the Colored Orphan Asylum are on a field trip when the Draft Riots break out, and a number of their fellow orphans are kidnapped by an evil magistrate, Richard Riker. Magdalys and her friends flee to Brooklyn and settle in the Dactyl Hill neighborhood, where black and brown New Yorkers have set up an independent community–a safe haven from the threats of Manhattan. Together with the Vigilance Committee, they train to fly on dactylback, discover new friends and amazing dinosaurs, and plot to take down Riker. Can Magdalys and the squad rescue the rest of their friends before it's too late?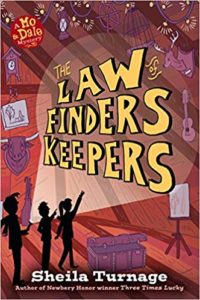 The Law of Finders Keepers by Sheila Turnage
Pirate fever sweeps through the town after an opportunistic treasure hunter shows up looking to lay claim to Blackbeard's lost gold buried somewhere in Tupelo Landing. When the (probably) world-famous Desperado Detectives–Mo and Dale and Harm–are hired by Mayor Little's mother to find the pirate loot for her, and the high-stakes race for riches is on! But that's not the only treasure hunt in town. Mo LoBeau unearths shocking new clues that may lead to her long-lost Upstream Mother–in the riskiest, scariest, and possibly richest case of her life.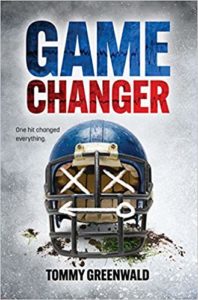 Game Changer by Tommy Greenwald
Thirteen-year-old Teddy Youngblood is in a coma fighting for his life after an unspecified football injury at training camp. His family and friends flock to his bedside to support his recovery—and to discuss the events leading up to the tragic accident. Was this an inevitable result of playing a violent sport, or was something more sinister happening on the field that day? Told in an innovative, multimedia format combining dialogue, texts, newspaper articles, transcripts, an online forum, and Teddy's inner thoughts, Game Changer explores the joyous thrills and terrifying risks of America's most popular sport.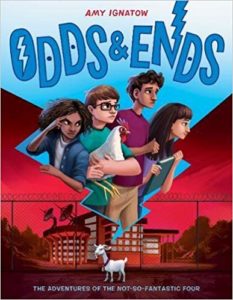 Odds and Ends by Amy Ignatow
The ragtag Odds crew's useless gifts have gotten out of control. Farshad's thumbs are so strong that just trying to send a text will break his phone, and Cookie can now send mental directions instead of just listening in on them with her telepathy. To make matters worse, a bunch of their less-than-gifted classmates have become town celebrities thanks to their suspiciously good exam results. But Jay and Nick realize that all these whiz kids have parents who work for Auxano, so they race off to find out what's really going on. Fans won't want to miss the conclusion to the adventures of this motley group of heroes and their patchwork powers!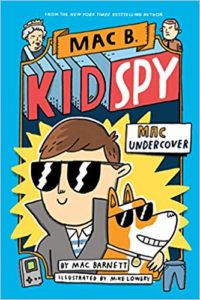 Mac B., Kid Spy: Mac Undercover by Mac Barnett, illustrated by Mike Lowery
James Bond meets Diary of a Wimpy Kid with this groundbreaking new fully-illustrated chapter book series Mac B., Kid Spy. The precious Crown Jewels have been stolen, and there's only one person who can help the Queen of England: her newest secret agent, Mac B. Mac travels around the globe in search of the stolen treasure…but will he find it in time? From secret identities to Karate hijinks, this fast-paced, witty and historically inspired chapter book will keep readers guessing until the very last page. With full-color illustrations and fascinating historical facts masterfully sprinkled throughout, this series offers adventure, intrigue, absurdity, history and humor. Discover this totally smart and side-splittingly funny new series, and experience what it's really like to be a kid spy.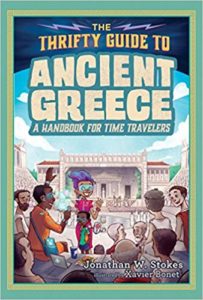 The Thrifty Guide to Ancient Greece by Jonathan W. Stokes
The Thrifty Guide to the Ancient Greece: A Handbook for Time Travelers is a snappy, informative travel guide containing information vital to the sensible time traveler:
*  How can I find a decent tunic that won't break my bank account?
*  Where can I score cheap theater tickets in ancient Athens?
*  What do I do if I'm being attacked by an army of one million Persians?
Nonfiction New Releases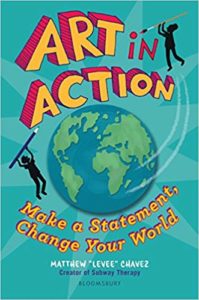 Art in Action: Make a Statement, Change Your World by Matthew "Levee" Chavez
In the days leading up to and following the 2016 U.S. Presidential Election, artist Matthew "Levee" Chavez arrived at the Union Square subway station and passed out blank sticky notes, urging New Yorkers to express themselves. As the notes were posted to the wall, a colorful and moving collage emerged that reflected the city's rich and diverse personal responses to a divisive moment in history. In that moment, art and activism united a community. In this DIY guide, Chavez shows young readers how to create their very own art projects with a purpose. Young artists will be inspired to share their own perspectives and make a difference in their own worlds-from their homes to schools to neighborhoods and the whole broader world.
Backlist Book Recommendations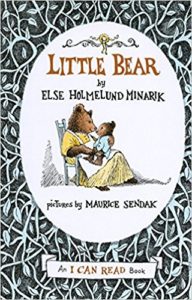 Chapter Book Recommendation: Little Bear by Else Holmelund Minaret, illustrated by Maurice Sendak
Meet Little Bear, a friend to millions of children. And meet Mother Bear, who is there whenever Little Bear needs her. When it is cold and snowy outside, she finds just the right outfit for Little Bear to play in. When he goes to the moon, she has a hot lunch waiting for him on his return. And, of course, she never forgets his birthday.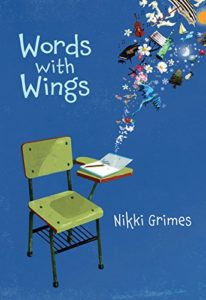 Middle Grade Recommendation: Words With Wings by Nikki Grimes
Gaby daydreams to tune out her parents' arguments, but when her parents divorce and she begins a new school, daydreaming gets her into trouble. Her mother scolds her for it, her teacher keeps telling her to pay attention, and the other kids tease her…until she finds a friend who also daydreams and her teacher decides to work a daydreaming-writing session into every school day. With a notebook "thick with daydreams," Gaby grows more confident about herself and her future.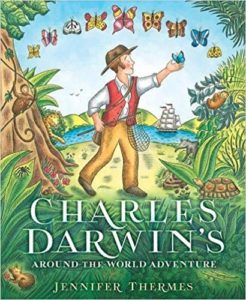 Nonfiction Book Recommendation: Charles Darwin's Around-the-World Adventure by Jennifer Thermes
In 1831, Charles Darwin embarked on his first voyage. Though he was a scientist by profession, he was an explorer at heart. While journeying around South America for the first time aboard a ninety-foot-long ship named the Beagle, Charles collected insets, dug up bones, galloped with gauchos, encountered volcanoes and earthquakes, and even ate armadillo for breakfast! The discoveries he made during this adventure would later inspire ideas that changed how we see the world.
Giveaway!
Woohoo! Book Riot is giving away a six-month subscription to OwlCrate Jr! Enter here!
Next week!
Spoiler alert for next week… the wonderful Meg Medina will be interviewed on the newsletter! While you're waiting, be sure to grab a copy of Merci Suárez Changes Gears, out today!
I'd love to know what you are reading this week! Find me on Twitter at @KarinaYanGlaser, on Instagram at @KarinaIsReadingAndWriting, or email me at karina@bookriot.com.
Until next week!
Karina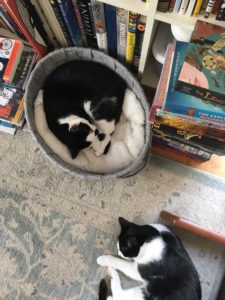 Our foster kitties enjoying a nap surrounded by books.
*If this e-mail was forwarded to you, follow this link to subscribe to "The Kids Are All Right" newsletter and other fabulous Book Riot newsletters for your own customized e-mail delivery. Thank you!*