This edition of Today in Books is sponsored by Tear Me Apart by J.T. Ellison from MIRA Books.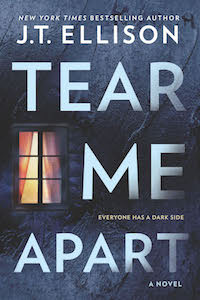 ---
New Images From "Captain Marvel"
Carol Danvers fans are celebrating Entertainment Weekly's publication of exclusive new images from "Captain Marvel"—the currently-filming MCU entry that was set up by an "Infinity War" post-credits scene. The movie is going to take us back to the '90s, but with more Skrulls than you probably remember from back then. Now when are we going to get a trailer, hmm?
Little Miss Doctor Who
Heretofore, the Doctor Who spins on Roger Hargreaves' children's books have all featured Mr. Men. But with Jodie Whitaker's upcoming debut as the Doctor, we'll be finally be getting a Time Lord Little Miss book! Dr. Thirteenth will be available in November as a swanky hardcover, and January will see the paperback release.
Stephen Colbert Continues to Love J. R. R. Tolkien
If you follow Stephen Colbert even just casually, you must know that he's ride or die for J. R. R. Tolkien. That appreciation is on full display in this brief Rolling Stones video. Colbert's ostensibly there to break down Chance the Rapper's "Favorite Song" but he spends half the video reciting Lord of the Rings poetry.
And don't forget to come share the ins-n-outs of your reading life in our Fall Reader Survey!