There's a long weekend approaching in the US; how are you going to spend yours (if you have regular weekends)? I don't know how much reading I'm going to do, but man, do I have to catch up.
---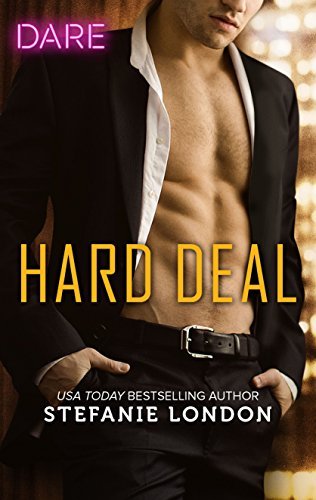 Sponsored by Harlequin DARE
A deal with the devil…
But who comes out on top?
Imogen Hargrove agrees to go on a date with notorious womanizer Caleb Allbrook if he'll dig up dirt on her sister's cheating fiancé. After leaving her own two-timing ex, Imogen is determined to save her sister from heartbreak. Caleb might be tempting…seductively charming, even. But Imogen won't make the same mistake twice: no more playboys!
---
News and Useful Links
So I learned a lot about a lot of things this week, including the history of the author Alexa Riley. Suffice to say, there were a lot of tweets and subtweets about plagiarism, what's acceptable in Romancelandia, and how many releases in a short period of time is just way too many.
There's an interesting article in the LA Review of Books, which was fascinating to my Humanities Major brain ("acolytes of Adorno" snort) and a delight to my romance-loving heart. It's kind of "academy lite" as far as content and approach, though, so go in prepared.
Speaking of academy lite, this post about clergy in romance is interesting.
I somehow missed that there is a charity anthology (not solely romance, but with some romance in it) called Somewhere Out There that is in support of immigrant families. My Old Millennial heart is crying with delight (and will be singing songs from An American Tail for days).
Talia Hibbert has the word. (Also, have you picked up Untouchable yet?)
Romance-themed coloring books? Yes please! Penny Reid is putting out what I hope is just the first of many coloring books based on romance novels (It's called the Knitting in the City Coloring Book so there's no confusion what it's related to). She also announced a crochet and knit pattern book, which will be released at the end of November. I might have to pick up some needles again!
Helen Hoang shared her dream cast (or casts, really) for The Kiss Quotient and it did not disappoint.
Deals
A bunch of Helen Hardt books are on sale, including Craving, the first book in her Steel Brothers Saga.
Are you one of those people who's just been meaning to read The Bronze Horseman forever? It's 1.99 right now.
In the Flesh by Sylvia Day is 1.20, if you're looking for a new Sylvia Day book to read.
Over on Book Riot
Jessica Avery had few things to say to people who think of romance as popcorn.
Kamrun wants you to celebrate Romance Awareness Month with these picks.
Trisha and I talked about stuff, including the first ever When In Romance book club! Do you want to join? Tell us what book we should read first! (So far, the vote's leaning in the direction of Intercepted by Alexa Martin.)
This is your ABSOLUTE VERY LAST CHANCE to enter the Recommended Giveaway, which ends tomorrow (August 31). Get 16 awesome books by or recommended by authors who have appeared on our Recommended podcast.
Recs!
Do you follow Sil on Twitter? Or maybe read her stuff on Book Riot (as Silvana Reyes)? You should. I do, and sometimes she gives me total FOMO when it comes to her excited reviews of awesome books. While I tend to read more backlist with some frontlist thrown in, she reads tons of frontlist books, sometimes way in advance. So when she started squeeing about this book, I was sad. But I did it, I got to it almost before it was actually released.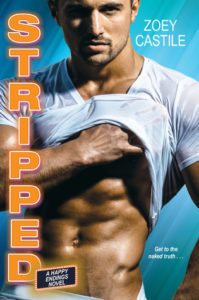 Stripped
Zoey Castile
Robyn Flores is having one of those days. Months, really. Okay, years. As an elementary school teacher, you'd think she'd have her life more together, but she's more Bad Teacher than Stand and Deliver. She doesn't want to be, but she can't seem to get her act together and be more like her BFF Lily. It all comes to head when Robyn gets the wrong laundry. How does she realize it? The spangly thong and tiny tank top she pull out first are definitely not hers. And then her downstairs neighbor shows up with her laundry to swap. Her super hot, very ripped downstairs neighbor. Who it turns out is a stripper. Which she finds out at Lily's bachelorette party.
Hoo man.
So this sounds like an awkward novel, and it sorta is. When we meet her. Robyn is the kind of woman nobody wants to be, and sometimes it's hard to watch. But everything comes together in a pretty magical way.
So if you like this one, may I recommend some other romances with one-word titles starting with S:
Want more? Check out Static, or Smut, or Strings, or Sweat. There are more still that I just don't have the brainpower to list. So many S words. So many books.
New and Upcoming Releases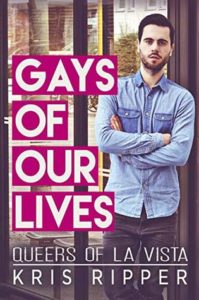 Gays of Our Lives by Kris Ripper (originally published by Riptide, but Kris pulled and rebranded them. Those covers!)
The Duke with the Dragon Tattoo by Kerrigan Byrne
The Governess Game by Tessa Dare
A Stallion Dream by Deborah Fletcher Mello (Sept 1)
Made to Hold You by Elle Wright (Sept 1)
Josh and Hazel's Guide to Not Dating by Christina Lauren (Sept 4)
As usual, catch me on Twitter @jessisreading or Instagram @jess_is_reading, or send me an email at jessica@riotnewmedia.com if you've got feedback or just want to say hi!