Hey YA Fans: Let's catch up on book talk.
"What's Up in YA?" is sponsored by The 10th Anniversary edition of The Knife of Never Letting Go by Patrick Ness.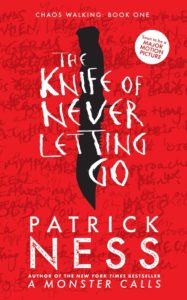 A decade after its release, the astonishing opener to Patrick Ness's Chaos Walking trilogy still resonates. Celebrate ten years of this groundbreaking book with a beautiful anniversary hardcover edition.
Pre-order this new 10th anniversary edition and receive an exclusive Chaos Walking T-shirt and pin!
Offer lasts until September 10th or while supplies last. U.S. only. Visit http://bit.ly/ChaosWalkingPreOrder for details.
____________________
August is coming to too-quick a close. It feels like this summer has bene flying by — and the local kids went back to school over a week ago!
If the calendar pages are zipping by you as quick as they are me, here's a chance to catch up on some of the best YA book talk from Book Riot in the last month:
Cheap Reads!
Grab these YA books while they're easy on the budget. I'm including basically everything that I can, so there will be some repeats from previous newsletters. Time to treat yourselves, friends.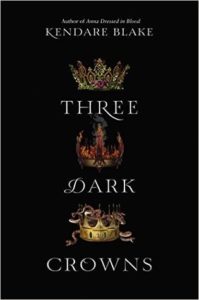 Three Darks Crowns by Kendare Blake is $2
The Jewel by Amy Ewing is $2
Renegades by Marissa Meyer is $3
A Night Divided by Jennifer Nielsen is $2
Liars, Inc by Paula Stokes is $2
I Hate Everyone But You by Gabby Dunn is $3
Chemistry Lessons by Meredith Goldstein is $3
I Am The Messenger by Marcus Zusak is $2
Wonder Woman: Warbringer by Leigh Bardugo is $2
Batman: Nightwalker by Marie Lu is $2
Challenger Deep by Neal Shusterman is $2
The Big F by Maggie Ann Martin is $3 (same author who is interviewed above!)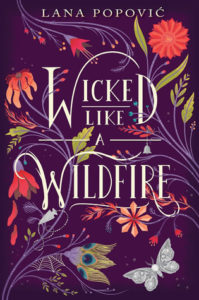 Wicked Like A Wildfire by Lana Popovic is $2
A Young People's History of the United States by Howard Zinn is $4
Song of the Current by Sarah Tolcser is $2
The Names They Gave Us by Emery Lord is $2
I Hunt Killers by Barry Lyga is $3
The DUFF by Kody Keplinger is $3
The Daughters by Joanna Philbin is $3
The Chance You Won't Return by Annie Cardi is $2
Recent YA Book Mail
Here's what has hit my mailbox in the last week (I've been busily reading Proud: Young Readers Edition by Ibtihaj Muhammad, The Cheerleaders by Kara Thomas, and have I Am Alfonso Jones by Tony Medina sitting at the library for me)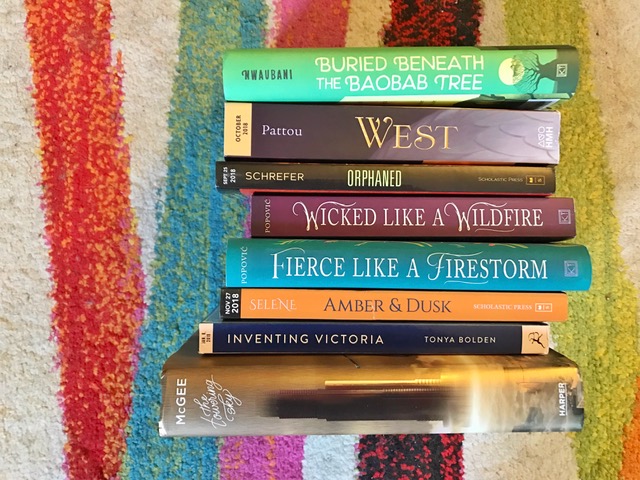 From top to bottom:
Buried Beneath The Baobab Tree by Adaobi Tricia Nwaubani and Viviana Mazza
West by Edith Pattou
Orphaned by Eliot Schrefer
Wicked Like a Wildfire and Fierce Like a Firestorm by Lana Popovic
Amber and Dusk by Lyra Selene
Inventing Victoria by Tonya Bolden (this looks amazing!)
The Towering Sky by Katharine McGee
____________________
Phew! That is a lot of books.
Thanks for hanging out & see you again on Monday for even more books because book talk never ends around here.
— Kelly Jensen, @veronikellymars on Twitter and Instagram