Hey YA readers! Let's catch up on the latest in news.
We're giving away 16 of the books featured on Recommended! Click here, or on the image below to enter:
---
Grab a snack and a glass of water. There's a lot of great reading this week!
For Your TBR
I'm about half-way through this, but I feel confident enough to say it's a book worth adding to that massive TBR I know you've got going on. This is an adventure book, about a girl named Jess who has recently lost her mother in a car accident. The accident caused her some physical impairments, too, and the story begins when she's sent to live with her father in what she believes will be remote Alaska (it…is not).
Traversing "Before" and "After," the book looks at what caused the shack she and her dad were living in to burn down and left her alone, with nothing but her dad's dog, and how it is she does — or maybe doesn't — survive.
Know going in that it might not end well for the dog, and that because it's a novel set in the wilderness, there are times when animals do not make it out alive. But if you or the readers you know are okay with this, it's an excellent "girl vs. wild" story and a debut novel to boot.
Cheap Reads
Grab these in ebook format while they're on sale. Prices are current as of August 14: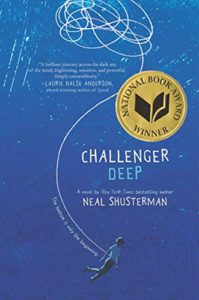 Want something post-apocalyptic? Grab Maureen McGowan's Deviants, which is the first in a series, for $1.
If you would like some dragons, you might like Jodi Meadows's Before She Ignites, currently only $2.
Marcus Zusak's I Am The Messenger is a whole $2.
One of my favorite mental health themed YA reads — and a National Book Award winner — Challenger Deep by Neal Shusterman is $2.
Contemporary queen Emery Lord's The Names They Gave Us can be yours for $2.
Kody Keplinger's fabulous debut The DUFF is $3.
Start Kate Elliott's high fantasy YA series Court of Fives with the first book for $3.
Want a science fiction adventure about super criminals? $3 will snag you Emily Lloyd-Jones's Illusive.
Maybe you want to try one of Lurlene McDaniels's newer books? You can pick up Somebody's Baby for $2.
Recent YA Book Mail
Here's what hit my inbox this week!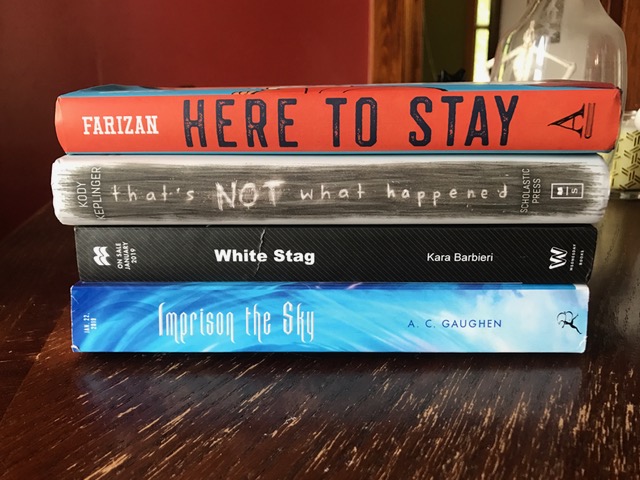 From top to bottom:
Here To Stay by Sara Farizan (It's fantastic, as you'd expect from Farizan. She'll be stopping by the newsletter in a few weeks to talk more about this surprisingly funny book about racism, Islamophobia, and basketball).
That's Not What Happened by Kody Keplinger (I loved this story of what happens to the survivors of a school shooting when they're the last ones to know the truth…as opposed to the truth people believe about the incident).
White Stag by Kara Barbieri ("WattPad sensation")
Imprison The Sky by A. C. Gaughen
____________________
Thanks for hanging out and we'll see you again next week. Get excited: it's a really, really thrilling interview with a legendary author of books for kids and teens.
— Kelly Jensen, @veronikellymars on Twitter and Instagram.