Hello mystery fans! As a fan of ghosts, paranormal activity, weird, and speculative fiction, I naturally love a mystery where the sleuth is dead–or some form of–and is trying to solve their own murder. I feel like if I were murdered I would at the very least appreciate being given the chance to solve it if no one else does so here are some great reads with "dead" sleuths.
---
As part of Season 2 of our podcast series Annotated, we are giving away 10 of the best books about books of 2017. Go here to enter for a chance to win, or just click the image below:
---
Fun and Smart (TW suicide)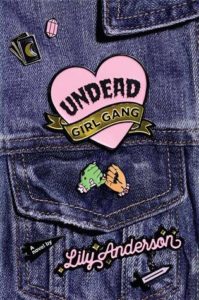 Undead Girl Gang by Lily Anderson: Mila Flores does not believe that her best friend Riley died by suicide. The problem is no one seems to believe Mila, everyone thinks she's just having a difficult time accepting her friend's death. So Mila takes matters into her own hands and conjures up a spell. Awesome idea! Not the best execution: Riley isn't the only person to come back from the dead. There's also two girls they don't like along with Riley and none of them remember their deaths. Now they all have seven days–this spell's got a countdown–to figure out who murdered them while trying not to kill each other. It is as awesome as Veronica Mars meets The Craft sounds.
Excellent Speculative Fiction Mystery (TW suicide)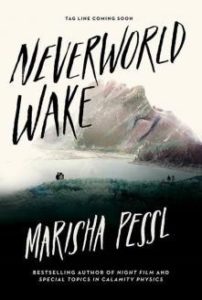 Neverworld Wake by Marisha Pessl: I'm going to do this review in two parts for readers like me who like knowing as little as possible going into a book. The very quick gist: Beatrice's boyfriend died a year ago and she hasn't seen her group of friends since. Until now, which leads to a night of partying where finally Beatrice feels she's ready to talk with her friends because Jim's suicide was mysterious and always felt wrong…The gives-away-a-fun-beginning-twist review: Beatrice and her friends are visited by a man who explains something unworldly: Their new "living" situation. It's a doozy and after some time it becomes apparent their only way out of this loop (which feels like hell to most) is to figure out what happened to Jim…
The Mall of America is Purgatory (TW child abuse/ alludes to rape/ suicide attempt)
I Woke Up Dead At The Mall by Judy Sheehan: I really like when books are able to straddle the line of having depth and also being fun. Sixteen-year-old Sarah finds herself at the Mall of America only to discover she's not only dead, it was murder–Oh, and she's gonna have to solve the case or, according to her death coach, she's gonna permanently become a mall walker. But who would want her dead? And why? And how does she get out of this awful bridesmaid dress?! She has no clue, but with some new friends, and love interest, she's going to figure it out! As far as purgatory goes this isn't the worst I've heard, I mean there's at least a food court.
Remember we're giving away 16 AWESOME books featured on the Recommended podcast!
Recent Releases
Sweet Little Lies (Cat Kinsella #1) by Caz Frear (Currently reading: A procedural where the lead detective is being forced to go to counseling after a traumatic case and she's also dealing with memories hinting at knowing a crime her father committed when she was eight.)
The Kill Jar: Obsession, Descent, and a Hunt for Detroit's Most Notorious Serial Killer by J. Reuben Appelman (TBR: True Crime Memoir)
The Line That Held Us by David Joy (TBR: A crime novel that follows the aftermath of how covering up an accidental death affects 4 people.)
Nancy Drew #3 by Kelly Thompson, Jenn St-Onge (If you're looking for a modern Nancy Drew I'm really enjoying this comic series.)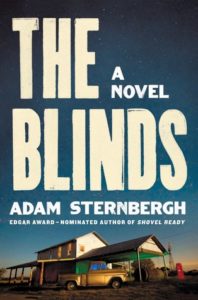 The Blinds by Adam Sternbergh (Paperback) (Fantastic mystery: Review) (TW suicide/ and if memory serves I think a scene discusses past child molestation)
Olympus Bound (Olympus Bound #3) by Jordanna Max Brodsky (Paperback) (The last in this fantasy mystery series which puts Greek gods in modern NY that I've been dying to finally get to read.)
Browse all the books recommended in Unusual Suspects previous newsletters on this shelf. And here's an Unusual Suspects Pinterest board.
Until next time, keep investigating! And in the meantime come talk books with me on Twitter, Instagram, and Litsy–you can find me under Jamie Canaves.
If a mystery fan forwarded this newsletter to you and you'd like your very own you can sign up here.