Happy Friday, mages and monsters! Today we've got a WorldCon update, must-read LGBT fantasy, reasons why you should date an SF/F lover, a review of Tempests and Slaughter by Tamora Pierce, and more.
---
This newsletter is sponsored by Garrison Girl, an Attack on Titan novel, coming this August from Quirk Books.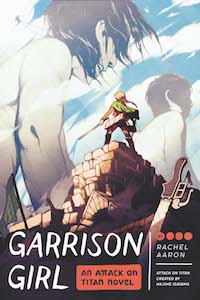 Just in time for a new season of the hit anime, Quirk Books presents Garrison Girl, a new YA novel set in the universe of Attack on Titan. In a world where carnivorous giants threaten humanity's survival, noble-born Rosalie Dumarque isn't content to sit back and let others fight. After joining the ranks of the Wall Rose Garrison, she is thrust into a dangerous new world, where she must earn the respect of her fellow soldiers, tangle with corrupt officers, navigate a forbidden romance, and survive an attack from a colossal titan.
---
If you've been following along at home, WorldCon's programming has gotten an overhaul courtesy of a team led by Mary Robinette Kowal, and things are looking up.
Did you know that Lucille Ball was responsible for keeping Star Trek: TOS on the air? Because I sure didn't! Yet another reason to admire the woman who gave us Vitameatavegamin.
I'll buy it: according to a study, SF/F fans make good romantic partners. Specifically, they were unlikely to agree with unrealistic statements about relationships. (As a long-time romance fan, I would also like to point out that romance readers scored very well. Bodice rippers, indeed!)
Speaking of relationships! Here's a 50 Must Reads list of LGBT fantasy, and I will meet you over by the holds shelf. (Personal cosigns on Dreadnought, Fifth Season, The Salt Roads, and, well, just lots of these.)
This article on women who play D&D online was both surprising and a bit heartening. I can't wrap my head around the lack of harassment they report, having seen other what women in other corners of the internet are subjected to, but I'm incredibly glad to hear it.
Do you have questions about the Buffy reboot? There are six big ones in this post worth contemplating.
Plan a mental getaway with these escapist SFF reads; I could not agree more strongly with the book choices on this list!
Very important: which Star Wars heroine are you? I got Rey so clearly this quiz is perfectly calibrated.
Reminder: enter our Recommended giveaway for 16 books, including Sabaa Tahir's An Ember in the Ashes series, The Sparrow by Mary Doria Russell, In Other Lands by Sarah Rees Brennan, and more.
And now for a review of the 20th (!!) book in the Tortall universe that actually can stand on its own.
Tempests and Slaughter (The Numair Chronicles #1) by Tamora Pierce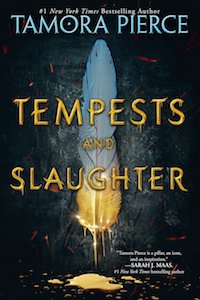 I spent a bunch of last year doing an epic Tortall reread, just so that I would be ready in February to pick up Tempests and Slaughter. I actually did make it almost to the end of the reread, but the holidays hit when I was mid-way through the Protector of the Small books, and then everything went to hell. Which means I've only just managed to read this latest installment, which also starts a series of its own. Long-time Tortall readers, let's talk; those who are new to Tortall, let me assure you that you can pick this up on its own.
Tempests gives us the school years of Numair, a.k.a. Arram Draper, first introduced in The Immortals quartet. I will refrain from giving spoilers about his adult years in this review but if you want to hear why I had mixed feelings going into this read, I talked about it a bit at the top of the show on this week's Get Booked. Because these are canonical prequels for The Immortals, you don't need to have read them! In fact, I think this could be a great entry point for the Tortall universe.
Arram is a highly gifted, but very insecure, young boy when he first starts his mage schooling in Carthak. When his teachers discover the extent of his untrained powers he gets fast-tracked, introducing him to the two other students who will become his best friends: the young royal Ozorne and a girl named Varice. While there's plenty of foreshadowing of things to come, this book is mostly full of the kind of coming-of-age student hijinks that Pierce excels at. Whether it's sneaking pets into the dorms, dealing with bullies, or flailing around in a first crush, the trio have each other's backs. The grimness hinted at in the title shows up in Arram's healer training — sent to a plague ward and to treat enslaved gladiators, his experiences reveal the dark underbelly of Carthak and its government. We know he's destined for big things, and this is just the start of how he gets there.
The focus on a male main character is new for the Tortall books, and I am living for the idea that boys will find themselves drawn in via Arram. Fun, immersive, inclusive, and chock full of magic, Tempests and Slaughter comes recommended both for long-time fans and for those who want a great middle-grade fantasy read.
And that's a wrap! You can find all of the books recommended in this newsletter on a handy Goodreads shelf. If you're interested in more science fiction and fantasy talk, you can catch me and my co-host Sharifah on the SFF Yeah! podcast. For many many more book recommendations you can find me on the Get Booked podcast with the inimitable Amanda.
May your sword be sharp and your tongue sharper,
Jenn