Hey YA Readers: Let's build up our 2019 YA TBRs!
"What's Up in YA?" is sponsored by The Other Side of Lost by Jessi Kirby from Epic Reads.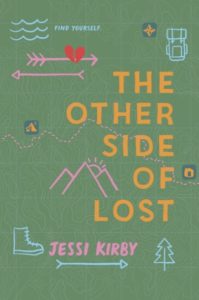 Girl Online meets Wild in this breathtaking journey of empowerment, friendship and self-discovery.
Internet starlet Mari's life is perfect—or seems that way to her thousands of followers. But when she breaks down and posts a video confessing she's been living a lie, it goes viral and, she receives a major backlash.
To get away from it all, she decides to hike the John Muir Trail, a hike she had planned with her cousin Bri before the two drifted apart—and before Bri's tragic death. Now, Mari will hike the trail alone, searching for the way back to the girl she fears may be too lost to find: herself.
---
It might not be close to the end of 2018 yet, but there are so many awesome-sounding titles hitting shelves in 2019 that it seems only right to highlight a few for your TBR.
Descriptions are from Goodreads, since I haven't read any of these yet. I've included books by well-loved YA authors, as well as some titles catching my eye by authors who are new. Get ready to get excited:
Brawler by Neil Connelly (March 26)
Eddie MacIntyre–Mac to a handful of friends–is Pennsylvania's most promising wrestler. His future is bright with scholarship offers and the dream of helping his struggling mom. But then comes a fateful match at the state championship, when his famous rage consumes him and he assaults a referee. In an instant, Mac loses all he and his mom have worked to build since his abusive father was locked up years ago.
Facing arrest, Mac runs away to another town, where he is taken in by a shady promoter who has followed his career. He recruits Mac into Brawlers, an illegal underground fighting ring run by a gangland boss. This is a bloodsport that has no rules . . . but offers plenty of reward.
Mac teams up with Khajee, a girl with the fighting skills he'll need to learn to survive . . . and her own dark past tying her to the head of the ring. Together the two must figure out their place in a world that hasn't been kind to them . . . and forge a future that could be.
Miriam's family should be rich. After all, her grandfather was the co-creator of smash-hit comics series The TomorrowMen. But he sold his rights to the series to his co-creator in the 1960s for practically nothing, and now that's what Miriam has: practically nothing. And practically nothing to look forward to either-how can she afford college when her family can barely keep a roof above their heads? As if she didn't have enough to worry about, Miriam's life gets much more complicated when a cute boy shows up in town . . . and turns out to be the grandson of the man who defrauded Miriam's grandfather, and heir to the TomorrowMen fortune.
Dig by A.S. King (March 26)
The Shoveler, the Freak, CanIHelpYou?, Loretta the Flea-Circus Ring Mistress, and First-Class Malcolm. These are the five teenagers lost in the Hemmings family's maze of tangled secrets. Only a generation removed from being simple Pennsylvania potato farmers, Gottfried and Marla Hemmings managed to trade digging spuds for developing subdivisions and now sit atop a seven-figure bank account, wealth they've declined to pass on to their adult children or their teenage grand children. "Because we want them to thrive," Marla always says. What does thriving look like? Like carrying a snow shovel everywhere. Like selling pot at the Arby's drive-thru window. Like a first class ticket to Jamiaca between cancer treatments. Like a flea-circus in a doublewide. Like the GPS coordinates to a mound of dirt in a New Jersey forest. As the rot just beneath the surface of the Hemmings precious white suburban respectability begins to spread, the far flung grand children gradually find their ways back to each other, just in time to uncover the terrible cost of maintaining the family name.
Fifteen-year-old Simran "Simi" Sangha comes from a long line of Indian vichole -matchmakers- with a rich history for helping parents find good matches for their grown children. When Simi accidentally sets up her cousin and a soon-to-be lawyer, her family is thrilled that she has the "gift."
But Simi is an artist, and she doesn't want to have anything to do with relationships, helicopter parents, and family drama. That is, until she realizes this might be just the thing to improve her and her best friend Noah's social status. Armed with her family's ancient guide to finding love, Simi starts a matchmaking service-via an app, of course.
But when she helps connect a wallflower of a girl with the star of the boys' soccer team, she turns the high school hierarchy topsy-turvy, soon making herself public enemy number one.
A good friend will bury your body, a best friend will dig you back up.
Dino doesn't mind spending time with the dead. His parents own a funeral home, and death is literally the family business. He's just not used to them talking back. Until Dino's ex-best friend July dies suddenly—and then comes back to life. Except not exactly. Somehow July is not quite alive, and not quite dead.
As Dino and July attempt to figure out what's happening, they must also confront why and how their friendship ended so badly, and what they have left to understand about themselves, each other, and all those grand mysteries of life.
James Mills isn't sure he can forgive his parents for dragging him away from his life, not to mention his best friend and sister, Anna. He's never felt so alone.
Enter Tomas. Falling for Tomas is unexpected, but sometimes the best things in life are.
Then their world splits apart. A war that has been brewing finally bursts forward, filled with violence, pain, and cruelty. James and Tomas can only rely on each other as they decide how far they are willing to go―and who they are willing to become―in order to make it back to their families.
Ivy is the shy artist type and keeps a low profile—so low that she's practically invisible to everyone at Belfry High School except for her best friend, Harold. As sophomore year begins, Harold takes up a hundred activities, leaving Ivy on her own. Luckily she's found a distraction: the new anonymous art-sharing app, VEIL.
Soon Ivy realizes that one of her classmates is the VEIL user who needs new paintbrushes … and another is the one visiting the hospital every week … and another is the one dealing with their parents' messy divorce. While she's too scared to put her own creations on the app, Ivy thinks of an even better way to contribute—by making gifts for the artists she's discovered. The acts of kindness give her such a rush that, when Ivy suspects Harold is keeping a secret, she decides to go all in. Forget gifts—Ivy wants to throw Harold a major party.
But when all those good intentions thrust her into the spotlight, Ivy's carefully curated world is thrown into chaos. Now she has to find the courage to come out of the shadows—about her art, her secrets, and her mistakes—or risk losing everything and everyone she loves the most.
Zafira is the Hunter, disguising herself as a man when she braves the cursed forest of the Arz to feed her people. Nasir is the Prince of Death, assassinating those foolish enough to defy his autocratic father, the king. If Zafira was exposed as a girl, all of her achievements would be rejected; if Nasir displayed his compassion, his father would punish him in the most brutal of ways.
Both are legends in the kingdom of Arawiya—but neither wants to be.
War is brewing in Arawiya, and the Arz sweeps closer with each passing day, engulfing the land in shadow. When Zafira embarks on a quest to uncover a lost artifact that can restore magic to her suffering world and stop the Arz, Nasir is sent by the king on a similar mission: retrieve the artifact and kill the Hunter. But an ancient evil stirs as their journey unfolds—and the prize they seek may pose a threat greater than either can imagine.
____________________
Thanks for hanging out and we'll see you again on Thursday!