Welcome to In The Club, a newsletter of resources to keep your book group well-met and well-read.
First things first — I'm not Jenn! My name is Vanessa and I will be taking over this here newsletter. I've been writing for Book Riot for just shy of a year and am super jazzed to be the new bouncer of this club. Get it? Because clubs have bouncers. No? I'm sorry, I'll stop.
My goal is to help you all be your most bad & bookish selves with inspiration for all of your book club endeavors. Get ready for awful book puns and a pretty solid chance that I'll lapse into Spanish from time to time. You've been warned: prepárense.
Let's get to it!
---
We're giving away 16 of the books featured on Recommended! Click here, or on the image below to enter:
---
It's Giveaway Time! How'd you like to be the proud owner of 16 awesome books featured on the Recommended podcast? Enter here to win by August 31.
Also — if you're not listening to Recommended yet, porque??? Get your life together and give it a listen.
Hunt for Hidden Gems: Big, buzzy books are awesome, but I love discovering reads that have flown under the radar. This list of the best books you've never heard of is precisely that sort of awesomeness. It's book treasure!
Book Club Bonus: Make your next book club pick a read none or few of your club goers have heard of. Start with our list, or pick the brain of your local librarian or bookseller. Yours truly is one of the latter and I love matching customers up with the books they aren't looking for.
Related: This Twitter thread by Rebecca Makkai is another amaze-balls reading list of titles that haven't gotten their due.
Are You There, Film Gods? In news that made me slow-clap unabashedly in the middle of a coffee shop, Judy Blume's Are You There God? It's Me, Margaret might be adapted for the big screen. Anyone else crying nerd tears like me right now?
Book Club Bonus: Go for throwback book club theme and pick a favorite childhood read. Chat about the ways the book was formative for you as a young reader, or even how it's contents may now be problematic. (Spoiler: many of our faves are).
Adaptation Nation: Dios mio! The adaptation news train has been a-rollin' steady all year and this week is no different. The Kiss Quotient, Parable of the Sower and Shrill are just some of the titles to be picked up recently. We've got especially emphatic Muppet arms for one adaptation in particular: The Vanderbeekers of 141st Street by BR contributor Karina Yan Glaser will be adapted by Amy Poehler!
Book Club Bonus: Pick a book with an upcoming adaptation and have each group member make a list of their dream cast. My BFFs and I once did this for The Girl on the Train and it was so much fun to see how differently, and sometimes similarly, we envisioned each of the characters.
10 Minutes with Andy Weir: One of our Rioters recently got the chance to interview Andy Weir at Comic Con!
Book Club Bonus: Reading about Weir's different approaches to writing The Martian versus Artemis got me thinking that it would be fun to start a compare-and-contrast book club. Pick a few titles from an author's repertoire and split them up between your book clubbers, then get together to chat about common themes, dissimilarities, growth and progression, etc.
Sweet, Sweet Fantasy Baby: Why yes, I am unnaturally obsessed with that Mariah Carey jam. But I digress! If you've been looking for some more inclusivity in your fantasy reading, this list of 50 must-read LGBT fantasies spans everything from epic/high fantasy to urban fantasy and everything in between.
Book Club Bonus: What favorite fantasy reads would you love to see reimagined with an LGBT romance? Have everyone come up with at least one book they would remix and why.
A Little Shelf Care: In today's No Shit, Sherlock revelation, Barnes & Noble says sales of books related to anxiety are up significantly compared to a year ago. *makes "duh" face in Spanish*
Book Club Bonus: Introduce a self-care theme into your next book group gathering: light some candles, slap on a face mask and pamper thyselves whilst you talk about books and feelings. If books specifically about anxiety aren't your bag, indulge in some escapist fiction. Oh, and bring wine. Or whiskey. Or both! Live your best life.
Related: this Tweet: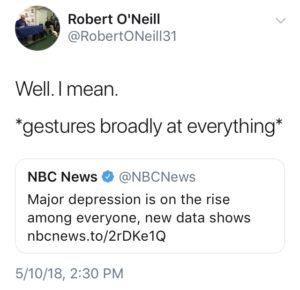 ---
Thanks for hanging with me today! If you want to be friendly on the innanets, you can find me on el Twitter @buenosdiazsd or on the gram @buenosdiazsd. Shoot me an email at vanessa@riotnewmedia.com if you have any feedback or just to say hola.
Stay bad & bookish, my friends. Till next time!
Vanessa
More Resources: 
– Our Book Group In A Box guide
– List your group on the Book Group Resources page