Hey Kid Lit friends,
The first Tuesday of each month is generally the most popular for new releases, and today I have a whole lot of goodies to share with you. As usual, the book descriptions are from Goodreads, but I'll add a 
 if I particularly loved a title. (P.S. I loved A LOT of books this week!)
---
We're giving away 16 of the books featured on Recommended! Click here, or on the image below to enter:
---
Picture Book New Releases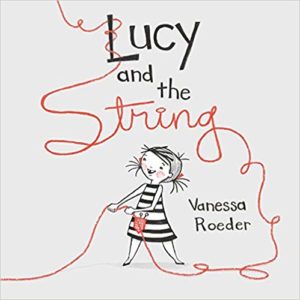 Lucy and the String by Vanessa Roeder
When Lucy spots a string, she can't help but give it a yank, and before she knows it, she meets Hank! But this bear isn't quite sure what to make of Lucy, especially because the string is attached to his pants, and they're unraveling fast! Now Lucy must dream up the perfect solution to Hank's missing pants, and hopefully win this dubious bear's heart along the way.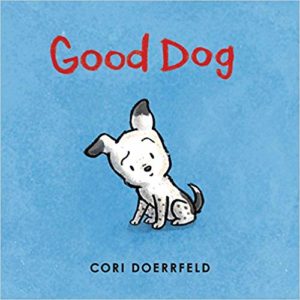 Good Dog by Cori Doerrfeld
When a puppy in need of a friend follows a kind girl into town, he lands himself into all sorts of trouble. He gets lost. He's nearly run over. And he gets chased out of a bakery for being a "bad dog." But when the pup and the girl reunite in the park and she leaves behind her favorite doll, the puppy has a chance to prove just what a good dog he really is!
 Pinny in Fall by Joanne Schwartz, illustrated by Isabelle Malenfant
On a crisp fall day, Pinny decides to go for a walk. She packs a sweater, her rain hat, a book, a snack and her treasure pouch. Set for adventure, Pinny's day includes a windy game of tag with her friends, an exciting call for help from the lighthouse keeper and a surprising encounter with the falling autumn leaves.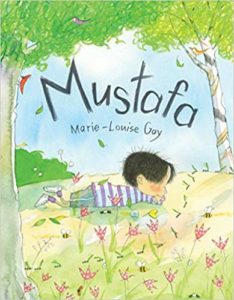 Mustafa by Marie-Louise Gay
Mustafa and his family traveled a long way to reach their new home. Some nights Mustafa dreams about the country he used to live in, and he wakes up not knowing where he is. Then his mother takes him out to the balcony to see the moon ― the same moon as in their old country. In the park, Mustafa sees ants and caterpillars and bees ― they are the same, too. He encounters a "girl-with-a-cat," who says something in a language that he can't understand. He watches an old lady feeding birds and other children playing, but he is always looking in from the outside and he feels that he is invisible. But one day, the girl-with-the-cat beckons to him, and Mustafa begins to become part of his new world.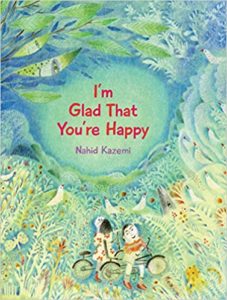 I'm Glad That You're Happy by Nahid Kazemi
When a florist puts two plants in the same rosy-colored pot, he tells the bigger, stronger plant to look after the smaller, weaker one. An artist buys the plants and takes them home, where they become part of the family, celebrating happy occasions and feeling sorrowful during hard times. But as time passes and the plants grow, the pot becomes too small, and the two must be separated. While this makes the larger plant sad, it still rejoices in the way the smaller one flourishes on its own, and looks forward to the day when they will be planted in the artist's garden to grow into trees together.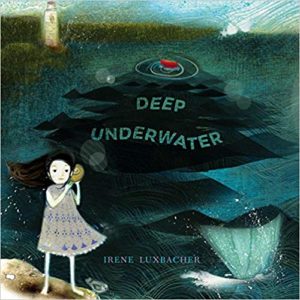 Deep Underwater by Irene Luxbacher
Sophia bravely dives down to discover the secrets under the sea. She encounters beautiful fish and floating forests. Farther down, the dark water is full of tentacles and treasures. Deep underwater, she is never alone. Do you dare dive down after her? The ocean is full of endless possibilities in this dreamy, imagistic story from acclaimed author / illustrator Irene Luxbacher. Her otherworldly paintings show colorful fish, rippling seawater and the secrets to be found at the bottom of the ocean. Sophia's journey will linger with readers long after the return to shore.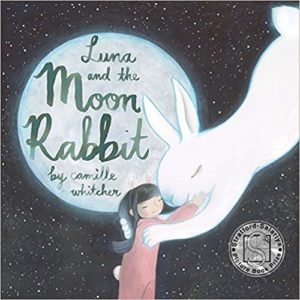 Luna and the Moon Rabbit by Camille Whitcher
Inspired by Asian folklore (Moon Rabbit) and the films of Studio Ghibli, this magical tale follows a young girl who befriends the "moon rabbit" and accompanies him on a nighttime adventure through otherworldly landscapes.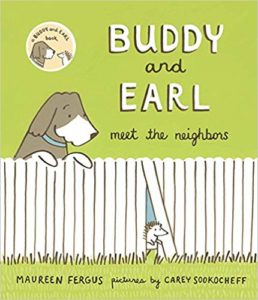 Buddy and Earl Meet the Neighbors by Maureen Fergus, pictures by Carey Sookocheff
When Wonder Buddy and Super Earl learn that the Evil Doctor Stinker is planning to shut down the only hamburger factory in town, they know they have to find the supervillain's secret lair ― fast! Hopping into the Earl-mobile, they race into the yard next door where they come face-to-face with the new neighbors. At first, Mister the bulldog is alarmed by Wonder Buddy's laser-beam eyes (even though Buddy does not know how to turn them on), and Snowball the cat thinks that Earl is the funniest-looking mouse she's ever seen.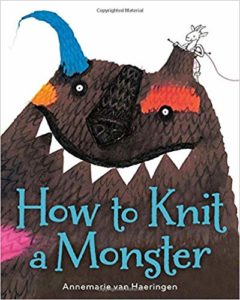 How to Knit a Monster by Annemarie van Haeringen
Greta the goat is a wonderfully accomplished knitter. She can even knit little goats and turn them loose to play around her feet. But when she gets distracted from her knitting, threatening creatures spring from her needles, each more menacing than the last. It takes quick thinking, courage, and brilliant knitting for Greta to find her way out of a perilous situation.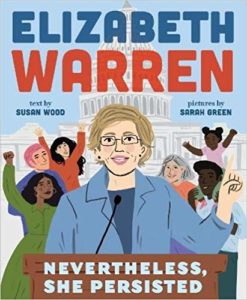 Elizabeth Warren: Nevertheless, She Persisted by Susan Wood, illustrated by Sarah Green
This book shares the incredible story of the first female senator of Massachusetts. Elizabeth came from a struggling middle-class family in Oklahoma City. After a heart attack put Elizabeth's father out of work, she helped out by babysitting, waitressing, and sewing, all while shining as a star member of her school's debate team. Debate taught Elizabeth how to fight with her words, a skill that eventually won her a state championship and a college scholarship. As a lawyer and law professor, Elizabeth learned why it was so difficult for working-class families like her own to advance economically, and today she continues to fight (with her words) for the poor and middle-class in her role as a senator. Claris: The Chicest Mouse in Paris by Megan Fless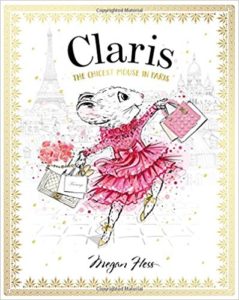 Claris: The Chicest Mouse in Paris by Megan Hess follows an adorable mouse who dreams of moving to Paris to follow her fashion dreams. One day, she bravely takes the leap – only to find a mean little girl with a horrible-looking cat standing in the way of her perfect Parisian apartment! Can Claris use all her wit, warmth and – of course – style to make her dreams come true?
The Bunny Band by Bill Richardson and Roxanna Bikadoroff
Lavinia the badger loves vegetables and tends her garden with care, but one morning she discovers that her lettuce has been nibbled and her potatoes and beans have disappeared! She decides to set a snare for the culprit, who turns out to be a frightened bunny. When Lavinia threatens to turn him into stew, the bunny pleads for his life, promising a rich reward if she lets him go.
Up and Away! How Two Brothers Invented the Hot-Air Balloon by Jason Henry
Back in 1782, in Ardèche, France, lived Joseph Montgolfier, a dreamer and an inventor who liked to learn about how everything worked. When one day a gust of wind blew his papers into the fireplace, he noticed that something lifted the pieces into the air—and he realized that heat could make things rise.  With the help of his brother, Étienne, he began to experiment . . . and created a new kind of flying machine: a hot-air balloon! This beautifully illustrated picture book tells the story of how the balloon came to be, King Louis XVI's visit to see it fly, and the three animals—a rooster, a duck, and a sheep—who became its very first passengers.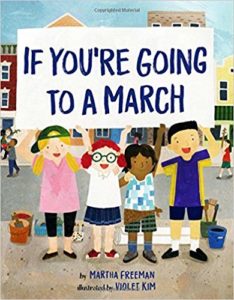 If You're Going to a March by Martha Freeman, illustrated by Violet Kim
As more and more children attend the growing number of marches across the country, this cheerful guide serves as a great reference tool and conversation starter for youthful participants. Inspired by author Martha Freeman's own experiences, this picture book addresses many of the questions kids might have: What should I wear? How will I get there? Where will I be able to go to the bathroom? Is it okay to dance? (Yes, it is!). All the while the text stays focused on the fact that the right to assemble is a Constitutional part of our life as Americans . . . whatever our political point of view.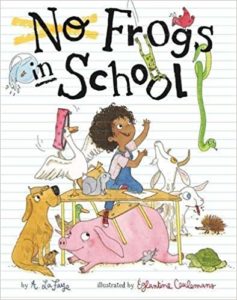 No Frogs in School by A. LaFaye, illustrated Eglantine Ceulemans
Hoppy pets, hairy pets, scaly pets: Bartholomew Botts loves them all. And he doesn't want to go to school without one. Unfortunately, when Bartholomew brings his brand-new frog to class, his teacher, Mr. Patanoose, declares: No frogs in school! How will Bartholomew keep his animal friends close at hand . . . and follow Mr. Patanoose's rules, too? Illustrated with energetic and humorous artwork, this back-to-school story will be a favorite with every animal-loving kid!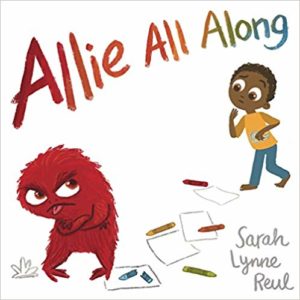 Allie All Along by Sarah Lynn Reul
Poor Allie! She's in a rage, throwing a tantrum, and having a fit! Her emotions have built and built and now they just burst. Is there a sweet little girl hiding somewhere under all the angry layers? And can her big brother find a way to make things all right again?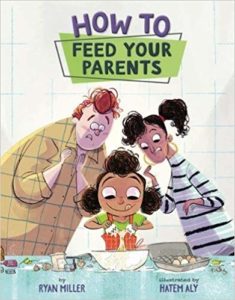 How to Feed Your Parents by Ryan Miller, illustrated by Hatem Aly
Matilda Macaroni loves to try new foods, whether it's her grandma's jambalaya or sushi at a sleepover. But, in this fun, twisted picture book, it's finicky mom and dad—not the child—who eat only pizza with pepperoni (delivered), burgers from a bag, or noodles from a box. Eager to experience new flavors, Matilda secretly sets out to learn how to cook, satisfy her hunger for something more . . . and expand her parents' palates, too. There's also a Macaroni family recipe for quiche that young cooks can try!
Chapter Books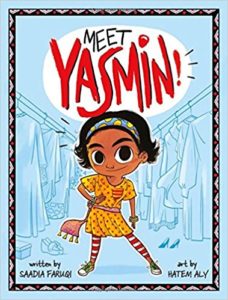 Meet Yasmin! by Saadia Faruqi, illustrated by Hatem Aly
Meet Yasmin! Yasmin is a spirited second-grader who's always on the lookout for those "aha" moments to help her solve life's little problems. Taking inspiration from her surroundings and her big imagination, she boldly faces any situation, assuming her imagination doesn't get too big, of course! A creative thinker and curious explorer, Yasmin and her multi-generational Pakistani American family will delight and inspire readers.
Middle Grade New Releases
 Eleanor Roosevelt: Fighter for Justice by Ilene Cooper
Eleanor Roosevelt, Fighter for Justice shows young readers how the former First Lady evolved from a poor little rich girl to a protector and advocate for those without a voice. Though now seen as a cultural icon, she was a woman deeply insecure about her looks and her role in the world. But by recognizing her fears and constantly striving to overcome her prejudices, she used her proximity to presidents and her own power to aid in the fight for Civil Rights and other important causes. This biography gives readers a fresh perspective on her extraordinary life. It includes a timeline, biography, index, and many historic photographs.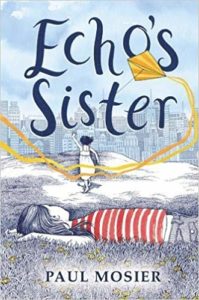 Echo's Sister by Paul Mosier
Twelve-year-old El has planned on making her first week at a new school fantastic. She won't go by her given name, Laughter. She'll sit in the back of the classroom where she can make new friends. She won't even have time to think about all the fun her old friends are having without her. Everything will be great. But when her dad picks her up after school and tells her that her younger sister, Echo, has a life-threatening illness, her world is suddenly turned upside down. And with her parents now pressed for time and money, El feels lost and powerless.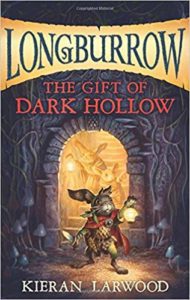 The Gift of Dark Hollow by Kieran Larwood
Hiding with fellow refugees, Podkin, Paz, and Pook are temporarily safe in Dark Hollow Warren. But their enemies—the evil Gorm—still search for them. The rabbits' only hope may be to locate twelve magical Gifts and use them to defeat the Gorm. The fate of all rabbitkind is at stake, and danger lurks at every turn. It will take all the siblings' courage and ingenuity to find the Gifts, battle the Gorm, and stay alive. Action and intrigue infuse the second installment of a series that shows that anyone—even little rabbits—can do great things.
Graphic Novel New Release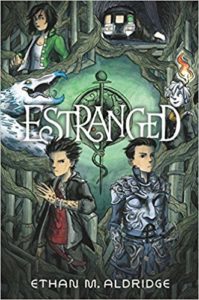 Estranged by Ethan M. Aldridge
Edmund and the Childe were swapped at birth. Now Edmund lives in secret as a changeling in the World Above, his fae powers hidden from his unsuspecting parents and his older sister, Alexis. The Childe lives among the fae in the World Below, where being a human makes him a curiosity at the royal palace. But when the cruel sorceress Hawthorne seizes the throne, the Childe and Edmund must unite on a dangerous quest to save both worlds—even if they're not sure which world they belong to.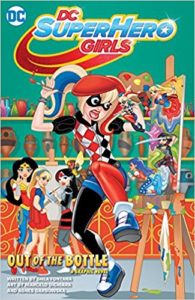 DC SuperHero Girls: Out of the Bottle by Shea Fontana, art by Marcelo DiChiara, Agnes Garbowska, and Mirka Andolfo
For an assignment in Ms. June Moone's art class, the girls are working on their very own comic books. The character-created comic pages give us a glimpse into each girl's personality. But Harley isn't satisfied with her comics creation and thinks a little of Ms. Moone's special paint will really help her drawings come to life! The problem? Harley's drawings literally come to life!
Backlist Book Recommendations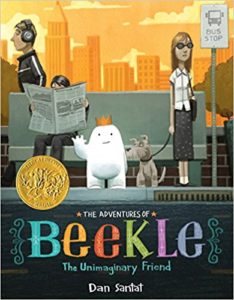 Picture Book Recommendation: The Adventures of Beekle, An Unimaginary Friend by Dan Santat
This magical story begins on an island far away where an imaginary friend is born. He patiently waits his turn to be chosen by a real child, but when he is overlooked time and again, he sets off on an incredible journey to the bustling city, where he finally meets his perfect match and–at long last–is given his special name: Beekle.
Note from Karina: This book was the winner of the 2015 Caldecott, and I just love it so much! Beekle is such an enduring, lovable character.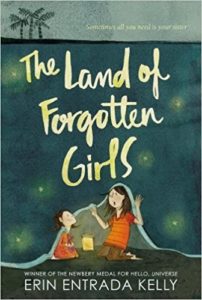 Middle Grade Recommendation: The Land of Forgotten Girls by Erin Entrada Kelly
Soledad has always been able to escape into the stories she creates. Just like her mother always could. And Soledad has needed that escape more than ever in the five years since her mother and sister died, and her father moved Sol and her youngest sister from the Philippines to Louisiana. After her father leaves, all Sol and Ming have is their evil stepmother, Vea. Sol has protected Ming all this time, but then Ming begins to believe that Auntie Jove—their mythical, world-traveling aunt—is really going to come rescue them. Can Sol protect Ming from this impossible hope?
Note from Karina: This is one of my favorite Erin Entrada Kelly books. It portrays the lives of Soledad and Mind in very realistic, yet hopeful, ways.
Giveaway!
This month's giveaway opportunity is 16 awesome books featured on the Recommended podcast! Enter here by August 31.
I'd love to know what you are reading this week! Find me on Twitter at @KarinaYanGlaser, on Instagram at @KarinaIsReadingAndWriting, or email me at karina@bookriot.com.
Until next week!
Karina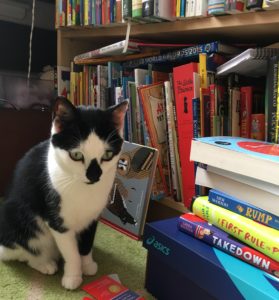 We are fostering a couple of cat sisters (cue my husband's sigh) through a wonderful cat rescue in New York City, Anjellicle Cats. I think the cats enjoy hiding and playing between the stacks of books in our apartment.
*If this e-mail was forwarded to you, follow this link to subscribe to "The Kids Are All Right" newsletter and other fabulous Book Riot newsletters for your own customized e-mail delivery. Thank you!*