This edition of Today in Books is sponsored by The Magnetic Collection at Lion Forge.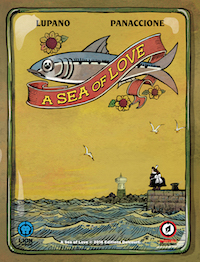 Each morning, an old fisherman heads to sea, leaving his doting wife at home, awaiting his return. When he doesn't return one evening, the village assumes his death. His wife refuses to give up hope. She consults a fortune teller who sees his visage in a crepe . . . alive in Cuba. Convinced her husband is still alive, she sets off on an improbable mission to save him.
Completely wordless, this heartwarming adventure is a testament to the power of sequential storytelling and the power of love itself. A Sea of Love is in stores now from Lion Forge!
---
The Hate U Give Cover Artist Talks About Her Illustration
Artist Debra Cartwright gives maybe one of the most interesting interviews about the process behind book cover design, specifically her work on Angie Thomas's The Hate U Give. "Actually, in design school at Parsons I took a book-cover design class, and my teacher must be cracking up, because he told me, 'I don't know if this is for you.'" Just goes to show.
Bon Voyage, Voyage
Introduced in 2014, the Kindle Voyage e-reader is now no longer for sale by Amazon in the US, UK, and at least four other European countries. Honestly, the Kindle family doesn't seem incomplete without it. There's the entry-level Kindle, and slightly fancier Kindle Paperwhite. And you can splurge on the waterproof Oasis if you want to do some shower reading (she types, not at all from experience). But if you just HAVE to have a Voyage, there are a few refurbished ones out there.
Readers Watch Videos Too
Bookish YouTube videos are big, even if YouTube says so itself. According to the platform, the BookTube community has earned "over 200 million views and, compared to this time last year, engagement with them is up 40 percent." While we're on the subject, check out Book Riot's YouTube channel!