Happy Friday, fairfolk and farseers! Today I'm reviewing Record of a Spaceborn Few by Becky Chambers and A Thousand Beginnings and Endings, edited by Ellen Oh and Elsie Chapman, plus talking WorldCon shenanigans, poolside reading, the Buffy reboot, and more.
---
This newsletter is sponsored by Tor.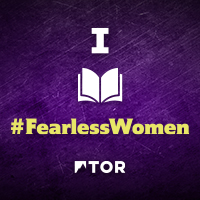 Women are shining in every genre of speculative fiction, and it is no longer enough to say "Women are here." Instead, #FearlessWomen everywhere are taking a stand to say "Women will
thrive here."
This summer a new generation of #FearlessWomen are shaping new blockbuster worlds—and reshaping our own. Discover new novels from bestselling authors V. E. Schwab, Sherrilyn Kenyon, and Jacqueline Carey as well as titles from acclaimed and debut authors including Mary Robinette Kowal, Tessa Gratton, Sam Hawke, and Robyn Bennis. Join the conversation online with #FearlessWomen.
---
WorldCon is less than a month away, and is redoing their entire program. Here's what's going on and why, courtesy of BR's own Alex Acks. If you've got any interest in the inner workings of the SF/F world, are familiar with the Sad and Rabid Puppies of years past, and/or are curious about the future of SF/F events, this is very worth a read.
In nicer award news, here are the finalists for the World Fantasy Awards! I'm delighted to see a bunch of personal favorites on the list, and will have to bump a few others of these up on my TBR.
Need some poolside reading? Here are some YA SF/F recs, none of which I have read somehow and all of which I now need to check out.
A Buffy reboot is in the offing, and they're casting a black lead actress, and have a black female show-runner. Response to this news has been Very Mixed, and I'm very curious to see what exactly "reboot" means in this case. This statement from showrunner Monica Owusu-Breen gives me hope!
The Discovery of Witches TV show finally has a US distributor, one which I find super confusing yet again. Sundance has a subscription service?!
If you need more space in your life, here are both true and fictional stories to scratch the itch.
Want to do a deep dive into the process of world-building? This roundtable discussion is fascinating, thorough, and features several authors whose works I love (Peng Shepherd! Tade Thompson! Malka Older!)
Today in reviews, we've got a generation ship reboot and fairytale retellings.
Record of a Spaceborn Few (Wayfarers #3) by Becky Chambers
If I had to boil down the premises of each of the Wayfarers books into a single sentence, it would go like this:
The Long Way to a Small Angry Planet is about finding your family.
A Closed and Common Orbit is about finding yourself.
Record of a Spaceborn Few is about finding your place.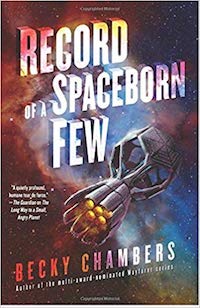 Record returns to an ensemble cast, like Long Way, but for the most part these characters don't know each other. This time we get a deep dive into the Exodus Fleet, which was built to save humanity from a dying Earth. They took to the stars in generation ships looking for a new inhabitable planet, encountered the alien races of the Galactic Commons, and ended up never leaving their ships. Now they orbit around a sun gifted to them by the Harmagians, leading an insular and entirely space-based life.
The story explores the Exodans from various perspectives: a working mother, a young emigrant, an alien researching human cultures, a teenager looking for ways to rebel, and more. The Fleet is under threat from several directions including decreasing population, worn-out machinery, and internal disagreement over incorporating alien technologies. They're also still recovering from a catastrophic accident that killed thousands. Each character must decide what change means to them, what traditions they hold dear, and how — and where — they want to spend their lives.
Both a meditation on mortality and a celebration of what it means to choose your life, Record of a Spaceborn Few adds new depth to Chambers' world-building, a new take on the generation ship trope, and new characters to love.
A Thousand Beginnings and Endings, edited by Ellen Oh and Elsie Chapman
Disclosure: Anthology contributor Preeti Chhibber is a personal friend and a former Book Riot contributor.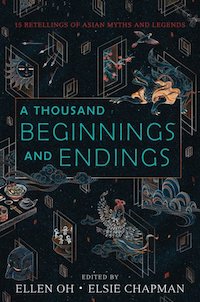 My excitement for this collection to come out was immense, not just because a good friend was in it but because fairytales — especially fairytale retellings — are my jam. Add to that that this anthology explores Asian fairytales, which are much less familiar to me than European ones, and I was basically throwing my money at this. Friends, I regret nothing.
Like with any collection I have my favorites, and my favorites are many. Aswangs in NYC courtesy of Melissa de la Cruz, hungry ghosts in Arizona thanks to Alyssa Wong, shapeshifting sisters from Aliette de Bodard, a ghost-ridden MMORPG courtesy of E.C. Myers, and now I am running out of word-count so I will stop. There are compelling characters, subtle world-building, and above all thoughtful contemplation of what traditional stories might look like through a modern lens. Each story also comes with a brief writers' statement about the original folktale and why they chose it to rework, which also means we can now fall down a rabbithole of reading the originals! Highly recommended for all fairytale fanatics, but in particular this needs to get into the hands of each and every teenager looking for themselves on the page.
And that's a wrap! You can find all of the books recommended in this newsletter on a handy Goodreads shelf. If you're interested in more science fiction and fantasy talk, you can catch me and my co-host Sharifah on the SFF Yeah! podcast. For many many more book recommendations you can find me on the Get Booked podcast with the inimitable Amanda.
Wishing you a happily ever after (or at least a happy for today),
Jenn