This edition of Today in Books is sponsored by The Con Artist by Fred Van Lente, published by Quirk Books.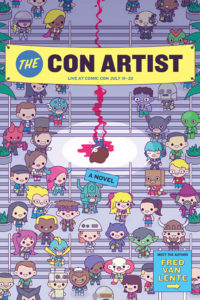 ---
Shakespeare Would've Loved Parks & Rec
On Twitter, Alison Sloan summed up every Shakespeare play using one Parks and Recreation quote each. This thread is the definition of perfection. My favorite might be the one for As You Like It because that play, April Ludgate, and that quote are bae.
Toy Store Dedicates Entire Floor To Harry Potter
Hamleys, the oldest and largest toy shop in the world, said what the heck and turned an entire floor into Potterhead paradise. That's 3,000 square feet of Diagon Alley now situated in our humble Muggle world. Check out the goodies, but maybe leave the emergency credit card at home–being a wizard is, apparently, not cheap.
Watch The First Trailer For GRRM's Nightflyers
It's San Diego Comic Con time, which means sneak peeks and exciting announcements from the world of comics, SFF, and more. During SDCC, the Syfy Channel hosted a panel with the cast and crew of the upcoming adaptation of George R.R. Martin's psychological space thriller, Nightflyers. And we got the first official trailer! Watch it here.
And don't forget–we're giving away $500 of this year's best YA books (so far)! Click here to enter.