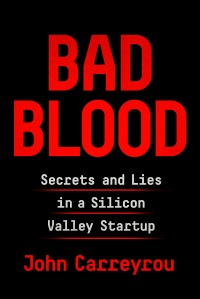 As I'm writing this newsletter, I've just finished reading Bad Blood: Secrets and Lies in a Silicon Valley Startup, an account of "the breathtaking rise and shocking collapse of Theranos," a biotech startup led by a woman who was hailed as the next Steve Jobs. But then a Wall Street Journal reporter got a tip that the technology the company was using on patients and preparing to sell to major healthcare companies didn't actually work, an investigation that revealed the company was built on lies.
---
We're giving away $500 of the year's best YA! Click here, or on the image below to enter:
---
I'm not sure how this one completely missed my radar when it came out in May, but I ended up grabbing it at the recommendation of a friend and because of the chatter amongst the Book Riot editorial staff. And everyone was right – this book might be the most banapants work of nonfiction this year (that's not about politics). The details about what went on inside Theranos, including the oddness of the CEO and the corruption among her supporters, seem almost too insane to be real. But it's well researched and the reporting was rigorously managed, so I'm confident it's accurate. So, so good!
Reading the book brought to mind a few other books on Silicon Valley that have been on my radar (or I've read) — Reset by Ellen Pao, The Accidental Billionaires by Ben Mezrich, and Hatching Twitter by Nick Bilton, just to name a few. It's an area ripe for great stories.
With that gushing out of the way, on to this week's newsletter!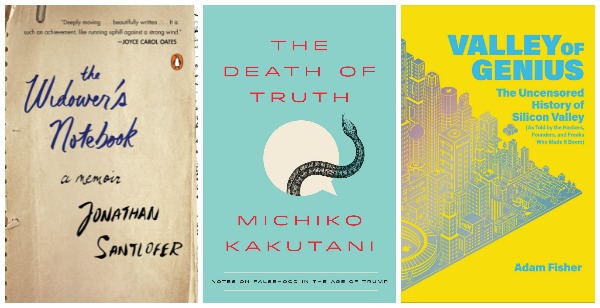 New Books!
This week's new books are three titles that have me curious but, for a variety of reasons, a little bit skeptical. My skepticism might be your genre kryptonite through, we'll see!
The Widower's Notebook by Jonathan Santlofer – This book is a memoir about a man learning to live without his wife, who died unexpectedly and tragically after a routine operation. It's been compared to Joan Didion's The Year of Magical Thinking or Joyce Carol Oates' A Widow's Story, except getting at this particular type of tragedy and grief from the perspective of a widower rather than a widow. One review I read suggested that his arguments about grief and gender rely on some old-fashioned cultural norms, but I'm curious anyway.
The Death of Truth: Notes on Falsehood in the Age of Trump by Michiko Kakutani – In this book, the former New York Times critic wonders "how truth became an endangered species in contemporary America" (as we all are…). She looks to the cultural forces like social media, television and politics, as well as trends from both political parties, to look at how we got where we are. This book feels like it's slotting right into a trend – books on truth in a world that's abandoned facts – but I'm generally here for it.
Valley of Genius: The Uncensored History of Silicon Valley by Adam Fisher – After finishing Bad Blood, my interest in books about Silicon Valley culture is pretty high. Adam Fisher grew up in Silicon Valley, but didn't realize how unusual it was until he was an adult. Valley of Genius is an oral history of Silicon Valley that relies in more than 200 interviews with people who lead the technological revolution, and shares "the most told, retold, and talked-about stories in the Valley." A skim of the contributors looks very full of dudes, which I suppose makes sense for a book on Silicon Valley, but still gives me a little pause.
Book Lists!
And finally, I'll wrap this one up with a few recent book lists that look pretty excellent:
Don't forget! We're hosting an awesome giveaway of $500 of the year's best young adult fiction and nonfiction so far, picked out by our resident YA expert Kelly Jensen. Hop over to this link before July 31 to enter: https://goo.gl/iZpwWZ
With that, have an awesome weekend! You can find me on Twitter @kimthedork, and co-hosting the For Real podcast here at Book Riot. Happy reading!