Hey YA Readers: Time to talk books!
What's Up in YA? is sponsored by Fawkes by Nadine Brandes.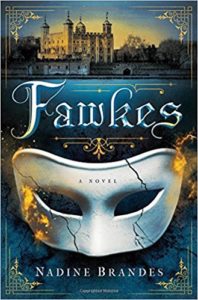 Both Epic Reads and BN Teen have named Fawkes to their 'Most Anticipated July Reads' lists.
"I was up late in the night reading, waiting to get to the fifth of November to see how the plot would actually unfold, and it did not disappoint. An imaginative, colorful tale about choosing for yourself between what's right and what others insist is the truth." —Cynthia Hand, New York Times bestselling author of My Lady Jane
"Hold on to your heart as this slow-burning adventure quickly escalates into an explosion of magic, love, and the truth about loyalty." —Mary Weber, bestselling author of the Storm Siren Trilogy
Remember, remember… Fawkes!
---
Given how much focus is currently on immigration in the United States, it seems fitting to talk about YA books about immigration. You can dig into a big round-up of titles at that link.
Over the last few months, I've stumbled upon even more YA books written by immigrants who are undocumented or are in the midst of navigating the political challenges of acquiring that documentation. These books are the literal voice to the voiceless in so many discussions of immigration and refugee/asylum seekers — rather than being told their stories by others, it's refreshing, powerful, and vital to hear these stories in their own words.
Let's take a peek at what has hit shelves so far this year and what we have to look forward to. I've broadened this round-up a little bit and included both a title about a refugee family settling in Canada that, while published for the adult market, will have appeal to YA readers and an essay collection aimed at adults with names that will have that same YA reader appeal.
Descriptions come from Amazon, since I've not gotten my hands on all of these yet.
In a unique collaboration with photographer and educator Wendy Ewald, eighteen immigrant teenagers create an alphabet defining their experiences in pictures and words. Wendy helped the teenagers pose for and design the photographs, interviewing them along the way about their own journeys and perspectives.
American Like Me edited by America Ferrera (September 25)
America Ferrera has always felt wholly American, and yet, her identity is inextricably linked to her parents' homeland and Honduran culture. Speaking Spanish at home, having Saturday-morning-salsa-dance-parties in the kitchen, and eating tamales alongside apple pie at Christmas never seemed at odds with her American identity.
Still, she yearned to see that identity reflected in the larger American narrative.
Now, in American Like Me, America invites thirty-one of her friends, peers, and heroes to share their stories about life between cultures. We know them as actors, comedians, athletes, politicians, artists, and writers. However, they are also immigrants, children or grandchildren of immigrants, indigenous people, or people who otherwise grew up with deep and personal connections to more than one culture. Each of them struggled to establish a sense of self, find belonging, and feel seen. And they call themselves American enthusiastically, reluctantly, or not at all.
Ranging from the heartfelt to the hilarious, their stories shine a light on a quintessentially American experience and will appeal to anyone with a complicated relationship to family, culture, and growing up.
At thirteen, bright-eyed, straight-A student Sara Saedi uncovered a terrible family secret: she was breaking the law simply by living in the United States. Only two years old when her parents fled Iran, she didn't learn of her undocumented status until her older sister wanted to apply for an after-school job, but couldn't because she didn't have a Social Security number.
Fear of deportation kept Sara up at night, but it didn't keep her from being a teenager. She desperately wanted a green card, along with clear skin, her own car, and a boyfriend.

Americanized follows Sara's progress toward getting her green card, but that's only a portion of her experiences as an Iranian-"American" teenager. From discovering that her parents secretly divorced to facilitate her mother's green card application to learning how to tame her unibrow, Sara pivots gracefully from the terrifying prospect that she might be kicked out of the country at any time to the almost-as-terrifying possibility that she might be the only one of her friends without a date to the prom. This moving, often hilarious story is for anyone who has ever shared either fear.
Alan Kurdi's body washed up on the shore of the Mediterranean Sea on September 2, 2015, and overnight, the political became personal, as the world awoke to the reality of the Syrian refugee crisis. Tima Kurdi first saw the shocking photo of her nephew in her home in Vancouver, Canada. But Tima did not need a photo to understand the truth—she and her family had already been living it.
In The Boy on the Beach, Tima recounts her idyllic childhood in Syria, where she grew up with her brother Abdullah and other siblings in a tight‑knit family. A strong‑willed, independent woman, Tima studied to be a hairdresser and had dreams of seeing the world. At twenty‑two, she emigrated to Canada, but much of her family remained in Damascus. Life as a single mother and immigrant in a new country wasn't always easy, and Tima recounts with heart‑wrenching honesty the anguish of being torn between a new home and the world she'd left behind.
As Tima struggled to adapt to life in a new land, war overtook her homeland. Caught in the crosshairs of civil war, her family risked everything and fled their homes. Tima worked tirelessly to help them find safety, but their journey was far from easy. Although thwarted by politics, hounded by violence, and separated by vast distances, the Kurdis encountered setbacks at every turn, they never gave up hope. And when tragedy struck, Tima suddenly found herself thrust onto the world stage as an advocate for refugees everywhere, a role for which she had never prepared but that allowed her to give voice to those who didn't have an opportunity to speak for themselves.
Sixty full-page portraits of students at Oakland International High School, photographed by award-winning photographer Ericka McConnell, are accompanied by their own unique, diverse, and surprising stories of what makes them feel at home. Each of these young people is inspiring in their own right and together their stories will help us consider the issue of immigration with new mindfulness and compassion. All profits from the publication of this book will be donated to Oakland International High School.
Before landing a spot on the megahit Netflix show Orange is the New Black; before wow-ing audiences as Lina on Jane the Virgin; and before her incredible activism and work on immigration reform, Diane Guerrero was a young girl living in Boston. One day, while Guerrero was at school, her undocumented immigrant parents were taken from their home, detained, and deported. Guerrero's life, which had been full of the support of a loving family, was turned upside down.
Reflective of the experiences of millions of undocumented immigrant families in the United States, Guerrero's story is at once heartbreaking and hopeful.
Born in the picturesque town of Taxco, Mexico, Julissa Arce was left behind for months at a time with her two sisters, a nanny, and her grandma while her parents worked tirelessly in America in hopes of building a home and providing a better life for their children. That is, until her parents brought Julissa to Texas to live with them. From then on, Julissa secretly lived as an undocumented immigrant, went on to become a scholarship winner and an honors college graduate, and climbed the ladder to become a vice president at Goldman Sachs.
This moving, at times heartbreaking, but always inspiring story will show young readers that anything is possible. Julissa's story provides a deep look into the little-understood world of a new generation of undocumented immigrants in the United States today–kids who live next door, sit next to you in class, or may even be one of your best friends.
Undocumented is the story of immigrant workers who have come to the United States without papers. Every day, these men and women join the work force and contribute positively to society. The story is told via the ancient Mixtec codex—accordion fold—format. Juan grew up in Mexico working in the fields to help provide for his family. Struggling for money, Juan crosses over into the United States and becomes an undocumented worker, living in a poor neighborhood, working hard to survive. Though he is able to get a job as a busboy at a restaurant, he is severely undercompensated—he receives less than half of the minimum wage! Risking his boss reporting him to the authorities for not having proper resident papers, Juan risks everything and stands up for himself and the rest of the community.
Note: Goodreads users are labeling this as a children's picture book, but both the publisher's catalog and Amazon list this as 14 and up. 
With her powerful new book, Nobel Peace Prize winner Malala Yousafzai starts with her own story of displacement as an Internally Displaced Person to show what it means to lose your home, your community, and the only world you've ever known. She also shares the personal stories of some of the incredible girls she has met on her various journeys to refugee camps and the cities where refugee girls and their families have settled.
Note: No cover yet and the link above takes you to the audio version — print doesn't yet look like it's available for preorder.
We Are Here To Stay: Voices of Undocumented Young Adults by Susan Kunklin (January 8, 2019)
Susan Kuklin uses her considerable interviewing and photography skills to portray nine courageous young adults who have lived in the United States with a secret for much of their lives: they are not U.S. citizens. They came from Colombia, Mexico, Ghana, Independent Samoa, and Korea. They came seeking education, fleeing violence, and escaping poverty. All have harrowing, heartbreaking, and hopeful stories about leaving their homeland and starting a new life in America. And all of them are weary of living in the shadows. Enlightening and honest, these nine brave accounts encourage open, thoughtful conversation about the complexities of immigration — and the uncertain future of immigrants in America.
____________________
Thanks for hanging out, and we'll see you again later this week!
–Kelly Jensen, @veronikellymars at Twitter and Instagram.
PS: Remember to share your favorite read of 2018 so far, as well as one you'd love to get more attention in this reader poll.