Hi mystery lovers! I am SO excited that TNT's Claws got renewed for a third season–I know it's not an adaptation, but it is a fantastic crime show and everyone should go watch it. Okay, now onto books!
---
Sponsored by Bas Bleu Books & Gifts.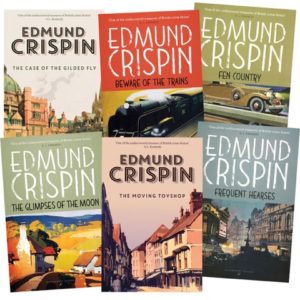 Widely considered an underappreciated gem of British crime fiction, Gervase Fen—eccentric Oxford don and amateur criminologist—is a delightfully unconventional detective. The novels and short stories featuring the compulsively quipping sleuth employ equal elements of ingenuity and comedy, with a touch of the fantastic and an ample smattering of both witty commentary and literary allusions. We're offering four of his most popular novels and two short story collections, individually or as a discounted set!
---
From Book Riot and Around the Internet
Rincey and Katie discuss crime series and more in the recent Read or Dead!
50 Must-Read Mystery Books for Kids
"Things Got Broken": Anthony Bourdain, Crime Fiction, and the Power of Food
The Best Books on Con Artists, According to True-Crime Experts
The Big Sleep: Reading Raymond Chandler in the age of #MeToo. "What fascinates and compels me most about Chandler in this #MeToo moment are the ways his novels speak to our current climate. Because if you want to understand toxic white masculinity, you could learn a lot by looking at noir."
(TW self-harm) All The Hidden Words You Missed in Sharp Objects
Giveaways (Hug a Luck Dragon and enter):
Remember we're giving away $500 of the year's best YA fiction and nonfiction so far (with a few great mysteries on the list!)
And Macmillan has a giveaway for a signed copy of I'm Not Missing by Carrie Fountain (A great YA coming-of-age with a background mystery.)
Adaptations and News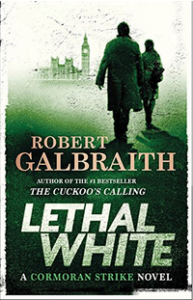 You can now pre-order Lethal White, the 4th book in the Strike series, by Robert Galbraith (J.K. Rowling).
The Australian Crime Writers Association announced this year's longlist for the Ned Kelly Awards. Hello list, please meet my TBR!
Another writer was revealed for the secretive second season of John Le Carré's The Night Manager adaptation by BBC/AMC. "All I am permitted to say is that Le Carré has given his blessing to the project. The four of us in the writers' room are sworn to silence."
(TW: self-harm) I'm disappointed in HBO's handling of trigger warnings and PSA for mental health in their Sharp Objects adaptation. There had been an announcement that they were going to direct viewers to resources for help with an end card that read: "If you or someone you know struggles with self-harm or substance abuse, please seek help by contacting the Substance Abuse and Mental Health Services Administration (SAMHSA) 1-800-662-HELP (4357)." Except I feel like they did this for show rather than actual care since I watched the episode and never saw the card. Seems it was placed after the credits. Apparently for like 1% of viewers to see since I don't know anyone who watches all the credits to wait for something after. Anyway, I brought it up so that I could list the info for anyone who may need it or know someone who does.
Watch Now
I wanted more crime fiction from around the world, and Netflix heard me and answered with Vikram Chandra's Sacred Games adaptation. It's the first Netflix original series from India, and I've just started watching and am excited! It's a dark crime series that follows a police officer who stumbles across massive corruption while investigating a robbery. (Forewarned, it opens with a dog's death.)
Kindle Deals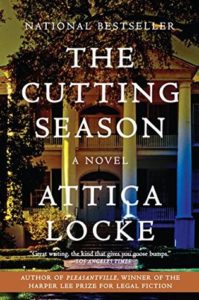 The Cutting Season by Attica Locke is $1.99 (Here are my reviews for ALL of Locke's novels–I love her a lot!)
Death at Breakfast (Maggie Detweiler and Hope Babbin #1) by Beth Gutcheon is $1.99 (A good read for fans of Agatha Christie if you want a modern setting.)
The Fourth Monkey by J.D. Barker is $1.99 (Great for horror fans: Review) (I don't remember the TW, but think horror movies.)
A Bit of My Week In Reading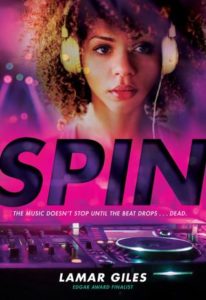 I just got my hands on Lamar Giles upcoming Spin which I was planning on reading because I'll read everything Giles writes but then I read "edge-of-your-seat thriller about best friends, murder, and music" and it moved to the top of my reading list. Also, I'm obsessed with that cover.
I started Amina Akhtar's #FashionVictim which has a super strong voice from the beginning–something I always love. I'm only a few chapters in, and it's already made me want to use the eyes emoji a few times!
And I'm listening to the audiobook of Bad Blood: Secrets and Lies in a Silicon Valley Startup by John Carreyrou and had already said "holyshirtballs" before the actual first chapter so this is gonna be a ride!
Browse all the books recommended in Unusual Suspects previous newsletters on this shelf. And here's an Unusual Suspects Pinterest board.
Until next time, keep investigating! And in the meantime, come talk books with me on Twitter, Instagram, and Litsy–you can find me under Jamie Canaves.
If a mystery fan forwarded this newsletter to you and you'd like your very own, you can sign up here.