Happy Friday, friends! In today's installment I've got reviews of Guardian Angels and Other Monsters by Daniel H. Wilson and Spinning Silver by Naomi Novik, plus the British Fantasy Awards shortlist, a Halo TV series, read-alikes for recent favorites, and more.
---
This newsletter is sponsored by Fawkes by Nadine Brandes.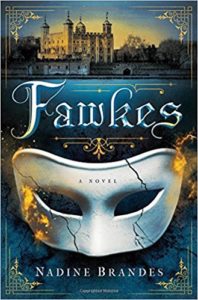 Both Epic Reads and BN Teen have named Fawkes to their 'Most Anticipated July Reads' lists.
"I was up late in the night reading, waiting to get to the fifth of November to see how the plot would actually unfold, and it did not disappoint. An imaginative, colorful tale about choosing for yourself between what's right and what others insist is the truth." –Cynthia Hand, New York Times bestselling author of My Lady Jane
"Hold on to your heart as this slow-burning adventure quickly escalates into an explosion of magic, love, and the truth about loyalty." –Mary Weber, bestselling author of the Storm Siren Trilogy
---
The British Fantasy Award shortlist has been announced! Three cheers for Sofia Samatar's Tender, Victor LaValle's The Changeling, and S.A. Chakraborty for making the list. Somehow I haven't read any of the nominees for Best Fantasy, must get on that.
This is not a drill: the sequel to Zen Cho's Sorcerer to the Crown is called The True Queen and will be released on March 12, 2019! This is me right now.
Halo fans, rejoice: you're getting a TV series, from Showtime.
Remember that time I raved about Witchmark by CL Polk? This piece recommends read-alikes! More delicious fantasy for my TBR. (Also I cosign that Gilded Cage rec, although it is an overall darker book.)
Need some non-Western fairytales? I love this list from S.A. Chakraborty for reading beyond One Thousand and One Nights.
You know who's good at recommending books? Mary Robinette Kowal, that's who.
Which Pevensie sibling are you? Apparently I am Susan, to my utter lack of surprise. (I am dying to know if anyone actually gets Edmund.)
Reminder! You can and should enter the drawing for our Best of the Year YA Giveaway, which includes such excellent SF/F YA titles as Dread Nation, Undead Girl Gang, Tess of the Road, and The Cruel Prince.
Today in reviews, we've got some spooky sci-fi tales and a fairytale retelling.
Guardian Angels and Other Monsters by Daniel H. Wilson
I first read Wilson earlier this year when I picked up The Clockwork Dynasty, and I was intrigued when I found Guardian Angels and Other Monsters in a friend's book stacks. If you're looking for dark and twisty sci-fi stories comparable to the works of Lauren Beukes and Victor LaValle, add this one to your TBR.
While the stories range in geography — Portland, Oklahoma, and Africa all feature — and in level of "OMG WTF," there are a few through-lines. All are definitely on the sci-fi side of SF/F, and most are about family in one form or another. Whether they're parents, siblings, or found family, the characters contemplate the most intimate relationships. A guardian robot tries to keep its charge safe; a mother contemplates her strange child; an abused, neurodiverse young man searches for respect from his older brother. And while scientific break-throughs might change the trappings of those relationships, ultimately the heart of them stays the same. Technology can hurt or it can heal, but people will always be people — for better or worse. Wilson explores what "better" and "worse" can look like, and the results are both chilling and engrossing.
For fans of Wilson's work, there's a story each attached to the Robopocalypse and Clockwork Dynasty worlds. For new fans, the stories stand well enough alone; no previous reading required.
Spinning Silver by Naomi Novik
Trigger warning: repeated acts of domestic violence and child abuse
Spinning Silver follows a rotating and shifting cast of first-person narrators from in and around a small, Russian-inspired medieval village. The three primary narrators, all young women, are also my favorites: Wanda, a young villager with an abusive father; Miryem, a Jewish girl who is the primary breadwinner for her family; and Irina, the daughter of a Duke who only sees her as a political bargaining chip. Each has a complicated relationship with her father, albeit in very different ways. Miryem has also unwittingly drawn the attention of a fairy king in the woods. As the characters' orbits begin to overlap, the stakes get higher for everyone involved. What was once a matter of personal survival is now a question of life or death for untold innocents, and the paths to victory are tangled and uncertain.
Much like Uprooted, Novik is retelling a variety of fairy tales here; the Erlking, "Rumpelstiltskin," and "The Juniper Tree" all feature. But this book is a much more timely and broad-ranging story, taking on anti-Semitism, abuse and trauma, and father-daughter relationships. She also digs deeply into even the "bad guys" of her story — and I put that in scare quotes for a reason. It's a tightly paced, beautifully plotted and written book, and I think it's my favorite thing she's ever written.
I also gushed about this book on All the Books this week, if you want to listen to me try to summarize it out loud (which is always difficult for me!).
And that's a wrap! You can find all of the books recommended in this newsletter on a handy Goodreads shelf. If you're interested in more science fiction and fantasy talk, you can catch me and my co-host Sharifah on the SFF Yeah! podcast. For many many more book recommendations you can find me on the Get Booked podcast with the inimitable Amanda.
Your fellow booknerd,
Jenn