Hi friends,
I just love Tuesdays, because Tuesdays are generally when new books are released. There are lots of theories as to why new books come out on Tuesdays, including shipping times to get new books to bookstores and increasing the chances of getting books on bestseller lists. In any case, Tuesday is when most new books are released which makes it a very happy day indeed.
---
We're giving away $500 of the year's best YA! Click here, or on the image below to enter:
---
If you missed the announcement in the previous newsletter, The Kids Are All Right has moved to a twice-a-week newsletter. On Sundays, I'll be giving you book lists based on a theme, interviews with authors and illustrators, and other book-related features. On Tuesdays we will be celebrating new children's books!
New Releases
All of these books release this Tuesday unless otherwise noted. The book descriptions are from Goodreads, but I'll add a 
 if I particularly loved a title.
Picture Book New Releases
 Tyrannosaurus Wrecks by Sudipta Bardhan-Quallen, illustrated by Zachariah OHora (Abrams) *board book release*
In many ways, dinosaur preschool is just like any other classroom: The toddlers play with toys, do art projects, and read books. But during every activity, the overenthusiastic Tyrannosaurus rex finds a way to wreak havoc . . . until his classmates help him control himself. A list of dinosaur names (and how to pronounce them) will help young dinosaur fans identify more than a dozen different dino species.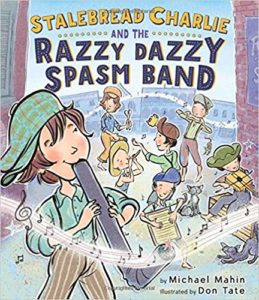 Stalebread Charlie and the Razzy Dazzy Spasm Band by Michael Mahin, illustrated by Don Tate (HMH)
It's 1895, and ten-year-old Stalebread Charlie and his friend Warm Gravy roam the streets of New Orleans, homeless and hungry. Stalebread has heard folks say that music feeds the soul—and he wonders if it could also fill their bellies. Soon he and his friends are playing instruments made out of junk—a fiddle from a cigar box, a kazoo from a comb—until their hats are filled with coins, their bellies are filled with beignets, and their souls are filled with music. This inspiring make-lemonade-from-lemons tale includes author/illustrator notes about the real Stalebread and the research behind the book and a make-your-own-instrument activity.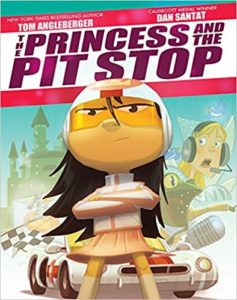 The Princess and the Pit Stop by Tom Angleberger, illustrated by Dan Santat (Abrams)
Once upon a time there was a Princess . . .
. . . who made a pit stop.
While the Birds and Beasts changed her tires, her Fairy Godmother told her she was in last place! With just one lap left! She might as well give up!
Give up? Not THIS princess! Instead, she hit the gas!
Join Her Royal Highness in the driver's seat for a mad dash to the finish in this exciting ode to auto racing. With appearances by fairy tale favorites including the Tortoise and the Hare, the Frog Prince, and ALL of the Wicked Witches, this rollicking mash-up of race cars and royalty is a true celebration of both girl power and horsepower.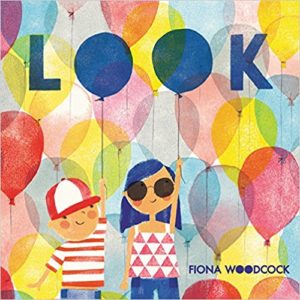 Look by Fiona Woodcock (HarperCollins)
Starring a brother and sister who go to the zoo, see kangaroos and baboons, and get to bring home balloons! Told entirely in words that contain a double o, this playful story is a great choice for emerging readers.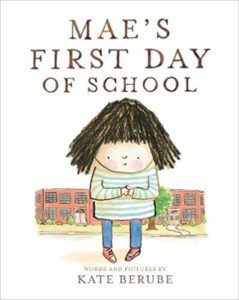 Mae's First Day of School by Kate Berube (Abrams)
As Mae's first day of school approaches she decides she IS. NOT. GOING. School is scary! What if the other kids don't like her? Or what if she's the only one who doesn't know how to write? Or what if she misses her mom? Mae's anxiety only builds as she walks to school. But then she meets Rosie and Ms. Pearl. Will making new friends show her that they can conquer their fears together?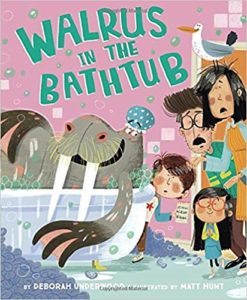 Walrus in the Bathtub by Deborah Underwood, illustrated by Matt Hunt (Penguin Random House)
Things you'd expect to find in the bathtub:
1. Soap bubbles
2. Rubber duckies
3. Shampoo
Things you don't expect to find in the bathtub:
1. WALRUS
As it turns out, once a walrus settles in for a nice long soak, it's pretty darn hard to get him out. What's a family to do? This silly-sweet story will keep readers giggling as a family tries–and tries again!–to evict their unexpected houseguest… before finally realizing why he's there in the first place.
Chapter Book New Releases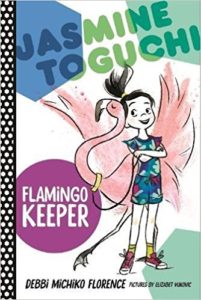 Jasmine Toguchi, Flamingo Keeper by Debbi Michiko Florence, illustrated by Elizabet Vukovic (Farrar, Straus and Giroux) *This came out on July 3, but I forgot to include it in my last newsletter!*
Jasmine's best friend, Linnie, has just gotten a puppy. And now Jasmine wants a pet of her own―a flamingo! So when her grandmother sends Jasmine a daruma doll as a surprise gift, Jasmine colors in one doll eye and wishes for a flamingo to keep. Next, Jasmine tries to convince her parents that she's responsible enough for a pet. She cleans her room, brushes her teeth, takes out the trash, and, most importantly, researches everything she can about flamingos. But soon it becomes clear that her wish may never come true! Will Jasmine's daruma doll ever get its second eye? Luckily her big sister, Sophie, has a surprise planned that fulfills Jasmine's wish beyond her wildest dreams.
Middle Grade New Releases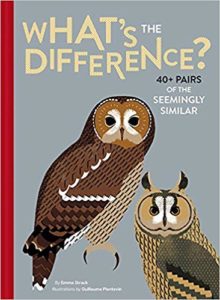 What's the Difference? by Emma Strack, illustrations by Guillaume Plantevin (Chronicle)
What distinguishes a mandarin orange from a clementine, an iris from a pupil, a tornado from a cyclone, and a bee from a wasp? The difference is in the details! This content-rich illustrated extravaganza distills the distinctions between an impressive collection of pairs—from animals to food to geography and more—offering enlightening trivia, amusing tidbits, and unforgettable facts in a highly browsable format. Young readers can dip in quickly to feed their curiosity, or delve into the details and stay awhile. With a bold, graphic art style and an accessible, smart text, this miscellany collection will enrich probing minds (or is it "brains"?!).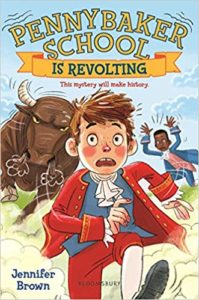 Pennybaker School is Revolting by Jennifer Brown (Bloomsbury)
Sixth-grader Thomas Fallgrout is finally settling in at Pennybaker School, home of student unicyclers, thespians, acrobats, and other classmates with unique and unusual gifts. After a bit of an unusual start to the school year, things are finally starting to seem normal. As normal as they ever could be at this decidedly unusual school, anyway. Until his Facts After the Fact (aka History) teacher Mr. Faboo goes missing, right in the middle of his favorite lesson of the year, leaving the class not a clue as to why or how. And his Four Square (aka Phys Ed) teacher introduces a new unit that is decidedly distressing. And Thomas's neighbor, the formerly friendless Chip (he of the wacky sock collection), swoops in and bonds with all of Thomas's friends, leaving Thomas in the dust. This year is getting out of control, and it's up to Thomas to take matters into his own hands. It's time… for a revolution.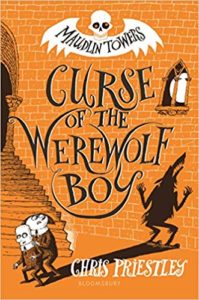 Curse of the Werewolf Boy by Chris Priestley (Bloomsbury)
Mildew and Sponge don't think much of Maudlin Towers, the blackened, gloom-laden, gargoyle-infested monstrosity that is their school. But when somebody steals the School Spoon and the teachers threaten to cancel their holiday break until the culprit is found, our heroes must spring into action and solve the crime! But what starts out as a classic bit of detectivating quickly becomes weirder than they could have imagined. Who is the ghost in the attic? What's their history teacher doing with a time machine? And why do a crazy bunch of Vikings seem to think Mildew is a werewolf?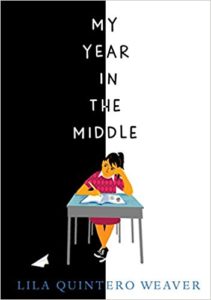 My Year In the Middle by Lila Quintero Weaver (Candlewick)
Sixth-grader Lu Olivera just wants to keep her head down and get along with everyone in her class. Trouble is, Lu's old friends have been changing lately — acting boy crazy and making snide remarks about Lu's newfound talent for running track. Lu's secret hope for a new friend is fellow runner Belinda Gresham, but in 1970 Red Grove, Alabama, blacks and whites don't mix. As segregationist ex-governor George Wallace ramps up his campaign against the current governor, Albert Brewer, growing tensions in the state — and in the classroom — mean that Lu can't stay neutral about the racial divide at school. Will she find the gumption to stand up for what's right and to choose friends who do the same?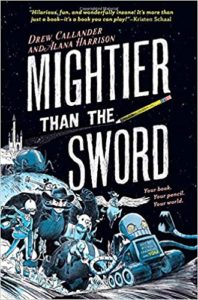 Mightier Than the Sword by Drew Callender and Alana Harrison (Penguin Random House)
You wake up in the fictional land of Astorya, where stories from our world come to life. You're a real human being (we assume), and in this fictional world, that makes you a superhero. Armed with your trusty pencil you have the power to create: what you write, draw, or scribble in the book becomes part of the story! Only you can rescue Prince S. from the evil Queen Rulette. Aided by the Couriers–a French stoat with dangerous dance moves, a giant dung beetle, a fire ninja, a Pegasus-centaur-cowgirl and a super-intelligent femalien chameleon–you must write, draw, and puzzle your way through a hilarious adventure that is unique to every reader! And most importantly, you must prove that the pencil is mightier than the sword.
Backlist Book Recommendations
I also want to plug backlist titles (backlist refers to older titles that are still available from a publisher), so each Tuesday I'll also be giving you one backlist picture book and one backlist middle grade recommendation.
Picture Book Recommendation: Ashley Bryan's Puppets by Ashley Bryan, photographs edited by Rich Entel
Little Cranberry Island. It's a small island, with fewer than a hundred inhabitants, but it's got more than its share of treasures—including the magnificent Ashley Bryan himself, a world-renowned storyteller and author of such classics as All Night, All Day and Beautiful Blackbird. Daily, for decades, Ashley has walked up and down the beach, stopping to pick up sea glass, weathered bones, a tangle of fishing net, an empty bottle, a doorknob. Treasure. And then, with glue and thread and paint and a sprinkling of African folklore, Ashley breathes new life into these materials. Others might consider it beach junk, but Ashley sees worlds of possibilities. Ashley Bryan's two-foot-tall hand puppets swell with personality and beauty, and in this majestic collection they make their literary debut, each with a poem that tells of their creation and further enlivens their spirit.
Note from Karina: This is a perfect book for kids who love beach combing! I read this with my kids last summer, and it inspired them to make their own puppets from found objects that washed up on the beach.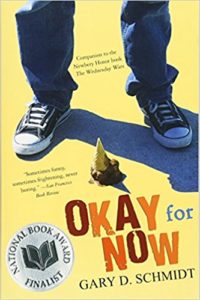 Middle Grade Recommendation: Okay for Now by Gary Schmidt
In this companion novel to The Wednesday Wars, Doug struggles to be more than the "skinny thug" that some people think him to be. He finds an unlikely ally in Lil Spicer, who gives him the strength to endure an abusive father, the suspicions of a town, and the return of his oldest brother, forever scarred, from Vietnam. Schmidt expertly weaves multiple themes of loss and recovery in a story teeming with distinctive, unusual characters and invaluable lessons about love, creativity, and survival.
Note from Karina: I love this book so much! I'm reading it out loud to my kids, and it is marvelous and my kids adore it. If you're unfamiliar with this title, read The Wednesday Wars by Gary Schmidt first.
I'd love to know what you are reading this week! Find me on Twitter at @KarinaYanGlaser, on Instagram at @KarinaIsReadingAndWriting, or email me at karina@bookriot.com.
Until next week!
Karina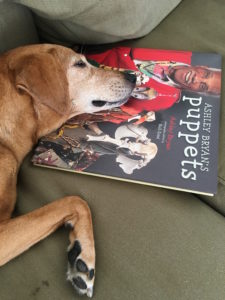 *If this e-mail was forwarded to you, follow this link to subscribe to "The Kids Are All Right" newsletter and other fabulous Book Riot newsletters for your own customized e-mail delivery. Thank you!*