Welcome back to In The Club, a newsletter of resources to keep your book group well-met and well-read. Let's dive in.
---
This newsletter is sponsored by Flatiron Books and If You See Me Don't Say Hi by Neel Patel.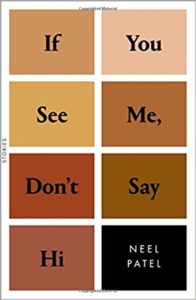 A Vanity Fair Ultimate Fiction Pick for summer and a bookseller favorite, If You See Me Don't Say Hi is a modern story collection that Behold the Dreamers author Imbolo Mbue calls "a joy to read, reminiscent of Jhumpa Lahiri and David Ebershoff."
---
Let's start a dinner club! This post about fiction related to food has me both hungry and ready to read.
Book group bonus: I grew up wanting to eat all the woodland animal foods in the Redwall books (sugared violets!) so this would 100% be an excuse for me to finally get The Redwall Cookbook. Plus, reading middle-grade books in the summertime is always a nice way to give your brain a break.
The Golden Booker has been chosen, and the winner is Michael Ondaatje's The English Patient.
Book group bonus: You could do a (re)read, but there's also a lot of interesting discussion to be had about the whole Golden Booker program, the judge selections, and the public voting!
What is gothic fiction? (As opposed to goth fiction, which is definitely separate.)  We have answers and suggestions!
Book group bonus: I would like to add The Monsters of Templeton by Lauren Groff to this list as well, and submit it for your consideration — it has a ton of great plot points to discuss.
Get crafty: Got crafters in your group, and/or people interested in learning? Here's a round-up of crochet books!
Book group bonus: The best Easter I ever spent was in the company of several bookish friends learning how to cross-stitch, so I highly recommend doing some form of "learning to craft" meeting, crochet or otherwise!
Related to last week's playlist link, here are 50 must-reads about music.
Book group bonus: Combine these ideas! For example: read Toni Morrison's Jazz and have everyone come ready with a favorite jazz song to play for the group.
From the headlines: Here's a round-up of all our posts on books around immigration and the immigrant experience (there are a lot).
Book group bonus: In case you're wanting to read timely/politically relevant books, which I bet many of you are.
Want more takes on the best books of 2018 so far? Here are the picks from EW, and here are the bestsellers from Publishers Weekly.
Book group bonus: Do a compare and contrast between these and Book Riot's, or any other's you've come across. Double bonus: What's on your group's best-of list so far?
And that's a wrap: Happy discussing! If you're interested in more science fiction and fantasy talk, you can catch me and my co-host Sharifah on the SFF Yeah! podcast. For many many more book recommendations (including the occasional book club question!) you can find me on the Get Booked podcast with the inimitable Amanda.
Your fellow booknerd,
Jenn
More Resources: 
– Our Book Group In A Box guide
– List your group on the Book Group Resources page