Today's The Stack is sponsored by Tor Books.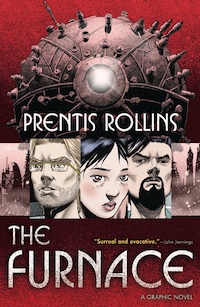 One decision. Thousands of lives ruined.
As a young grad student Professor Walton Honderich participated in a government prison program that led to the death of his friend and resulted in unimaginable torment for an entire class of people across the United States.
Twenty years later Walton struggles against the ghosts that haunt hm.
A dark, compelling work of psychological suspense and a cutting-edge critique of our increasingly technological world, Prentis Rollins's new graphic novel The Furnace speaks fluently to the terrifying scope of the surveillance state, the dangerous allure of legacy, and the hope of redemption despite our flaws.