This edition of Today in Books is sponsored by Diode Editions.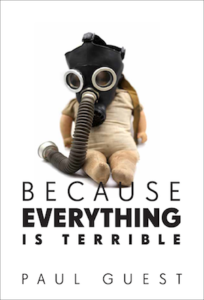 ---
Banksy Offers To Support Bristol Libraries
Bristol Mayor Marvin Rees announced that graffiti star Banksy has volunteered to help keep Bristol's 27 libraries open. Sweeping cuts would have closed 17 of the 27 libraries. The Banksy news arrived with the announcements that there would be a reprieve on the cuts and that all of Bristol's libraries would remain open.
Barnes & Noble Fires CEO
The struggling company fired CEO Demos Parneros for violating company policies, though B&N didn't specify which policies Parneros violated. They did say his termination "is not due to any disagreement with the Company regarding its financial reporting, policies or practices or any potential fraud relating thereto."
Goodreads Readers Choose Today's Great American Novelist
Goodreads posted the results of a Facebook and Twitter survey asking readers to choose who they think is the greatest living American novelist. The top picks included Toni Morrison, Stephen King, Donna Tartt, and Jesmyn Ward. Click here to see the full list.
And don't forget–we're giving away $500 of this year's best YA books (so far)! Click here to enter.