Today's The Stack is sponsored by Roar, an imprint of Lion Forge.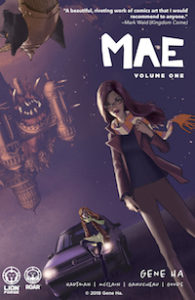 Mae's beloved older sister, Abbie, has been missing for years. Mae has her theories about where Abbie might be. But nowhere in her wildest imagination do those theories encompass a fantasy world full of terrifying monsters, power-hungry nobles, and nefarious scientists. That is, until Abbie suddenly reappears in Mae's world. And not alone.
Mae Volume 1, the original collection written and illustrated by Gene Ha is in stores July 10! Look for the continuation of Mae and Abbie's adventures in the all-new monthly comic series, in comic shops now!