Hey YA Fans: Let's take a look at some books hitting shelves next year to get excited about!
"What's Up in YA?" is sponsored by Wild Blue Wonder by Carlie Sorosiak from Epic Reads.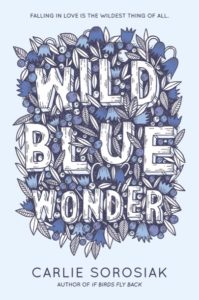 This wondrous novel about love and loss is perfect for fans of Morgan Matson and Jenny Han.
Last June, the summer camp Quinn's family owns was still a magical place–where wild blueberries grew no matter the season, a legendary sea monster lurked in the waters, and Quinn fell in love with her best friend, Dylan.
Then the accident happened.
Now it's winter, the magic has drained from Quinn's life, and she knows it's her fault. But the new boy in town, Alexander, doesn't see her as the monster she believes herself to be. And Quinn begins to understand the truth about love, loss, and monsters—real and imagined.
---
Last week I attended the American Library Association convention in my author capacity, but before putting on that hat, I chatted with a few Book Riot readers about what they'd like to see more of. One of those things included more previews of books coming out wayyy in the future — the books you'll have to wait 6 or more months for but that you will want to be excited about.
I love the idea and think it'll be fun to round up those far-future titles periodically.
Find below seven awesome YA titles hitting shelves in early 2019. All descriptions are from Goodreads, since as much as I read ahead, I am not this far in the future.
Grab your TBR and open up your Goodreads, since you'll be adding these titles to 'em.
Get in quick, get out quicker.
These are the words Keralie Corrington lives by as the preeminent dipper in the Concord, the central area uniting the four quadrants of Quadara. She steals under the guidance of her mentor Mackiel, who runs a black market selling their bounty to buyers desperate for what they can't get in their own quarter. For in the nation of Quadara, each quarter is strictly divided from the other. Four queens rule together, one from each region:
Toria: the intellectual quarter that values education and ambition
Ludia: the pleasure quarter that values celebration, passion, and entertainment
Archia: the agricultural quarter that values simplicity and nature
Eonia: the futurist quarter that values technology, stoicism and harmonious community
When Keralie intercepts a comm disk coming from the House of Concord, what seems like a standard job goes horribly wrong. Upon watching the comm disks, Keralie sees all four queens murdered in four brutal ways. Hoping that discovering the intended recipient will reveal the culprit – information that is bound to be valuable bartering material with the palace – Keralie teams up with Varin Bollt, the Eonist messenger she stole from, to complete Varin's original job and see where it takes them.
At night, Las Mal Criadas own these streets.
Nalah leads the fiercest all-girl crew in Mega City. That roles brings with it violent throw downs and access to the hottest boydega clubs, but the sixteen-year-old grows weary of the life. Her dream is to get off the streets and make a home in the exclusive Mega Towers, in which only a chosen few get to live. To make it to the Mega towers, Nalah must prove her loyalty to the city's benevolent founder and cross the border in a search for a mysterious gang the Ashé Ryders. Led by a reluctant guide, Nalah battles other crews and her own doubts, but the closer she gets to her goal, the more she loses sight of everything—and everyone— she cares about.
Nalah must do the unspeakable to get what she wants—a place to call home. But is a home just where you live? Or who you choose to protect?
Heroine by Mindy McGinnis
Three screws in her hip.
Two months until spring training.
One answer to all her problems.
Mickey Catalan is no stranger to the opioid epidemic in her small town. There are obituaries of classmates who "died suddenly" and stories of overdoses in gas station bathrooms—but none of that is her. No, Mickey is a star softball catcher—one part of a dynamic duo with her best friend and pitcher Carolina—about to start her senior season with hopes of college recruitment. Until a car accident shatters that plan, along with her hip and Carolina's arm.
Now Mickey is hurting. She can barely walk, much less crouch behind the plate. Yet a little white pill can make it better. After all, it is doctor prescribed. But when the prescription runs out, Mickey turns to an elderly woman who pushes hot meatloaf and a baggie full of oxy across the kitchen counter. It's there Mickey makes new friends—other athletes in pain, others with just time to kill—and finds peaceful acceptance, a place where she can find words more easily than she ever has before. But as the pressure to be Mickey Catalan heightens, her desire for pills becomes less about pain and more about want, something that could send her spiraling out of control.
Nikolai Lantsov has always had a gift for the impossible. No one knows what he endured in his country's bloody civil war—and he intends to keep it that way. Now, as enemies gather at his weakened borders, the young king must find a way to refill Ravka's coffers, forge new alliances, and stop a rising threat to the once-great Grisha Army.
Yet with every day a dark magic within him grows stronger, threatening to destroy all he has built. With the help of a young monk and a legendary Grisha Squaller, Nikolai will journey to the places in Ravka where the deepest magic survives to vanquish the terrible legacy inside him. He will risk everything to save his country and himself. But some secrets aren't meant to stay buried—and some wounds aren't meant to heal.
Jack Ellison King. King of Almost.
He almost made valedictorian.
He almost made varsity.
He almost got the girl . . .
When Jack and Kate meet at a party, bonding until sunrise over their mutual love of Froot Loops and their favorite flicks, Jack knows he's falling—hard. Soon she's meeting his best friends, Jillian and Franny, and Kate wins them over as easily as she did Jack. Jack's curse of almost is finally over.
But this love story is . . . complicated. It is an almost happily ever after. Because Kate dies. And their story should end there. Yet Kate's death sends Jack back to the beginning, the moment they first meet, and Kate's there again. Beautiful, radiant Kate. Healthy, happy, and charming as ever. Jack isn't sure if he's losing his mind. Still, if he has a chance to prevent Kate's death, he'll take it. Even if that means believing in time travel. However, Jack will learn that his actions are not without consequences. And when one choice turns deadly for someone else close to him, he has to figure out what he's willing to do—and let go—to save the people he loves.
The Tiger at Midnight by Swati Teerdhala
Esha is a legend, but no one knows. It's only in the shadows that she moonlights as the Viper, the rebels' highly skilled assassin. She's devoted her life to avenging what she lost in the royal coup, and now she's been tasked with her most important mission to date: taking down the ruthless General Hotha.
Kunal has been a soldier since childhood, training morning and night to uphold the power of King Vardaan. His uncle, the general, has ensured that Kunal never strays from the path—even as a part of Kunal longs to join the outside world, which has been growing only more volatile.
Then Esha's and Kunal's paths cross—and an unimaginable chain of events unfolds. Both the Viper and the soldier think they're calling the shots, but they're not the only players moving the pieces. As the bonds that hold their land in order break down and the sins of the past meet the promise of a new future, both rebel and soldier must make unforgivable choices.
Drawing inspiration from ancient Indian history and Hindu mythology, the first book in Swati Teerdhala's debut fantasy trilogy captivates with electric romance, stunning action, and the fierce bonds that hold people together—and that drive them apart.
At the Medio School for Girls, distinguished young women are trained for one of two roles in their polarized society. Depending on her specialization, a graduate will one day run a husband's household or raise his children, but both are promised a life of comfort and luxury, far from the frequent political uprisings of the lower class. Daniela Vargas is the school's top student, but her bright future depends upon no one discovering her darkest secret—that her pedigree is a lie. Her parents sacrificed everything to obtain forged identification papers so Dani could rise above her station. Now that her marriage to an important politico's son is fast approaching, she must keep the truth hidden or be sent back to the fringes of society, where famine and poverty rule supreme.
On her graduation night, Dani seems to be in the clear, despite the surprises that unfold. But nothing prepares her for all the difficult choices she must make, especially when she is asked to spy for a resistance group desperately fighting to bring equality to Medio. Will Dani cling to the privilege her parents fought to win for her, or to give up everything she's strived for in pursuit of a free Medio—and a chance at a forbidden love?
____________________
I don't know about you, but it looks to me like 2019 is looking to be [fire emoji].
See you again next week!