Happy Friday, witches and wendigos! Today I'm reviewing Glass and Gardens: Solarpunk Summers, edited by Sarena Ulibarri, and Witchmark by C.L. Polk, and looking at a cosplay gala, some Star Trek news, fairytales, the Buffyverse, and more.
---
This newsletter is sponsored by Becoming the Dragon by Alex Sapegin, translated by Elizabeth Kulikov.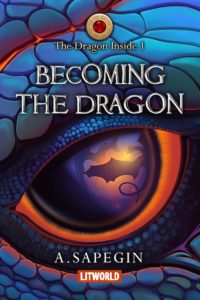 Human or beast: the most terrifying is the one you least expect.
This is the story of Andy, the unassuming teen who stumbles on a high-voltage electromagnetic field and is transported to the faraway world of Ilanta, inhabited by both human and fantastical beings. In order to survive, Andy must embark on the journey of a lifetime, transforming by ancient ritual into the powerful, golden dragon Kerr… but will it make him less human?
The Dragon Inside series captivated its readership across the Russian-speaking world and is now available for English-language fantasy-readers everywhere!
---
A Buffyverse novel is coming! And the narrator kind of hates Buffy? You can read an excerpt of Kiersten White's novel Slayer (not out until January 8 2019, which is just cruel) over on EW.
There's been a bunch of news from the Star Trek: Discovery camp. First the Season 2 showrunners were fired (possibly for abusive behavior), with co-creator Alex Kurtzman taking over. Then Kurtzman signed a 5-year deal to develop "new series, mini-series and other content opportunities, including animation." My biggest question is, will all that content be restricted to CBS All Access?
Tor.com's reviewers have picked their current favorites of 2018, and a lot of these are well off my radar. To the library!
A cosplay gala is happening in September in Baltimore! Consider me intrigued.
Fairytale fans, if Once Upon a Time was your jam, we've got some read-alikes. I am beyond delighted to see Naguib Mahfouz's Arabian Nights and Days mentioned!
And speaking of read-alikes, this week's Get Booked episode was entirely dedicated to books to read if you love Octavia Butler.
In other podcast news, Sharifah and I picked the characters from SF/F we'd most like to be this week.
I need more SF/F t-shirts like I need a hole in the head, AND YET. Do want. All of those.
Today in reviews, I've got two new and very different favorites for you.
Glass and Gardens: Solarpunk Summers, edited by Sarena Ulibarri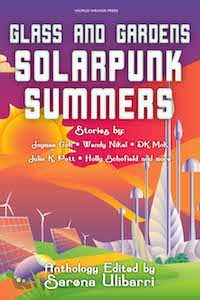 I've been on the lookout for anything related to solarpunk, and was very excited to see this title get mentioned in the Insiders forum! I'm happy to report that if this is what solarpunk looks like, I'm a fan. While the collection is (like many anthologies) a bit uneven, Glass and Gardens is refreshing, thought-provoking, and thoroughly enjoyable.
True to the book copy, each story shares an optimistic baseline. The worlds imagined aren't perfect, and class, race, ability, and other access and resource inequities still exist. But these are not dystopian societies, just ones with problems to solve. From a village in the trees to a desert installation to a power plant to a city in the sky to a family farm to — well, you get the idea, the pieces imagine both familiar technology repurposed and new iterations. One of my favorite stories, "The Spider and the Stars" by D.K. Mok, involves sending spiders on space missions; another, "Cable Town Delivery" by M. Lopes da Silva, involves a dashing frontier librarian; a third by Edward Edmonds is a police procedural! No matter what your particular favorite flavor of science fiction is you'll likely find a story tailored for you, and plenty of new authors to watch out for. And I can only hope that some of these stories come to the attention of engineers of all stripes; I'm very ready for some of these concepts to become reality!
Witchmark by C.L. Polk
If "a fantasy inspired by World World I, plus magic and fairies and a gay romance" sounds interesting to you, bump this book to the absolute top of your list!
Miles Singer is a psychiatrist at a veteran hospital, and is a veteran himself. They're coming back from the war with Laneeri wounded in both body and soul, and Miles is determined to get to the bottom of a particularly mysterious psychosis. He's both aided and hampered in this by his magical talent for healing — because magic is outlawed in Aeland, and "Miles Singer" isn't his actual name. He's been on the run from his family for years, ever since he refused to submit to a system that would have turned him into the equivalent of a magical battery and servant for his sister. The night a poisoning victim comes into his hospital, carried in by a handsome stranger, changes everything. And not just for Miles; the fates of all of Aeland could change as well, and not necessarily for the better.
From the aristocracy's mansions and court intrigues, to the halls of the cash-strapped hospital, city to village, breakfast table to asylum, Witchmark covers quite a lot of ground. Polk paces it beautifully, alternating revelations and plot twists with some beautiful character set pieces. I could have spent a whole novel with just Miles learning magic from [redacted for mild spoilers], honestly. This is a wonderful debut, and I can only hope we get more adventures in this fun, fascinating world.
And that's a wrap! You can find all of the books recommended in this newsletter on a handy Goodreads shelf. If you're interested in more science fiction and fantasy talk, you can catch me and my co-host Sharifah on the SFF Yeah! podcast. For many many more book recommendations you can find me on the Get Booked podcast with the inimitable Amanda.
Your fellow booknerd,
Jenn