This edition of Today in Books is sponsored by The Bookshop of Yesterdays by Amy Meyerson, new from Park Row Books.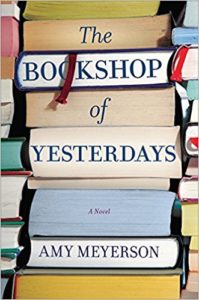 ---
The 2017 VIDA Count
The 2017 VIDA Count has arrived. VIDA looked at 15 major print publications over the course of 2017, analyzing how many women and gender minorities are represented. Check out the full report for infographics and the detailed analysis (The New York Review of Books has some work to do).
Carnegie Medal Winner Criticizes "Accessible" Prose
When Geraldine McCaughrean won the CILIP Carnegie medal for her novel Where the World Ends, she used her acceptance speech to warn against the dangers of "accessible language" in books for young readers. McCaughrean said publishers would "deliberately and wantonly create an underclass of citizens with a small but functional vocabulary: easy to manipulate and lacking in the means to reason their way out of subjugation, because you need words to be able to think for yourself."
The Columbus Letters Mystery
The Vatican celebrated the return of a copy of a letter by Christopher Columbus six years after receiving word that theirs might be a forgery. So far, American officials have returned a stolen copy of the letter to three European libraries in two years. But investigators have yet to figure out whodunnit, when, and whether the thefts are linked.
Don't forget we're giving away $500 to the bookstore of your choice! Enter here!