Happy Tuesday, book lovers! It's another glorious day for new books. I have a few awesome books for you below and you can hear about several more great titles on this week's episode of the All the Books! Rebecca and I talked about a few amazing books we loved, including Wicked and the Wallflower, Old in Art School, The Great Believers, and more.
---
Sponsored by Tor Teen
Theo Mackey only remembers one thing about the fire that destroyed his home: he lit the match.
Sure, it was an accident. But the blaze killed his mom and set his dad on a path to self-destruction. Theo doesn't remember anything else about that fateful night, for good reason.
But when a family history project gets assigned at school, new memories come rushing to the surface, memories that make Theo question what he really knows about his family, the night of the fire, and if he can trust anyone—including himself.
---
PS – Reminder: we're giving away $500 to spend at the bookstore of your choice! Click here to enter. (It's your last week to try and win!)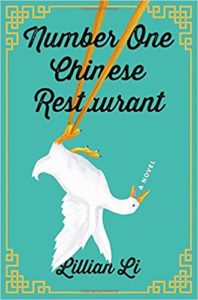 Number One Chinese Restaurant by Lillian Li
A delightful multigenerational debut novel about family, responsibility, and forging your own path. The Beijing Duck House is a respected establishment, one that people – both customers and employees – have come to love and depend on in their lives. But when tragedy strikes, it changes the perspective of some of the people who work there, and old conflicts and new problems arise. This was a charming book, from beginning to end, with great characters and Li's obvious love and concern for them coming through on the page.
Backlist bump: The Turner House by Angela Flournoy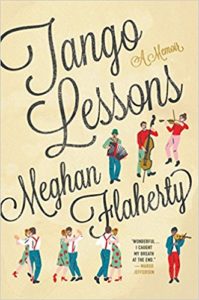 Tango Lessons: A Memoir by Meghan Flaherty
Book clubs, start your engines! Not only is this Flaherty's triumphant account of overcoming her fears after trauma, turning her life around, and learning to follow her dreams and trust in herself, but it's also a beautiful look at the tango itself, with lots of insight into the dance throughout history. This is sure to spark a lot of discussion at your book club.
Backlist bump: The Art of Memoir by Mary Karr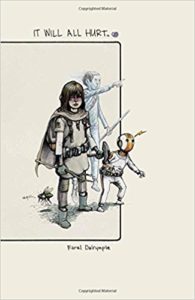 It Will All Hurt by Farel Dalrymple
I wish I could explain to you why I am so obsessed with Dalrymple's art but explanation defies me. It is so visceral, strange, and unsettling. I also wish I could explain the story in this book, but I am not sure I understand it. It seems to be about a wizard and some characters banding against the wizard? But I'm not sure? What I do know is that even without any understanding, this comic is bold and inventive and fans of the unusual will love it.
Backlist bump: The Wrenchies by Farel Dalyrmple.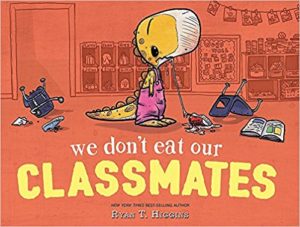 We Don't Eat Our Classmates by Ryan T. Higgins
You don't even need me to explain why this is wonderful, you can tell from the cover. But I wanted to make sure I brought it to your attention. If only I had read this when I was in school…
Backlist bump: Mother Bruce by Ryan T. Higgins
That's it for me today – time to get back to reading! If you want to learn more about books new and old (and see lots of pictures of my cats, Millay and Steinbeck), or tell me about books you're reading, or books you think I should read (I HEART RECOMMENDATIONS!), you can find me on Twitter at MissLiberty, on Instagram at FranzenComesAlive, or Litsy under 'Liberty'!
Stay rad,
Liberty