Hello, lovely people. I know I am always excited and enthusiastic about books, but I want you to know that it's hard out there, and I hope you are all doing well. I appreciate you all. Be kind to yourself and remember you're important! I hope everything in your world is marvelous as it can be and you're reading something wonderful. Enjoy your upcoming week, and be excellent to each other. – xoxo, Liberty
---
As part of Season 2 of our podcast series Annotated, we are giving away 10 of the best books about books of 2017. Go here to enter for a chance to win, or just click the image below:
---
PS – Don't forget we're giving away $500 to the bookstore of your choice! Enter here by June 21st!
Here's this week's trivia question: What is the name of Don Quixote's squire in the novel by Cervantes?
Deals, Reals, and Squeals!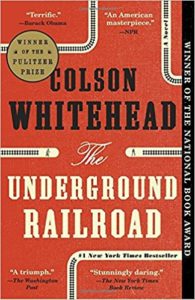 Barry Jenkins will direct the series adaptation of Colson Whitehead's Underground Railroad.
Rainbow Rowell sent the bookish internet into a frenzy with the announcement of a new book in 2020.
J.K. Rowling says she'll write another children's book after Fantastic Beasts 3.
HBO orders a Game of Thrones prequel pilot.
The Gender Games by Juno Dawson will be a television show, picking up where the book leaves off.
Leslie Odom Jr., Freida Pinto, Cynthia Erivo, and Orlando Bloom join the cast of Needle in a Timestack, based on a short story by Robert Silverberg.
Donald Glover reportedly on shortlist to star as Willy Wonka in a new film.
American Gods casts new actors for season 2 characters.
Daniel Radcliffe, Bobby Cannavale, and Cherry Jones will star in Broadway's The Lifespan of a Fact.
Knopf wins debut novel about Dr. Zhivago for seven figures.
Brian Allen Carr (omg I love him) has a new book coming in 2019.
Gwenda Bond will write the first Stranger Things book!
Michael Wolf is writing a follow-up to Fire and Fury.
James McAvoy and Clarke Peters join the BBC One adaptation of His Dark Materials.
And Lizzy Caplan will join the cast of the Are You Sleeping? adaptation.
Cover Reveals
Here's the cover for The Cold Is in Her Bones by Peternelle van Arsdale (Margaret McElderry Books, January 22, 2019)
Nnedi Okorafor shared the cover of the upcoming Binti omnibus. (DAW Books, February 5, 2019)
Here's Two Can Keep a Secret, the follow-up to One Of Us is Lying by Karen M. McManus. (Delacorte Press, January 8, 2019)
And the gorgeous cover of Cindy Pon's Ruse, the follow-up to Want. (Simon Pulse, January 22, 2019)
Sneak Peeks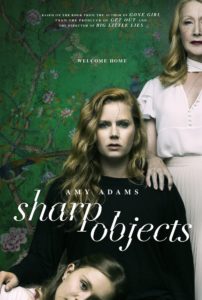 Here's the official trailer for HBO's Sharp Objects adaptation.
Here's the first trailer for Widows, based on the novel by Lynda La Plante.
And the first trailer for Peter Jackson's Mortal Engines film.
And the first look at Claire Foy as Lisbeth Salander in the new The Girl… movie.
Book Riot Recommends
At Book Riot, I work on the New Books! email, the All the Books! podcast about new releases, and the Book Riot Insiders New Release Index. I am very fortunate to get to read a lot of upcoming titles, and learn about a lot of upcoming titles, and I'm delighted to share a couple with you each week!
Loved, loved, loved: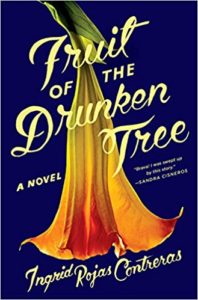 Fruit of the Drunken Tree: A Novel by Ingrid Rojas Contreras (Doubleday, July 31)
Inspired by the author's own experiences, this is the story of seven-year-old Chula, who lives a carefree life with her sister in a gated community in Bogotá. But when a young woman from the guerilla-occupied section of the city is hired as her family's live-in maid, Chula begins to learn about privilege and the encroaching violence, crime, and conflict that is taking place beyond the walls.
Excited to read:
Seventeen: A Novel by Hideo Yokoyama, Louise Heal Kawai (Translator) (MCD, November 13)
I am a big fan of Yokoyama's huge police procedural, Six Four, so I can't wait to get my hands on his new one. It's about an air disaster in 1985 and an unsolved mystery seventeen years later. I am also a fan of this new wave of books coming out that take place during the years I was growing up (Every Other Weekend, You All Grow Up and Leave Me, Marlena) because I can't remember anything special about those years myself but I love reading about them and going, "OH YAH I FORGOT ABOUT THAT."
What I'm reading this week.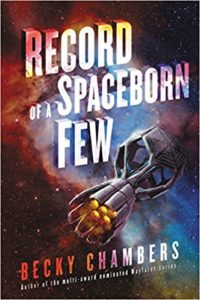 Record of a Spaceborn Few (Wayfarers) by Becky Chambers
Accidentally Like a Martyr: The Tortured Art of Warren Zevon by James Campion
A Gentleman's Murder by Christopher Huang
Confessions of the Fox by Jordy Rosenberg
Summer Bird Blue by Akemi Dawn Bowman
Non-book-related recommendation.
Look at cute animals pictures. I'll start you off: Here is a kitten named Chai, and omg, she is the cutest.
And this is funny.
Rakesh Saytal is revealing a different story from his childhood every day in June for Pride Month.
Trivia answer: Sancho Panza.