Hi Kid Lit friends,
It's no surprise that writers are fascinated by other writers, and that readers enjoy reading books about the lives of their favorite authors. Here are some awesome children's books about authors that may pique your curiosity!
---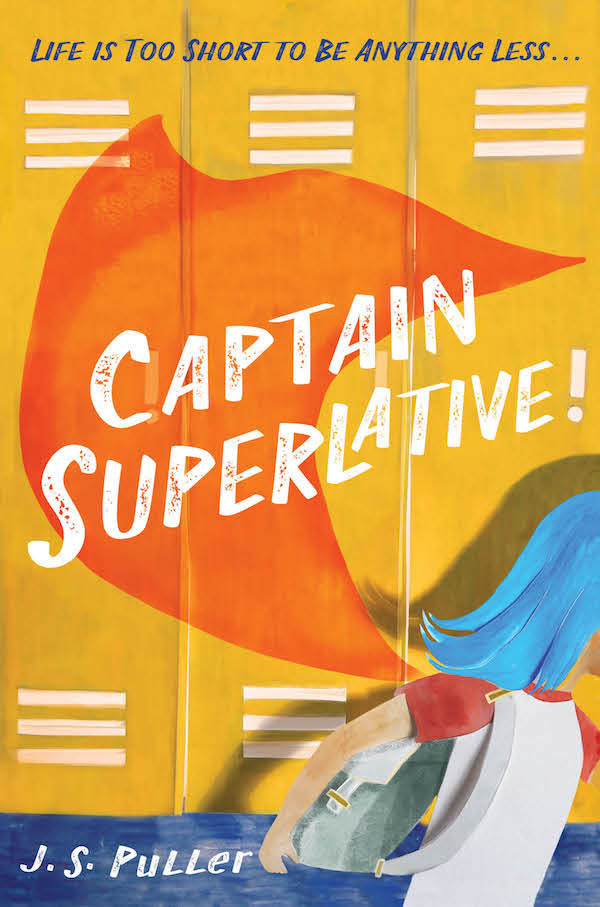 Sponsored by Disney Publishing Worldwide
Red mask, blue wig, silver swimsuit, rubber gloves, torn tights, high top sneakers and . . . a cape? Who would run through School dressed like this? Janey—quick to stay in the shadows—can't resist the urge to find out. The answer pulls invisible Janey into the spotlight and leads her to an unexpected friendship with a superhero like no other. But superheroes hold secrets and Captain Superlative is no exception. When Janey unearths what's at stake, she faces her own dark secrets and discovers what it truly means to be a hero . . . and a friend.
---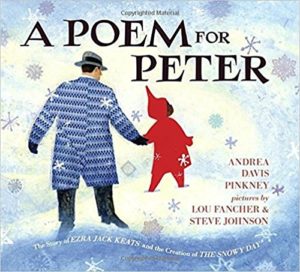 A Poem for Peter: The Story of Ezra Jack Keats and the Creation of The Snowy Day by Andrea Davis Pinkney, illustrated by Lou Fancher and Steve Johnson
This picture book biography of Ezra Jack Keats's life is lovely, written in verse with gorgeous illustrations. The reader gets to watch Ezra grow up and get his first job illustrating a children's book. When he gets the opportunity to write and illustrate his own book, he chooses to create…
Peter,
forging your path in knee-deep wonder.
Peter,
welcoming us into your play.
Peter,
marching out in a whole new way.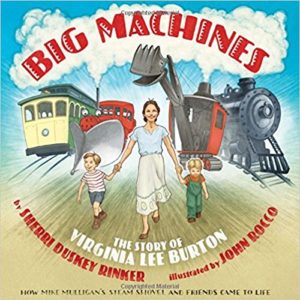 Big Machines: The Story of Virginia Lee Burton by Sherri Duskey Rinker, illustrated by John Rocco
Virginia Lee Burton, known as Jinnee, had the gift of storytelling and drawing. When her two sons, Aris and Michael, were born, she drew them their favorite things: BIG MACHINES! After drawing Choo Choo the train for Aris, she told the story of when Choo Choo escaped (but then came home safely). Michael loved watching big trucks dig up the dirt, so Jinnee drew a steam shovel named Mary Anne. Fans of Burton's books will delight in this picture book biography.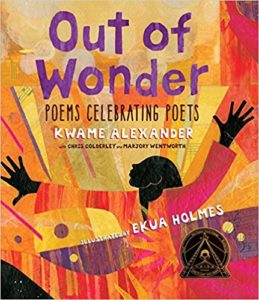 Out of Wonder: Poems Celebrating Poets by Kwame Alexander with Chris Colderley and Marjory Wentworth, illustrated by Ekua Holmes
They say imitation is the sincerest form of flattery, and the poems in this book are lovingly written by Kwame Alexander with Chris Colderley and Marjory Wentworth in celebration of the world's most beloved poets: Mary Oliver, Gwendolyn Brooks, Sandra Cisneros, Nikki Giovanni, Emily Dickinson, William Carlos Williams, Robert Frost, Okot p'Bitek, and many more. Paired with Ekua Holmes's vibrant paintings, this book is a treasure and will inspire readers to dive deeper into poetry.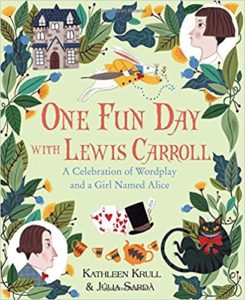 One Fun Day with Lewis Carroll: A Celebration of Wordplay and a Girl Named Alice by Kathleen Krull, illustrated by Júlia Sardà
I love the way this book begins: "Lewis Carroll was an expert at fun. A day with Lewis was always fabulous and joyous–as he would say, frabjous." Throughout this story are references to his classic works, accentuated in red type, along with fun illustrations with much to discover on each page. The book culminates with Lewis in a rowboat with a friend, spinning a story about a girl name Alice who falls down a rabbit hole, and the story gets curiouser and curiouser…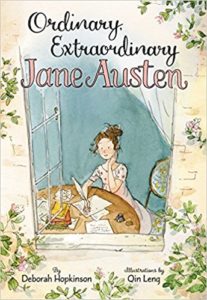 Ordinary, Extraordinary Jane Austen by Deborah Hopkinson, illustrated by Qin Leng
For those of us who love Jane Austen, this picture book is a perfect way to introduce younger readers to this extraordinary woman. Jane was an introvert who loved reading novels, but she questioned why all the books in her father's vast library were written by men and focused solely on faraway adventures and romances. Jane wanted her books to be a mirror to the ordinary world, so she wrote them herself.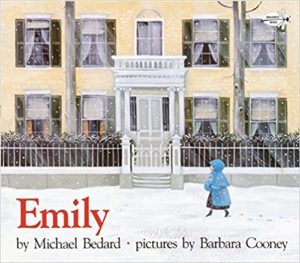 Emily by Michael Bedard, illustrated by Barbara Cooney
I need a new copy of this book because we have read this so many times that the pages have fallen out. Much has been written about Emily Dickinson and her reclusive tendencies, but I love this one because it is illustrated beautifully by Barbara Cooney. In this story, a young girl goes to Emily's house with her mother, who goes to play the piano for Emily. There, the girl sneaks a gift up to Emily, who listens from the landing, and in return, Emily gives the girl a precious gift of her own—the gift of poetry.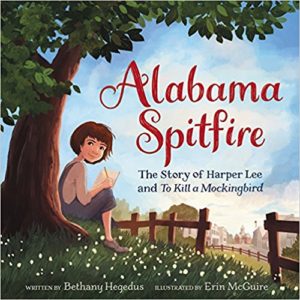 Alabama Spitfire: The Story of Harper Lee and To Kill a Mockingbird by Bethany Hegedus, illustrated by Erin McGuire
Much has been written and speculated about Nelle Harper Lee, the author of To Kill a Mockingbird. Born in 1926, she wore dungaree overalls and roamed the red soil of Monroeville, Alabama with her brother Edwin. She watched her father, a lawyer, try cases in the courthouse, and when Truman Capote came to live in Alabama from New York City, she became his protector on the playground. The two became fast friends, and many of their childhood memories were put into their books and writing.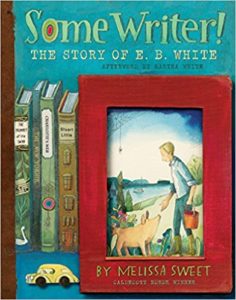 Some Writer!: The Story of E.B. White by Melissa Sweet
I adore this book by master storyteller and illustrator Melissa Sweet. It includes White's personal letters, photos, and family ephemera from the E.B. White estate, paired with Sweet's lovely collage and illustrations. This is a longer picture book biography, suitable for all ages, with lovely backstory on how his classic children's books came to be.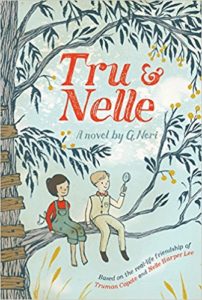 Tru and Nelle by G. Neri
This is a middle grade historical fiction recounts the friendship between Nelle Harper Lee and Truman Capote, who first came to know each other in Monroeville, Alabama in the 1930s. I adored this book and found it captivating, and I also loved the sequel Tru and Nelle: A Christmas Tale.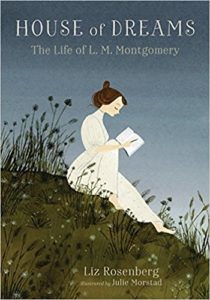 House of Dreams: The Life of L.M. Montgomery by Liz Rosenberg and Julie Morstad (Candlewick, 6/12/18)
This is a lovely middle grade biography about the author of Anne of Green Gables. When she was fourteen years old, Maud wrote in her journal, "I love books. I hope when I grow up to be able to have lots of them." Not only did Maud grow up to own lots of books, she wrote twenty-four of them herself as L.M. Montgomery. The final illustrations were not included in the review copy I received, but I expect they will be lovely based on the cover and the fact that Julie Morstad is the illustrator.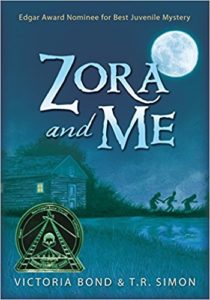 Zora and Me by Victoria Bond and T.R. Simon
This middle grade book is a fictionalized story about Zora Neale Hurston, a riveting storyteller. Her latest creation is a shape-shifting gator man who lurks in the marshes, waiting to steal human souls. But when boastful Sonny Wrapped loses a wrestling match with an elusive alligator named Ghost — and a man is found murdered by the railroad tracks soon after — young Zora's tales of a mythical evil creature take on an ominous and far more complicated complexion, jeopardizing the peace and security of an entire town and forcing three children to come to terms with the dual-edged power of pretending. This novel is the first project ever to be endorsed by the Zora Neale Hurston Trust that was not authored by Hurston herself. The next book in the trilogy is Zora and Me: The Cursed Ground by T.R. Simon (Candlewick, 9/11/18).
New Releases
All of these books release this Tuesday unless otherwise noted. The book descriptions are from Goodreads, but I'll add a 
 if I particularly loved a title.
Picture Book New Releases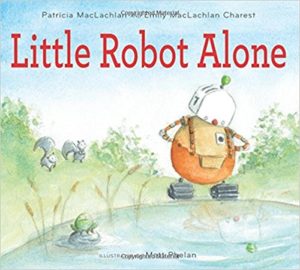 Little Robot Alone by Patricia MacLachlan and Emily MacLachlan Charest, illustrated by Matt Phelan (HMH Books for Young Readers)
Little Robot's life is peaceful—yet maybe it's a little too peaceful. But wait! He has an idea. With a little hard work, perseverance, and resourceful thinking, can Little Robot build his way to the perfect cure for loneliness?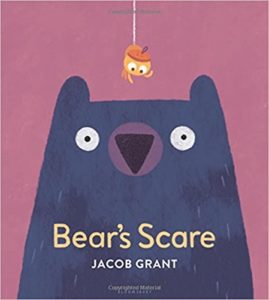 Bear's Scare by Jacob Grant (Bloomsbury)
Bear likes to keep his house clean and tidy. In fact, the only thing Bear loves more than cleaning is taking care of his small stuffed friend, Ursa. Then Bear sees a sticky spiderweb . . . and where there's a web there is certainly a spider! The messy guest must be found, but what Bear and Ursa finally discover might just be an unlikely friend. Opposites attract in this adorable story, where new friends come in all shapes and sizes.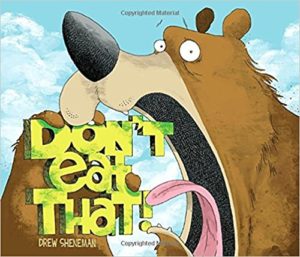 Don't Eat That! by Drew Sheneman (Penguin Random House)
Bear is hungry. Gertie wants to help. But finding the perfect snack is harder than it looks. Will Gertie and Bear silence Bear's tummy grumbles before hunger gets the best of them?
Middle Grade New Releases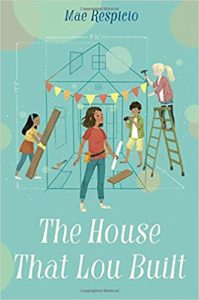 The House That Lou Built by Mae Respicio (Random House)
Lou Bulosan-Nelson has the ultimate summer DIY project. She's going to build her own "tiny house," 100 square feet all her own. She shares a room with her mom in her grandmother's house, and longs for a place where she can escape her crazy but lovable extended Filipino family. Lou enjoys her woodshop class and creating projects, and she plans to build the house on land she inherited from her dad, who died before she was born. But then she finds out that the land may not be hers for much longer.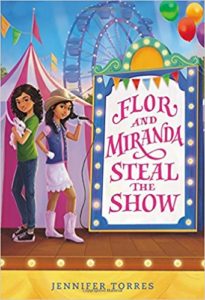 Flor and Miranda Steal the Show by Jennifer Torres (Little, Brown)
Miranda is the lead singer in her family's musical band, Miranda y Los Reyes. Her family has worked hard performing at festivals and quinceañeras. Now, they have a shot at the main stage. How will Miranda make it a performance to remember? Flor's family runs the petting zoo at Mr. Barsetti's carnival. When she accidentally overhears Mr. Barsetti and Miranda's dad talk about cutting the zoo to accommodate Miranda y Los Reyes's main stage salary, she knows she has to take action. Will she have the heart for sabotage once she and Miranda actually start to become friends?
Everything Else in the Universe by Tracy Holczer (Penguin Random House)
Lucy is a practical, orderly person–just like her dad. He taught her to appreciate reason and good sense, instilling in her the same values he learned at medical school. But when he's sent to Vietnam to serve as an Army doctor, Lucy and her mother are forced to move to San Jose, California, to be near their relatives–the Rossis–people known for their superstitions and all around quirky ways. Lucy can't wait for life to go back to normal, so she's over the moon when she learns her father is coming home early. It doesn't even matter that he's coming back "different." That she can't ask too many questions or use the word "amputation." It just matters that he'll be home. But Lucy quickly realizes there's something very wrong when her mother sends her to spend the summer with the Rossis to give her father some space.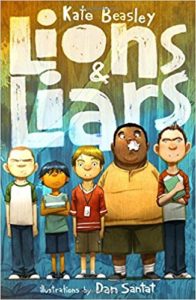 Lions & Liars by Kate Beasley, illustrations by Dan Santat (Farrar Strauss Giroux, 6/5/18)
Frederick Frederickson has a food-chain theory about life. There are lions, like the school bully. Gazelles, like the bullied kids. There are meerkats, and the fleas that live on the butts of meerkats. Frederick's a flea. Fifth grade is off to a terrible start when Frederick is sent to a disciplinary camp for troublesome boys. His fellow troop mates―Nosebleed, Specs, The Professor, and little-yet-lethal Ant Bite―are terrifying. But in between trust-building exercises and midnight escape attempts, a tenuous friendship grows between them. Which is lucky, because a Category 5 hurricane is coming and everyone will have to work together―lions and fleas alike―to survive!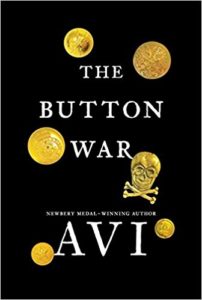 The Button War by Avi (Candlewick)
Twelve-year-old Patryk knows little of the world beyond his tiny Polish village; the Russians have occupied the land for as long as anyone can remember, but otherwise life is unremarkable. Patryk and his friends entertain themselves by coming up with dares — some more harmful than others — until the Germans drop a bomb on the schoolhouse and the Great War comes crashing in. As control of the village falls from one nation to another, Jurek, the ringleader of these friends, devises the best dare yet: whichever boy steals the finest military button will be king. But as sneaking buttons from uniforms hanging to dry progresses to looting the bodies of dead soldiers — and as Jurek's obsession with being king escalates — Patryk begins to wonder whether their "button war" is still just a game.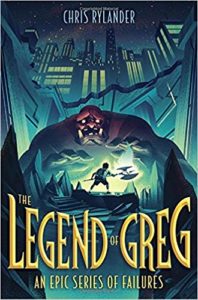 The Legend of Greg by Chris Rylander (Putnam)
Risk-averse Greg Belmont is content with being ordinary. He's got a friend–that's right, just one–at his fancy prep school, and a pretty cool dad (even if he is obsessed with organic soaps that smell like a mix of salted pork and Icelandic bog). The problem is, Greg isn't ordinary . . . he's actually an honest-to-goodness, fantastical Dwarf! He discovers the truth the day his dad brings home a gross new tea–one that awakens bizarre abilities in Greg. Then a murderous Bro-Troll kidnaps his dad and Greg is whisked away to the Underground, where Dwarves have lived for centuries right beneath the streets of Chicago.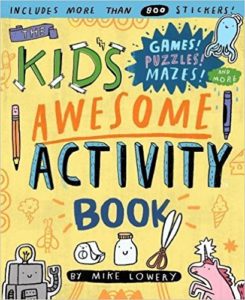 The Kid's Awesome Activity Book by Mike Lowery (Workman)
A book that begs to be doodled in with 96 wacky prompts, games, and crafts, and adorable creatures to boot, The Kid's Awesome Activity Book is packed with activities that take delightful twists and turns, inviting kids to design, draw, and dream—and encouraging creativity on and off the page. Enter an ancient cave to decode a mummy's message. Find your way through a beehive maze. Write a song for a cat rock band. Design a personalized spaceship—and so much more.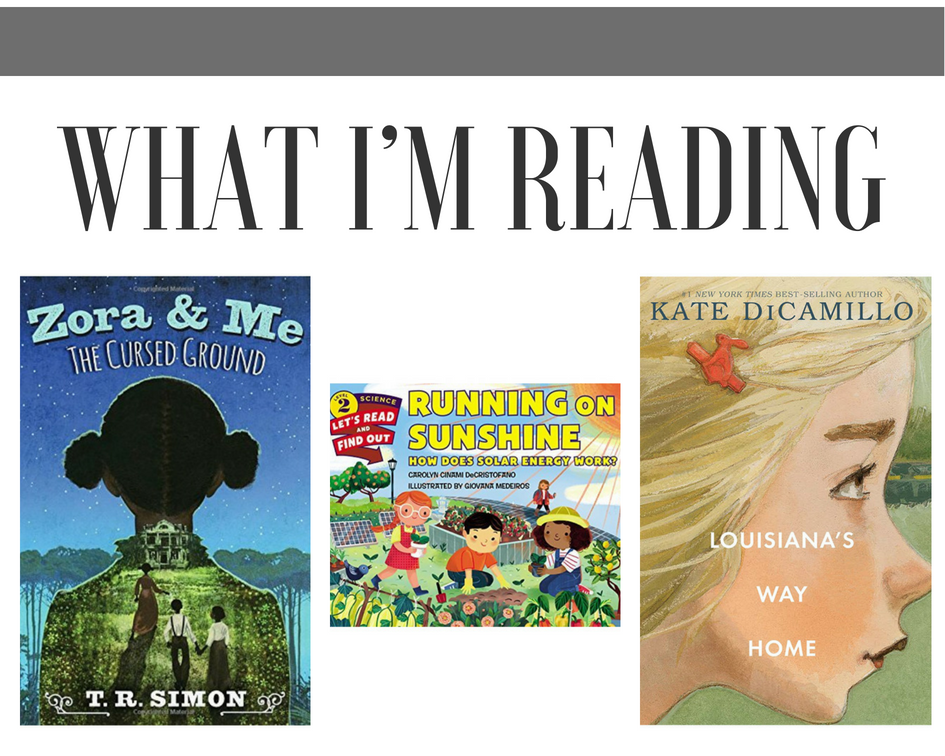 I received a galley of Zora & Me: The Cursed Ground (Candlewick, 9/11/18) by T.R. Simon, the second book in the Zora & Me trilogy. I am only one chapter in, but I'm captivated by the gorgeous writing and the way the author pulls the reader into the setting and story.
This week I read Running on Sunshine: How Does Solar Energy Work? by Caroline Cinami Decristofano, illustrated by Giovana Medeiros, to my eight-year-old. I myself am puzzled by how solar energy works, so it was fun to explore the science and new solar technologies with her. Did you know Australia had a solar energy car race every year? And that engineers are experimenting with solar panel roads that light up at night when animals step onto it?
I read and finished Louisiana's Way Home (Candlewick, 10/2/18) by Kate DiCamillo in one sitting. This story is about Louisiana, one of the Three Rancheros from DiCamillo's National Book Award finalist book Raymie Nightingale. I loved everything about this book.
Around the web…
The Free ARC Book Fair, via Publisher's Weekly
6 Picture Books to Give as Graduation Presents (other than Oh, The Places You'll Go!, via Book Riot
One last thing: did you know that Book Riot is giving away $500 to the bookstore of your choice? Enter here!
I'd love to know what you are reading this week! Find me on Twitter at @KarinaYanGlaser, on Instagram at @KarinaIsReadingAndWriting, or email me at karina@bookriot.com.
Until next week!
Karina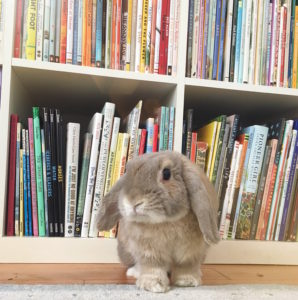 *If this e-mail was forwarded to you, follow this link to subscribe to "The Kids Are All Right" newsletter and other fabulous Book Riot newsletters for your own customized e-mail delivery. Thank you!*