This edition of Today in Books is sponsored by We Are Gathered by Jamie Weisman from HMH.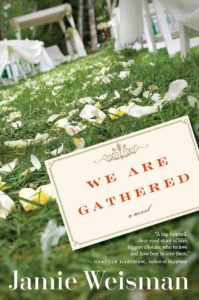 ---
Poetry Readers In The U.S. Have Almost Doubled
New research by the National Endowment for the Arts has shown that poetry readers in the U.S. have almost doubled in the past five years. People ages 18–24 and African American, Asian American, and other non-white readers make up the largest increase in poetry readership. The increase has been attributed to a number of factors including social media, and the pursuit of insight and comfort during challenging times.
Watch The Girl In The Spider's Web Trailer
The newest installment of the Lisbeth Salander movies–or, rather, the Millenium series adaptations–has a trailer. The film adaptation of The Girl in the Spider's Web (the fourth book in the series–this one written by David Lagercrantz, not Stieg Larsson) does not include a bunch of spoilers, according to director and co-writer Fede Alvarez (Don't Breathe). Claire Foy (The Crown) plays Salander, and Swedish actor Sverrir Gudnason (Borg vs. McEnroe) plays Blomkvist.
When You Just Can't Wait For That Library Book
I mean, I get impatient waiting for books to become available, but a Hong Kong librarian took reader's anticipation to a new level. The librarian in question has been arrested for allegedly stealing patrons' personal information. The reason? She wanted to expedite the return of loaned out books she wanted to read. By reporting their cards stolen and changing their passwords, the librarian compelled patrons to return their books immediately. Yeesh.
Don't forget we're giving away $500 to the bookstore of your choice! Enter here!