Happy Friday, aliens and archivists! Today I've got reviews of The Wrong Stars by Tim Pratt and The Book of M by Peng Shepherd, plus some film news, SF in translation, YA picks, and more.
---
This newsletter is sponsored by Epic Reads and The Bird and the Blade by Megan Bannen.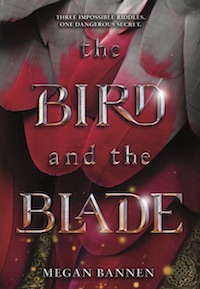 When the kingdom is conquered by enemy forces, Jinghua she finds herself a conspirator in the escape of Prince Khalaf and his father.
While on the run, Jinghua's feelings for Khalaf begin to evolve into an impossible love. But Khalaf seeks to restore his kingdom by forging a marriage alliance with Turandokht, who requires all potential suitors to solve three impossible riddles to win her hand. If they fail, they die.
With Khalaf's life and kingdom at stake, Jinghua must reconcile her past with her feelings for Khalaf . . . even if it means losing him to the girl who'd sooner take his life than his heart.
---
Craving some feminist YA fantasy? Us too, and these have all been released in 2018!
Thinking about sci-fi in translation is something Dale Knickerbocker (editor of the Lingua Cosmica anthology) has done a lot of, and I love this interview with him.
A film historian sat down and ranked Star Wars by screen time for women, and the results are not surprising, but very telling. It is deeply sad that all of the prequels underperform everything except for A New Hope. Not because I care for the prequels (I do not!) but because we clearly lost ground there.
In exciting film news, Cat Valente's Space Opera is getting an adaptation! I cannot wait to hear how they interpret the music from the book.
And of course, I could not pass up this Patronus quiz. I got a Komodo dragon which is miles more exciting than whatever I got on Pottermore (clearly, since I don't even remember).
How about some ebook deals? Molly Tanzer's queer rewrite of The Picture of Dorian Grey, Creatures of Will and Temper, is on sale for $2.99. The first book in Michelle Sagara's Elantra series, Cast in Shadow, which I've recommended several times on various podcasts, is on sale for $1.99! And Zoo City, by personal favorite Lauren Beukes, is $2.99. Enjoy!
And now, reviews!
The Wrong Stars by Tim Pratt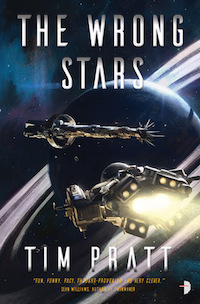 Take some Firefly and Aliens, mix with a dash of Douglas Adams and Lovecraft, then make it queer and racially diverse, and you've got something like The Wrong Stars. I found it thanks to this excellent Twitter thread, which exploded my library holds list, and I am so grateful to the OP for it!
The White Raven's motley crew are a little bit mercenaries, a little bit salvage, and a little bit freighters; they patrol the edges of the solar system, taking what jobs they can get. They're doing pretty well when they stumble across a wreck of a 500-year-old spaceship and discover it has a survivor on board, in cryo-sleep. A lot of things don't add up about this (what is the craft doing where it is? How did it survive for so long? How did it not get found earlier?), and things only get more complicated when they wake up the survivor. The story she tells about an alien encounter doesn't jive with the established relationships humanity has with the alien race they call the Liars. In the process of trying to find out what really happened to her, they stumble upon a galactic conspiracy that changes everything.
This book takes a ton of my favorite tropes and mashes them all together with glee and skill. Found family; alien encounters; wormhole travel; space stations; the complications of galactic law enforcement; AI; and a ticking clock race to the finish — I literally could not ask for more. Pratt gives all his characters and his galactic civilizations depth, his action sequences are page-turners, and the tone stays light-hearted (and sometimes even meta) despite the high stakes. I don't use the word "rollicking" often, but it applies here. The sequel should be out this fall, and I will be awaiting it with the grabbiest of grabby-hands.
The Book of M by Peng Shepherd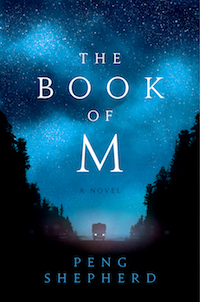 Set in a version of our world where people's memories are disappearing along with their shadows, The Book of M asks big questions about identity and love, and provides a road trip through a shattered America along the way. It is, hands down, one of my favorite books of 2018 so far.
Max and Ory have been holed up in a hotel ever since the epidemic started. No one knows how or why it spreads, but people around the world are losing their shadows, then their memories, and then dying. It's not just memories of friends and families; eventually, the shadowless forget to eat, or how to breathe. So far the couple is managing fine — until the day Max's shadow disappears. Ory comes back from a supply-gathering trip to find her gone, and heads off in search of her. Meanwhile Naz — an Olympic-bound archer who is forced on the run with her sister — is just trying to stay alive. Her journey from her apartment in Boston to DC gives us a close-up view of the crumbling urban spaces of the Northeast. As Max, Ory, and Naz's stories begin to overlap and intersect, there is hope, terror, and magic aplenty.
I white-knuckled my way through the last few chapters of this plot, both because of the final battle sequence (it's a doozy) and the final puzzle piece of character interactions. Then I cried, and had to just sit on the couch for a bit to put myself back together again. Shepherd has written a beautiful, thoughtful, and engrossing debut, and I can't wait to see what she does next.
And that's a wrap! You can find all of the books recommended in this newsletter on a handy Goodreads shelf. If you're interested in more science fiction and fantasy talk, you can catch me and my co-host Sharifah on the SFF Yeah! podcast. For many many more book recommendations you can find me on the Get Booked podcast with the inimitable Amanda.
Happy Pride this month and all months!,
Jenn