Welcome back to In The Club, a newsletter of resources to keep your book group well-met and well-read. Let's dive in.
---
This newsletter is sponsored by Litworld Publishing House.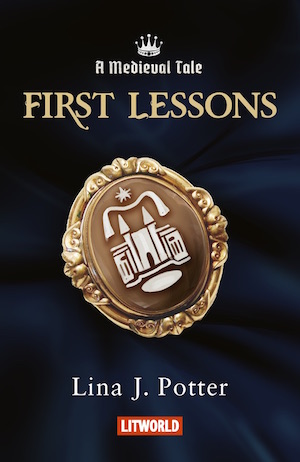 When a witty medical student, Aliya's life is cut short in a tragic accident, she discovers that she is given another chance at life. She finds herself reborn into the body of a heavy-set Countess named Lilian. Aliya must use her mind and skills in a society where women are oppressed, protect herself from assassination attempts, and build alliances with peasants, sea raiders, members of the Royal Family… and her own errant husband. First Lessons is the first of five volumes in Lina J. Potter's bestselling Medieval Tale series. Will Aliya forge her own "happy-ever-after?" And if so, at what cost?
---
The warm days have finally arrived here in Philadelphia, and I've been gathering up some "beach reading" recommendations. Whether you take them to an actual beach, a park, your back couch, or read them in the middle of next winter is totally your call.
– Romance novels based on your favorite reality TV
– Beach read recs from Girls Night In (very cosign)
– Southern literature for your summer
If you occasionally find yourself wondering why you put all this work into book club, let Marty remind you of its joys.
Book group bonus: Have everyone in your group tell their "book club origin story" — what was the first book club meeting they ever attended?
There's nothing like a whodunnit, and these are for readers who are most at home in the literary fiction stacks.
Book group bonus: You could have a really rousing discussion about the different categories of mysteries (many of them mentioned in the above piece). Do your members favor any one in particular?
Speaking of mystery subgenres, there are also SF/F ones! And here are a few that take Sherlock Holmes as their inspiration.
Book group bonus: Have each member bring in their personal favorite retelling of or book inspired by Sherlock Holmes, and let the Death Match, I MEAN, discussion begin.
In celebrity book club news, Reese Witherspoon is adding audiobooks to her empire.
Book group bonus: Are you reading along with Reese? And if not, does an official audio component make you any more likely to?
Stamp of approval: The Man Booker International Prize has been awarded! The winning title, Flights by Olga Tokarczuk, translated from the Polish by Jennifer Croft, sounds ready-made for a good discussion.
Book group bonus: I'm still thinking about this piece on the translation of Han Kang's works. How much do you take for granted when you read a translation, and how do you pick out the translator's voice from the author's? There aren't easy answers, but there's a lot of good food for thought.
And that's a wrap: Happy discussing! If you're interested in more science fiction and fantasy talk, you can catch me and my co-host Sharifah on the SFF Yeah! podcast. For many many more book recommendations (including the occasional book club question!) you can find me on the Get Booked podcast with the inimitable Amanda.
Your fellow booknerd,
Jenn
More Resources:
– Our Book Group In A Box guide
– List your group on the Book Group Resources page