Hey Kid Lit friends,
It's coming up on the end of the first half of 2018 (how did that happen so quickly?), so I thought I would share eight of my favorite picture books published this year so far, plus two more coming up in June and August that I got an advance look at and am very excited about.
---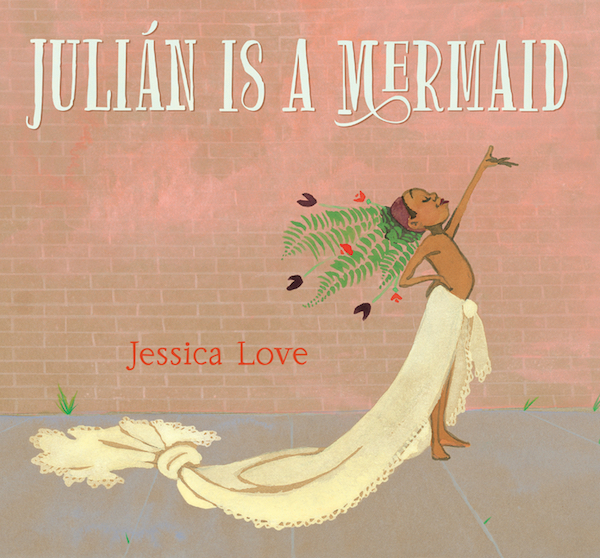 Sponsored by Candlewick Press
While riding the subway home from the pool with his abuela one day, Julián notices three women spectacularly dressed up. Their hair billows in brilliant hues, their dresses end in fishtails, and their joy fills the train car. When Julián gets home, daydreaming of the magic he's seen, all he can think about is dressing up just like the ladies in his own fabulous mermaid costume: a butter-yellow curtain for his tail, the fronds of a potted fern for his headdress. But what will Abuela think about the mess he makes — and even more importantly, what will she think about how Julián sees himself? Mesmerizing and full of heart, Jessica Love's author-illustrator debut is a jubilant picture of self-love and a radiant celebration of individuality.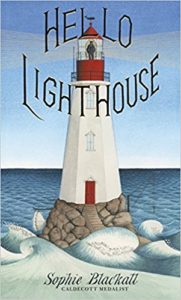 Hello Lighthouse by Sophie Blackall
I adored this book by Caldecott award winning illustrator Sophie Blackall. This is a story of a lightkeeper living on a remote rocky outpost, and the book details his daily life tending the flame and maintaining his lighthouse. The charming illustrations depict life as a lighthouse keeper and all of it's challenges. And to top off the stunning book design… the cover has gold foil! *swoon*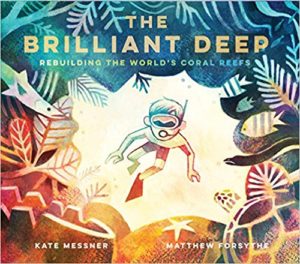 The Brilliant Deep by Kate Messner, illustrated by Matthew Forsythe
This gorgeous book chronicles the life of Ken Nedimyer, founder of the Coral Restoration Foundation. When Ken was studying the oceans, he noticed the destruction of invaluable coral reefs, and he brainstormed and experimented in the ongoing efforts to save and rebuild the world's coral reefs with hammer and glue and grafts of newly grown coral. This picture book is both educational and gorgeous.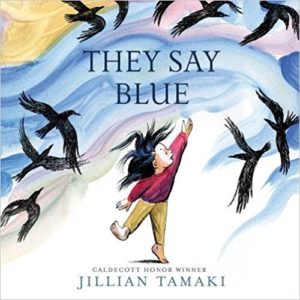 They Say Blue by Jillian Tamaki
This is a gorgeous, gorgeous, gorgeous picture book, full of vibrant colors and energy. Tamaki follows a young girl through a year or a day as she examines the colors in the world around her. "My favorite line: Black is the color of my hair. My mother parts it every morning, like opening a window."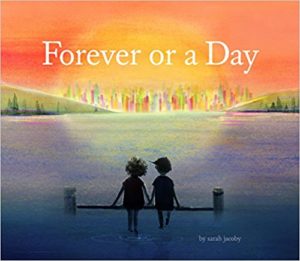 Forever or a Day by Sarah Jacoby
This lovely picture book is a celebration of cherished moments with loved ones is at once simple, profound, and truly beautiful. It is a daily reminder of stopping and cherishing little moments, a particularly compelling message in today's busy world.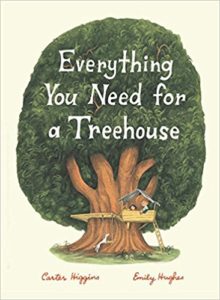 Everything You Need for a Treehouse by Carter Higgins, illustrated by Emily Hughes
I loved Carter's first book, This is Not a Valentine, and I knew I would also love her second book as soon as I heard the title. Carter has a beautiful ability to bend language to create a gorgeous story, and her words are perfectly complemented by Emily's lovely illustrations. Each spread is a treat with so many things to discover in every illustration.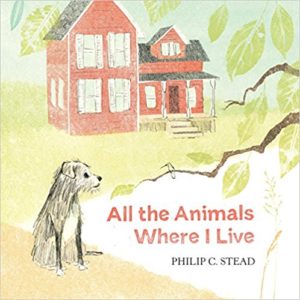 All the Animals Where I Live by Philip C. Stead
I first saw this book at my local indie bookstore, and I thought it was so sweet. The author used to live in the busy city where there were buses and trains, and people waiting for buses and trains. Now he lives in the country and jubilantly takes us on a tour of his home, pointing out all the animals that share his space. There are stuffed bears and quilted chickens. His dog Wednesday watches cranes, frogs, and dragonflies live their lives. Coyotes and chipmunks come and go, and the world around where he lives is full of life, until winter comes, and there is nothing but snow.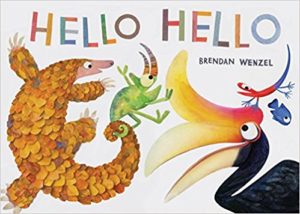 Hello Hello by Brendan Wenzel
Hello, Hello! is a vibrant book with fantastic colors and a important message. Beginning with two cats, one black and one white, a chain of animals appears before the reader, linked together by at least one common trait. From simple colors and shapes to more complex and abstract associations, each unexpected encounter celebrates the magnificent diversity of our world—and ultimately paints a story of connection.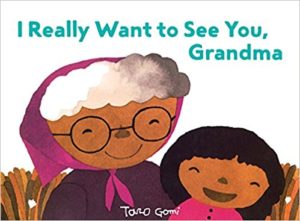 I Really Want to See You, Grandma by Taro Gomi
This book is absolutely delightful in it's simplicity. Yumi and her grandmother have the same great idea: They want to see each other. So they each head out to do just that, only to completely miss each other along the way! No problem—they'll just head back home and wait for the other to return. The trouble is that they have the same great idea—again—resulting in the ultimate missed connection! Will this duo ever find each other? I always love Taro Gomi's illustrations and use of color, and this is one of my favorite books of his.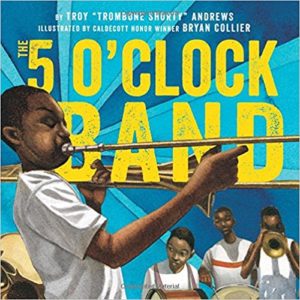 The 5 O'Clock Band by Troy Andrews, illustrated by Bryan Collier (Abrams, 6/19/18)
In this companion to the Caldecott Honor and Coretta Scott King Award–winning Trombone Shorty, join a scrappy young musician named Shorty on a tour of his beloved New Orleans. After letting his band down by missing rehearsal, Shorty has some serious questions about what it means to be a leader. He hits the streets of New Orleans to find some answers and soak up inspiration. Along the way he'll meet street musicians, a favorite restaurant owner, and the famous Mardi Gras Indians. Each has some NOLA-bred wisdom to share with Shorty about being an artist, a leader, and a friend.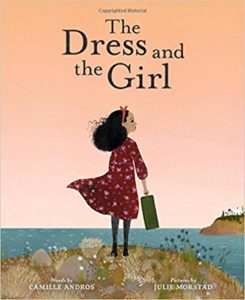 The Dress and the Girl by Camille Andros, illustrated by Julie Morstad (Abrams, 8/7/18)
A little girl and her favorite dress dream of an extraordinary life. They enjoy simple pleasures together on a beautiful Greek island. They watch the sunset, do chores, and pick wildflowers on the way home. One day, the dress and the girl must leave the island and immigrate to the United States. Upon arrival, the girl is separated from the trunk carrying her favorite dress, and she fears her dress is lost forever. The language is beautiful, as are the illustrations. This book reminds me of Miss Rumpius in tone and quality.
New Releases
All of these books release this Tuesday unless otherwise noted. The book descriptions are from Goodreads, but I'll add a 
 if I particularly loved a title.
Picture Book New Releases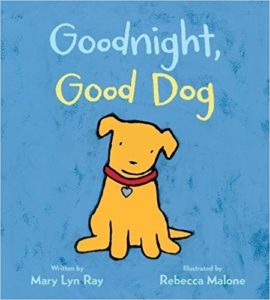 Goodnight, Good Dog by Mary Lyn Ray, illustrated by Rebecca Malone (HMH Books for Young Readers)
Say goodnight to a good dog, in this padded board book with a touchable, flocked dog on the cover. For one restless pup the waking world is too full of wonder to leave behind at bedtime, until he closes his eyes and finds comfort in his dreams. In the tradition of Goodnight Moon, Mary Lyn Ray's warm and accessible storytelling celebrates the sights and sounds of the night to reassure young children at bedtime.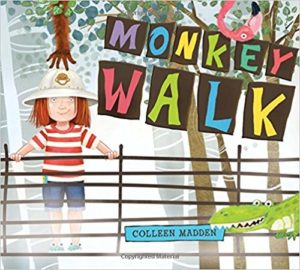 Monkey Walk by Colleen Madden (HMH Books for Young Readers)
It's a trip to the zoo like no other in Colleen Madden's author debut – a zany and nearly wordless tale of a big sister whose grumpy mood is turned around in a very unexpected way. Bring your imagination (and a banana!) for a guaranteed silly time adventure climbing the Monkey Walk.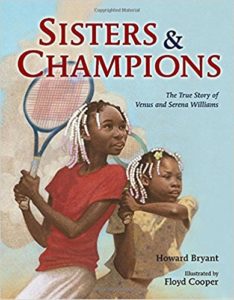 Sisters & Champions: The True Story of Venus and Serena Williams Howard Bryant, illustrated by Floyd Cooper (Penguin Random House)
Everyone knows the names Venus & Serena Williams. They've become synonymous with championships, hard work, and with shaking up the tennis world. This inspirational true story, written by award-winning sports journalist, Howard Bryant, and brought to beautiful life by Coretta Scott Kind Award and Honor winner, Floyd Cooper, details the sisters' journey from a barely-there tennis court in Compton, CA, to Olympic gold medals and becoming the #1 ranked women in the sport of tennis. Here is a worthy ode to Venus and Serena Williams, the incredible sister duo who will go down in history as two of the greatest athletes of all time.
Monster and Mouse Go Camping by Deborah Underwood, illustrated by Jared Chapman (HMH Books for Young Readers)
It takes a little convincing, but with the promise of food, Monster decides to join Mouse on a camping trip. Things quickly go awry when Mouse takes off to explore, because, well, Monster gets hungry. He starts with just a little snack—the lantern. And the sleeping bags are hard to resist. Then the tent . . . Stranded in the wild with no supplies, what are a monster and a mouse to do?
Chapter Book New Release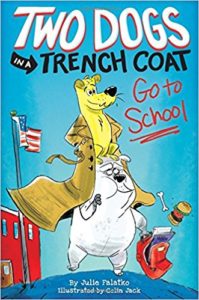 Two Dogs in a Trench Coat Go to School by Julie Falatko, illustrated by Colin Jack (Scholastic)
Sassy and Waldo are good dogs. They spend the day keeping their house safe. Has a squirrel ever gotten inside? No! But every day their boy, Stewart, comes home from this terrible place called school smelling like anxiety and looseleaf paper. Sassy and Waldo decide to save Stewart. But they don't let dogs into school. So Sassy and Waldo decide to get creative. They put on an old trench coat, and now everyone at Bea Arthur Elementary thinks they are a new student named Salty from Liver, Ohio. Well, everyone except Stewart. Sassy and Waldo love school! Everything smells like meat and dirty socks. And they discover a whole other way to help out Stewart!
Middle Grade New Releases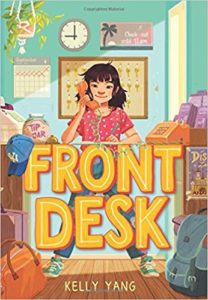 Front Desk by Kelly Yang (Scholastic)
Mia Tang has a lot of secrets.
Number 1: She lives in a motel, not a big house. Every day, while her immigrant parents clean the rooms, ten-year-old Mia manages the front desk of the Calivista Motel and tends to its guests.
Number 2: Her parents hide immigrants. And if the mean motel owner, Mr. Yao, finds out they've been letting them stay in the empty rooms for free, the Tangs will be doomed.
Number 3: She wants to be a writer. But how can she when her mom thinks she should stick to math because English is not her first language?
It will take all of Mia's courage, kindness, and hard work to get through this year. Will she be able to hold on to her job, help the immigrants and guests, escape Mr. Yao, and go for her dreams?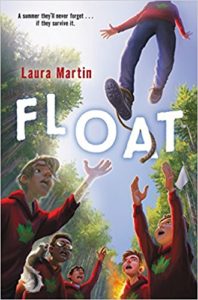 Float by Laura Martin (HarperCollins)
Emerson can float…he just can't do it very well. His uncontrollable floating is his RISK factor, which means that he deals with Reoccurring Incidents of the Strange Kind. The last place Emerson wants to be is at a government-mandated summer camp for RISK kids like him, so he's shocked when he actually starts having fun at camp—and he even makes some new friends.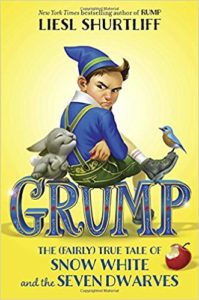 Grump, the (Fairly) True Tale of Snow White and the Seven Dwarves by Liesl Shurtliff (Knopf)
Ever since he was a dwarfling, Borlen (nicknamed "Grump") has dreamed of visiting The Surface, so when opportunity knocks, he leaves his cavern home behind. At first, life aboveground is a dream come true. Queen Elfrieda Veronika Ingrid Lenore (E.V.I.L.) is the best friend Grump always wanted, feeding him all the rubies he can eat and allowing him to rule at her side in exchange for magic and information. But as time goes on, Grump starts to suspect that Queen E.V.I.L. may not be as nice as she seems. . . .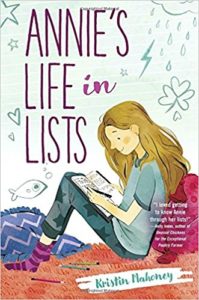 Annie's Life in Lists by Kristin Mahoney (Random House)
Annie's a shy fifth grader with an incredible memory and a love of making lists. It helps her keep track of things when they can seem a little out of control, like her family, her friends, and her life in a new place.
Annie has:
1. An incredible memory (really, it's almost photographic) that can get her in trouble
2. A desire to overcome her shyness
3. A brother who is mad at her because he thinks she is the reason they had to move to Clover Gap, population 8,432.
4. A best friend who she is (almost) certain will always be her best friend.
5. New classmates, some of whom are nicer than others.
6. A rocky start finding her place in her new home.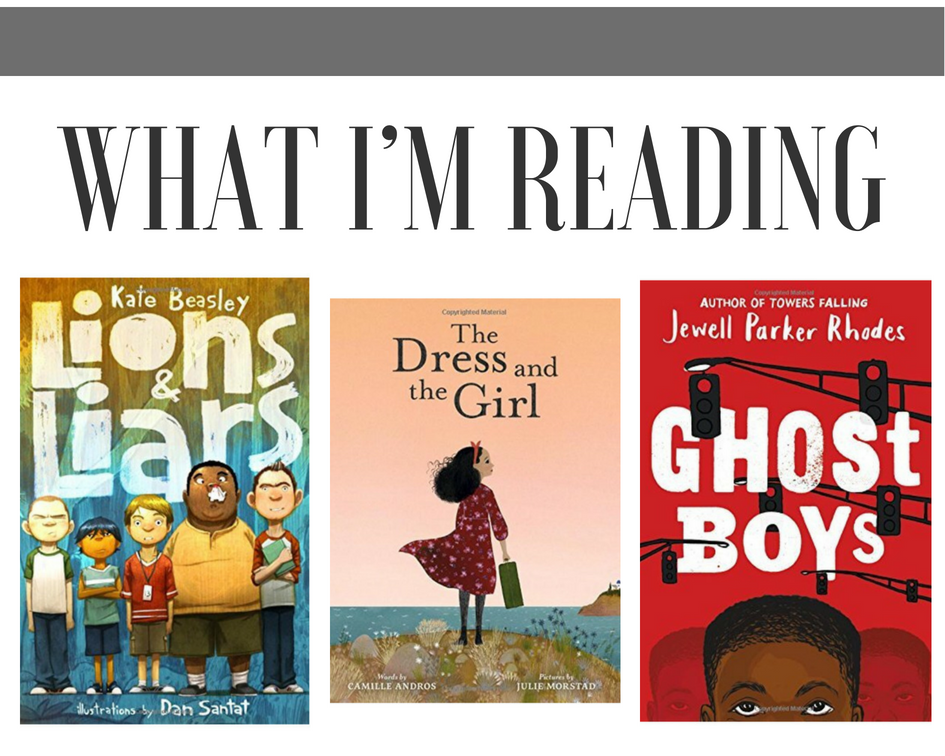 I was so happy to receive a galley of Kate Beasley's new book, Lions & Liars (Farrar, Straus and Giroux, 6/5/18), which is stunningly illustrated by Dan Santat. Fifth grade is off to a terrible start when Frederick is sent to a disciplinary camp for troublesome boys. His fellow troop mates―Nosebleed, Specs, The Professor, and little-yet-lethal Ant Bite―are terrifying. But in between trust-building exercises and midnight escape attempts, a tenuous friendship grows between them. Which is lucky, because a Category 5 hurricane is coming and everyone will have to work together―lions and fleas alike―to survive!
I read The Girl and the Dress by Camille Andros, illustrated by Julie Morstad, and I absolutely loved it. The illustrations fit perfectly with the story, and I *might* have cried while reading it.
Ghost Boys by Jewell Parker Rhodes is a haunting story about twelve-year-old Jerome, who is shot by a police officer who mistakes his toy gun for a real threat. As a ghost, he observes the devastation that's been unleashed on his family and community in the wake of what they see as an unjust and brutal killing. This is an important book! Read it!
One last thing: did you know that Book Riot is giving away $500 to the bookstore of your choice? Enter here!
I'd love to know what you are reading this week! Find me on Twitter at @KarinaYanGlaser, on Instagram at @KarinaIsReadingAndWriting, or email me at karina@bookriot.com.
Until next week!
Karina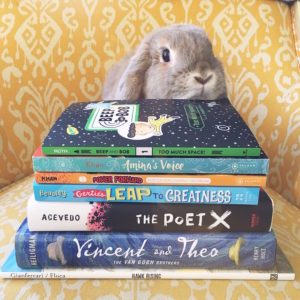 Izzy can just get her head over this book stack!
*If this e-mail was forwarded to you, follow this link to subscribe to "The Kids Are All Right" newsletter and other fabulous Book Riot newsletters for your own customized e-mail delivery. Thank you!*