Welcome back to In The Club, a newsletter of resources to keep your book group well-met and well-read. Let's dive in.
---
This newsletter is sponsored by Park Row Books, publisher of We Own The Sky by Luke Allnutt.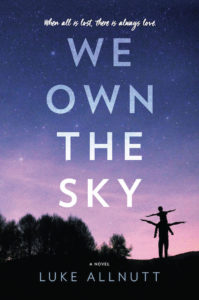 Rob Coates feels like he's won the lottery of life. There is Anna, his incredible wife, their London town house and, most precious of all, Jack, their son, who makes every day an extraordinary adventure. But when a devastating illness befalls his family, Rob's world begins to unravel. Suddenly finding himself alone, Rob seeks solace in photographing the skyscrapers and clifftops he and his son Jack used to visit. And just when it seems that all hope is lost, Rob embarks on the most unforgettable of journeys to find his way back to life, and forgiveness.
---
Have you read a Cuban American lately? Here are 5 that Barnes & Noble recommends, to which I would like to add Cecilia Rodríguez Milanés' Oye What I'm Gonna Tell You.
Book group bonus: Pair a reading of one (or several!) of these with some episodes of One Day at a Time, which follows a military veteran, single, Cuban-American mother and her family — it is my new favorite sitcom.
Speaking of TV: Do you miss Glee? Did you know that a bunch of the actors from Glee have written books? Here you go.
Book group bonus: Celebrity books: love them? Hate them? Memoirs yes, fiction no? Depends? This is a topic with a lot of possible mileage!
Who needs a book for book group? Instead, just fight I MEAN discuss these unpopular bookish opinions, as well as your own!
Book group bonus: If you're concerned about people getting personal, write out the unpopular opinions on scraps of paper and toss them in a box/bowl ahead of time. That way no one has to own them!
The Aunts have arrived! The aunts from A Discovery of Witches, that is — photos went up on EW last week. If your group hasn't already picked up this (really fun) witchy series, now is a great time to start, since the show starts airing this fall.
Book group bonus: I love a good fancast. Have everyone pick their own best casting and compare/contrast.
Listen, it's not just about fashion. I got obsessed with the Met Gala when I started reading author Genevieve Valentine's red carpet recaps, so to my mind they were always bookish. Laura agrees, and paired looks from this year's Gala with book covers!
Book group bonus: You could probably fall down a really great rabbithole of discussion about this year's theme, the looks that walked the runway, and/or trends in cover design. Enjoy!
May the Force be with you as you try to figure out which Star Wars books you should read. But if you need a little extra help, we've got some recommendations.
Book group bonus: Definitely you should read a couple and then plan a (re)watch of The Last Jedi. Very definitely.
And that's a wrap: Happy discussing! If you're interested in more science fiction and fantasy talk, you can catch me and my co-host Sharifah on the SFF Yeah! podcast. For many many more book recommendations (including the occasional book club question!) you can find me on the Get Booked podcast with the inimitable Amanda.
Your fellow booknerd,
Jenn
More Resources: 
– Our Book Group In A Box guide
– List your group on the Book Group Resources page