Hi Kid Lit friends,
I have a weakness for epistolary books. There is something so intimate and pure about reading correspondence, whether through a diary or a letter to another person. Here are some epistolary books you might want to check out:
---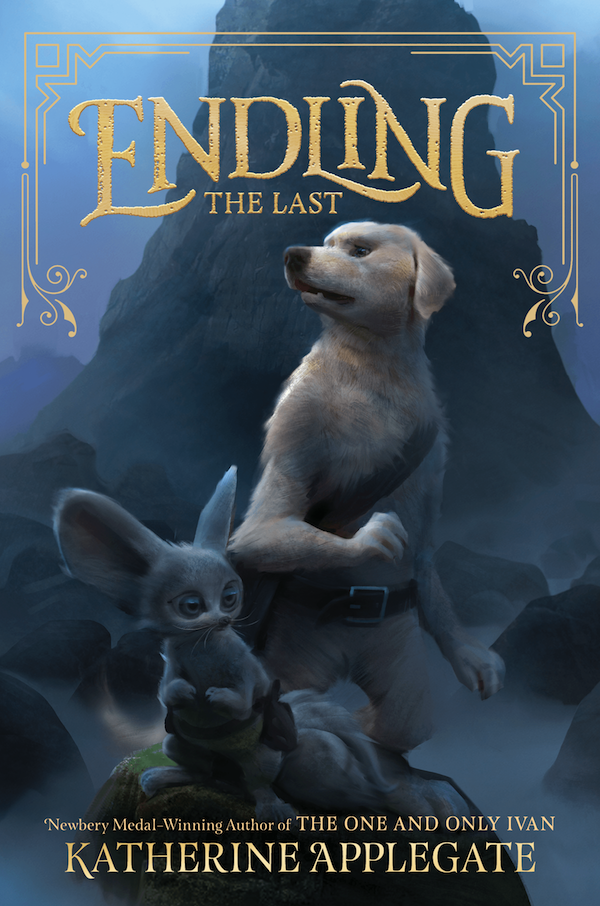 Sponsored by Endling #1: The Last by Katherine Applegate, the bestselling author of The One and Only Ivan!
Byx is the youngest member of her dairne pack, a rare doglike species. Rumored to have remarkable abilities, dairnes have been hunted to near-extinction in the war-torn kingdom of Nedarra. When her pack is lured into a trap and wiped out, it seems Byx may be the last of her species: an endling.
As Byx sets out on a quest to find a safe haven—and perhaps even another of her kind—she meets new allies, who each have their own motivations for joining her. They begin as strangers and grow to be their own kind of family, and together they will uncover a secret that will threaten the existence of not just the dairnes, but every other creature in their world.
---
Picture Books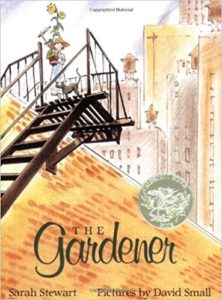 I know I mentioned The Gardener by Sarah Stewart, illustrated by David Small, already for Earth Day, but it is one of my absolute favorites. This lovely picture book is a series of letters from Lydia Grace Finch, a girl sent from her home on a farm to live with her cantankerous Uncle Jim who is a baker. Lydia doesn't have much except a suitcase full of seeds given to her by her grandmother. What amazes me most about the book are the gorgeous and intricate illustrations which tell so much of the story beyond the words. It is a true masterpiece of a book and uses letters in a brilliant and beautiful way.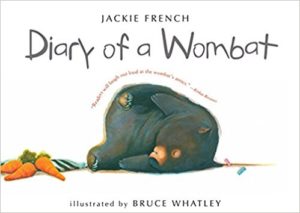 Diary of a Wombat by Jackie French and illustrated by Bruce Whatley is a charmer of a book. The story walks us through the life of a wombat, which includes a lot of adorable illustrations of a wombat napping, a wombat eating, and a wombat causing mischief. I guarantee you will be utterly delighted by this animal after reading this book!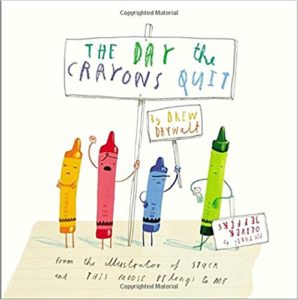 The Day the Crayons Quit by Drew Daywalt, illustrated by Oliver Jeffers, is a story told through letters from the crayons that leave their owner, a kid named Duncan. The crayons have various grievances,  including Blue wanting a break from coloring in great bodies of water, Black going on strike because he is tired of only being used for outlining, and Beige being tired of playing second fiddle to Brown.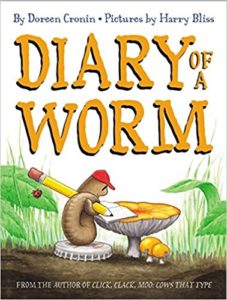 Another wonderful epistolary picture book is Diary of a Worm by Doreen Cronin, illustrated by Harry Bliss. This worm lives with his parents, plays with his friends, and even goes to school. But unlike you or me, he never has to take a bath, he gets to eat his homework, and because he doesn't have legs, he just can't do the hokey pokey – no matter how hard he tries. Told in diary form with illustrations that look as if they are taped into the diary, this book is hilarious and heartwarming.
Middle Grade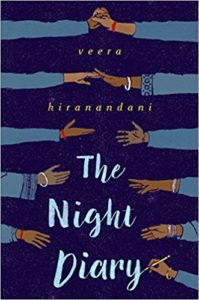 The Night Diary by Veera Hiranandani is a set of letters that the protagonist, half-Muslim, half-Hindu twelve-year-old Nisha, writes to her deceased mother. It's 1947, and India, newly independent of British rule, has been separated into two countries: Pakistan and India. The divide has created much tension between Hindus and Muslims, and hundreds of thousands are killed crossing borders. Nisha doesn't know where she belongs, or what her country is anymore. When Papa decides it's too dangerous to stay in what is now Pakistan, Nisha and her family become refugees and embark first by train but later on foot to reach her new home. The journey is long, difficult, and dangerous, and after losing her mother as a baby, Nisha can't imagine losing her homeland, too.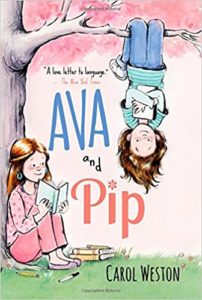 The Ava and Pip series by Carol Weston is a sweet early middle grade series about two sisters who are about as different as night and day. While Ava Wren is outgoing, her older sister Pip is shy and quiet. After Pip's thirteenth birthday goes awry, Ava is committed to helping her sister come out of her shell. Through Ava's diary entries, we learn about her plan and experience it all through Ava's viewpoint.
Dear Mr. Henshaw by Beverly Cleary is probably one of the most famous epistolary middle grade books, and for good reason. After his parents separate, Leigh Botts moves to a new town with his mother. Struggling to make friends and deal with his anger toward his absent father, Leigh loses himself in a class assignment in which he must write to his favorite author. When Mr. Henshaw responds, the two form an unexpected friendship that will change Leigh's life forever.
On December 1, 1955, Rosa Parks refused to give her seat to a white passenger on a Montgomery, Alabama, bus. This simple act of defiance spurred African American residents' 381-day boycott of the Montgomery bus system and arguably fueled the civil rights movement itself. In Dear Rosa Parks: A Dialogue with Today's Youth, readers can read through a collection of some of the thousands of children's letters sent to Ms. Parks over her lifetime and her responses to them. Through the letters, Rosa Parks shares her legacy of courage and wisdom, reminding young readers that their actions will determine the future.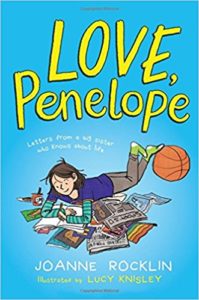 Love, Penelope by Joanne Rocklin, illustrated by Lucy Knisely, takes a different spin on epistolary novels. In this book, the main character Penelope writes letters to her soon-to-be born sister. She introduces herself (Penelope, but she prefers "Penny") and their moms (Sammy and Becky). She brags about their home city, Oakland, California (the weather, the Bay, and the Golden State Warriors) and shares the trials and tribulations of being a fifth-grader.
New Releases
All of these books release this Tuesday unless otherwise noted. The book descriptions are from Goodreads, but I'll add a 
 if I particularly loved a title.
Picture Book New Releases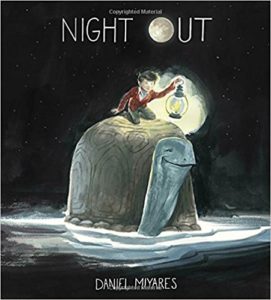 Night Out by Daniel Miyares (Random House)
When a small, friendless boy goes to bed at his boarding school, an adventure is about to begin! First he finds an invitation in his turtle's bowl. Next he makes an escape–out the window, through the woods, across a river, and onto an island. And then he joins a grand celebration, with larger-than-life animals serving tea and dancing late into the night. And finally? After the journey back, he has a fantastic story to tell–the perfect way to make a friend.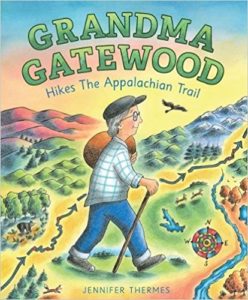 Grandma Gatewood Hikes the Appalachian Trail by Jennifer Thermes (Abrams)
Emma Gatewood's life was far from easy. In rural Ohio, she managed a household of 11 kids alongside a less-than-supportive husband. One day, at age 67, she decided to go for a nice long walk . . . and ended up completing the Appalachian Trail. With just the clothes on her back and a pair of thin canvas sneakers on her feet, Grandma Gatewood hiked up ridges and down ravines. She braved angry storms and witnessed breathtaking sunrises. When things got particularly tough, she relied on the kindness of strangers or sheer luck to get her through the night. When the newspapers got wind of her amazing adventure, the whole country cheered her on to the end of her trek, which came just a few months after she set out.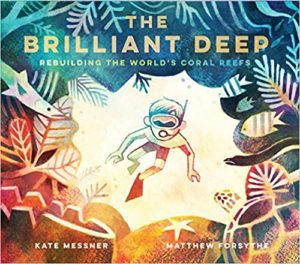 The Brilliant Deep: Rebuilding the World's Coral Reefs by Kate Messner, illustrated by Matthew Forsythe (Chronicle)
All it takes is one: one coral gamete to start a colony, one person to make a difference, one idea to change the world. The ongoing efforts to save and rebuild the world's coral reefs—with hammer and glue, and grafts of newly grown coral—are the living legacy of Ken Nedimyer, founder of the Coral Restoration Foundation. Kate Messner and Matthew Forsythe tell the true story of the coral restoration pioneer in this brilliant tribute to the wonders of nature and the power of human hope.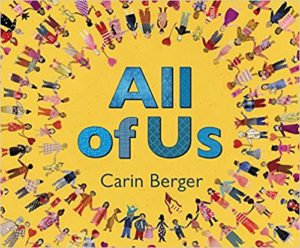 All of Us by Carin Berger (HarperCollins)
With a universal message and stunning paper collage art, Carin Berger's beautiful and timely picture book celebrates the power of community, family, and most of all, love. Her beautiful collage art and lyrical text offer a message of hope in the face of adversity.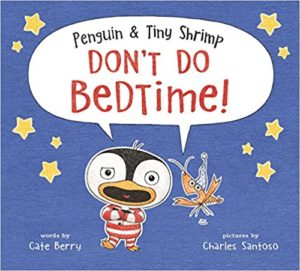 Penguin and Tiny Shrimp Don't Do Bedtime! by Cate Berry, illustrated by Charles Santoso (Balzer & Bray)
Penguin and Tiny Shrimp DO NOT have a bedtime story to share with you.
There are no soft beds or cozy covers here. There are fireworks! And shark-infested waters!!
This book will never make you sleepy. Not at all. Not even a little.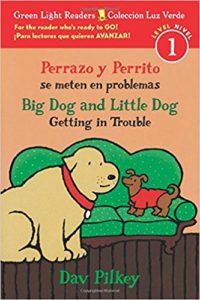 Perrazo y Pettito se meten en problems/Big Dog and Little Dog Getting in Trouble by Dav Pilkey (HMH Books for Young Readers)
When Big Dog and Little Dog play tug of war with the couch cushions, the furniture ends up ruined and their person is not pleased. Best friends have to be great at sharing—in this case, sharing the blame!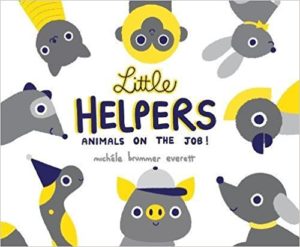 Little Helpers: Animals on the Job! by Michele Brummer Everett (HMH Books for Young Readers)
In this book of little helpers, join service animals as they go about their important work. From snakes who give a squeeze when it's time to take medication to Seeing Eye dogs who help their owners cross the street, from llamas who visit children's hospitals to pigs who provide comfort for the elderly, this gentle introduction celebrates special connections between people and animals.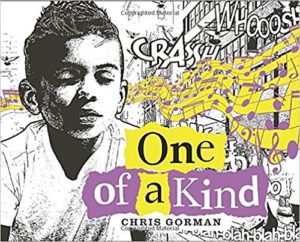 One of a Kind by Chris Gorman (Penguin Random House)
Meet a pogo-dancing, punk-rock-loving kid who loves to express himself in his own unique way. His clothes, hairstyle, music, and just the way he hears the world, all set him apart. Not everyone understands him, but he likes being one of a kind–even though it's lonely sometimes. Fortunately, it's a wide world out there, and if he looks around a kid is sure to find other one-of-a-kinds with common interests.
Middle Grade New Releases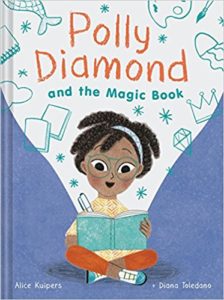 Polly Diamond and the Magic Book by Alice Kuipers, illustrated by Diana Toledano (Chronicle, 5/1/18)
Polly loves words. And she loves writing stories. So when a magic book appears on her doorstep that can make everything she writes happen in real life, Polly is certain all of her dreams are about to come true. But she soon learns that what you write and what you mean are not always the same thing!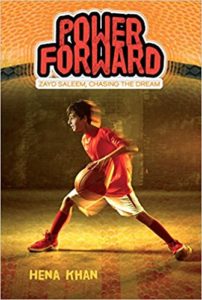 Power Forward: Zayd Saleen, Chasing the Dream by Hena Khan (Salaam Reads)
Fourth grader Zayd Saleem has some serious hoop dreams. He's not just going to be a professional basketball player. He's going to be a star. A legend. The first Pakistani-American kid to make it to the NBA. He knows this deep in his soul. It's his destiny. There are only a few small things in his way. For starters, Zayd's only on the D-team. (D stands for developmental, but to Zayd it's always felt like a bad grade or something.) Not to mention, he's a bit on the scrawny side, even for the fourth grade team. But his best friend Adam is on the Gold Team, and it's Zayd's dream for the two of them to play together.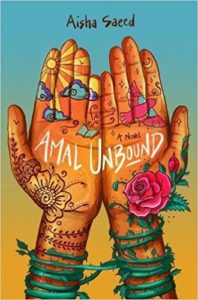 Amal Unbound by Aisha Saeed (Nancy Paulsen Books)
Life is quiet and ordinary in Amal's Pakistani village, but she had no complaints, and besides, she's busy pursuing her dream of becoming a teacher one day. Her dreams are temporarily dashed when–as the eldest daughter–she must stay home from school to take care of her siblings. Amal is upset, but she doesn't lose hope and finds ways to continue learning. Then the unimaginable happens–after an accidental run-in with the son of her village's corrupt landlord, Amal must work as his family's servant to pay off her own family's debt.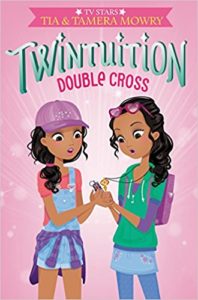 Twintuition: Double Cross by Tia Mowry and Tamera Mowry (HarperCollins)
In this fourth and final book, tween twins Cassie and Caitlyn Waters are excited to be returning to their hometown, San Antonio, on a class trip. But as they reach their destination, trouble finds them as quickly as a vision, and one of their friends soon disappears. Using their Sight and their street smarts to try and save the day, the twins also begin to see things they didn't expect—a man in captivity who looks exactly like their father's pictures. Could he really be alive? And can they use the clues they see to save him before it's too late?
Marge in Charge and the Stolen Treasure by Isla Fisher, illustrated by Eglantine Ceulemans (HarperCollins)
Marge the babysitter might look like a very tiny elfin grandmother at first, but in these three hilarious stories, she's letting down her rainbow hair and getting in a brand-new heap of trouble. Siblings Jemima and Jake Button are used to things being very sensible: their babysitters always follow the lists of rules from Mommy and Dad. But sometimes sensible isn't very fun—and with Marge around, you've got to stay on your toes! Before you can say Kalamazoo!, there's a pirate baby on the loose, lost treasure at the neighborhood pool, and chaos at a very important wedding. When Marge is in charge, you truly never know what will happen next!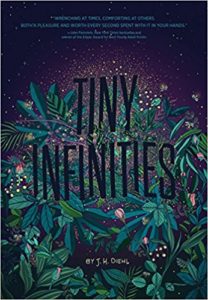 Tiny Infinities by J.H. Diehl (Chronicle)
When Alice's dad moves out, leaving her with her troubled mother, she does the only thing that feels right: she retreats to her family's old Renaissance tent in the backyard, determined to live there until her dad comes home. In an attempt to keep at least one part of her summer from changing, Alice focuses on her quest to swim freestyle fast enough to get on her swim team's record board. But summers contain multitudes, and soon Alice meets an odd new friend, Harriet, whose obsession with the school's science fair is equal only to her conviction that Alice's best stroke is backstroke, not freestyle. Most unexpected of all is an unusual babysitting charge, Piper, who is mute—until Alice hears her speak.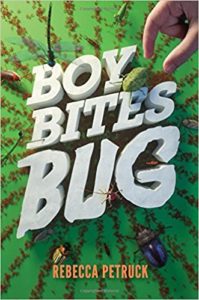 Boy Bites Bug by Rebecca Petruck (Amulet Books)
Will didn't plan to eat a stinkbug. But when his friend Darryl called new kid Eloy Herrera a racial slur, Will did it as a diversion. Now Will is Bug Boy, and everyone is cracking up inventing insect meals for him, like French flies and maggot-aroni and fleas. Turns out eating bugs for food is a real thing, called entomophagy. Deciding that means he can use a class project to feed everyone grasshoppers, Will bargains for Eloy's help in exchange for helping him with wrestling, but their growing friendship only ticks off Darryl more.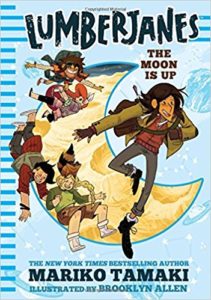 Lumberjanes: The Moon Is Up by Mariko Tamaki, illustrated by Brooklyn Allen (HarperCollins)
Welcome to Miss Qiunzella Thiskwin Penniquiqul Thistle Crumpet's Camp for Hardcore Lady Types. The five scouts of Roanoke cabin—Jo, April, Molly, Mal, and Ripley—love their summers at camp. They get to hang out with their best friends, earn Lumberjane scout badges, annoy their no-nonsense counselor Jen . . . and go on supernatural adventures. That last one? A pretty normal occurrence at Miss Qiunzella's, where the woods contain endless mysteries. As the camp gears up for the big Galaxy Wars competition, Jo and the gang get some help from an unexpected visitor—a Moon Pirate!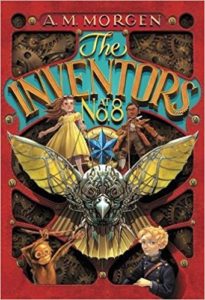 The Inventors at No. 8 by A.M. Morgen (Little, Brown)
Meet George, the third Lord of Devonshire and the unluckiest boy in London. Why is George so unlucky? First, he's an orphan. Second, unless he sells everything, he's about to lose his house. So when his family's last heirloom, a priceless map to the Star of Victory (a unique gem said to bring its owner success in any battle) is stolen by a nefarious group of criminals, George knows that there is no one less lucky–or more alone–than he is. That is until Ada Byron, the future Countess of Lovelace, bursts into his life. She promises to help George recover his family legacy, and is determined to find her own father along the way–all in a flying machine she built herself.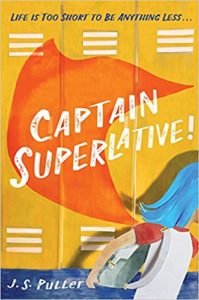 Captain Superlative by J.S. Puller (Disney-Hyperion)
Red mask, blue wig, silver swimsuit, rubber gloves, torn tights, high top sneakers and . . . a cape? Who would run through the halls of Deerwood Park Middle School dressed like this? And why? Janey-quick to stay in the shadows-can't resist the urge to uncover the truth behind the mask. The answer pulls invisible Janey into the spotlight and leads her to an unexpected friendship with a superhero like no other. Fearless even in the face of school bully extraordinaire, Dagmar Hagen, no good deed is too small for the incomparable Captain Superlative and her new sidekick, Janey.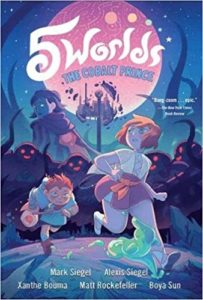 5 Worlds Book 2: The Cobalt Prince by Mark Siegel and Alexis Siegel, illustrated by Xanthe Bouma, Matt Rockefeller, and Boya Sun (Random House)
Oona Lee surprised everyone–including herself–when she lit the first beacon to save the Five Worlds from extinction. Can she light the other four beacons in time? Next stop, Toki! On the blue planet, Oona must face the sister who left her, and bring to light the Cobalt Prince's dark secrets. Meanwhile, An Tzu is fading away as his mysterious illness gets worse. Will it stop him from joining the fight? Or will his unique magic be just what the team needs? And Jax Amboy is a hero on the starball field, but in a moment of real danger, will he risk everything to save his friends?
The Key to Every Thing by Pat Schmatz (Candlewick)
Tash didn't want to go to camp, didn't want to spend the summer with a bunch of strangers, didn't want to be separated from the only two people she has ever been able to count on: her uncle Kevin, who saved her from foster care, and Cap'n Jackie, who lives next door. Camp turns out to be pretty fun, actually, but when Tash returns home, Cap'n Jackie is gone. And Tash needs her — the made-up stories of dolphin-dragons, the warm cookies that made everything all right after a fight, the key Cap'n Jackie always insisted had magic in it. The Captain always said all Tash had to do was hold it tight and the magic would come. Was it true? Could the key bring Cap'n Jackie back?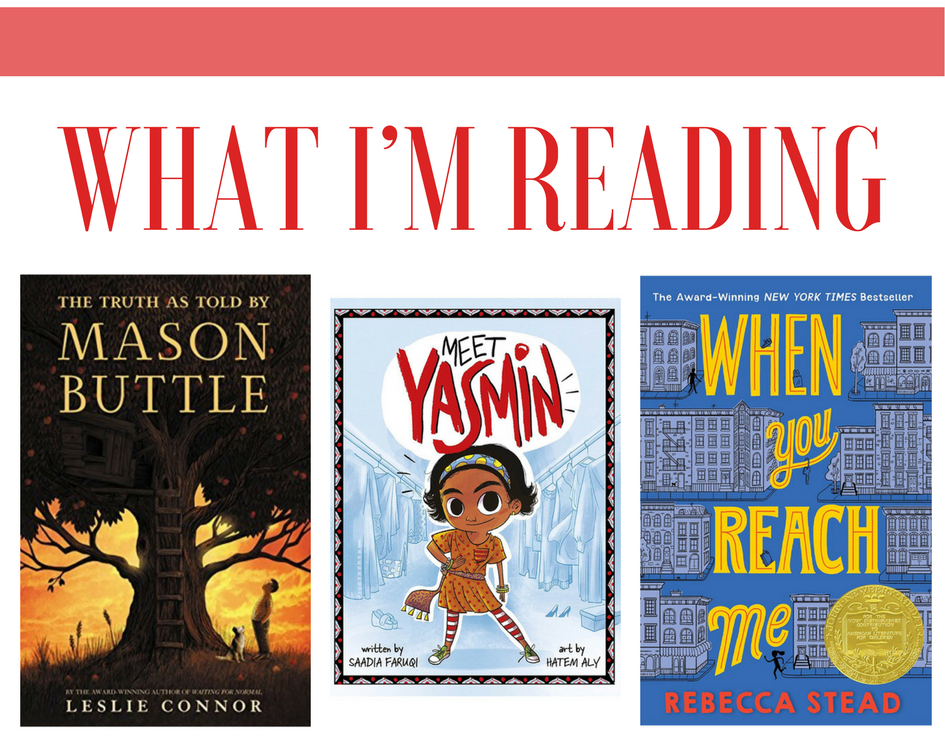 I read and loved Leslie Connor's new book, The Truth As Told By Mason Buttle. I love the way Connor writes about unusual circumstances and characters with such warmth and heart (her previous book, All Rise for the Honorable Perry T. Cook, was amazing). Her new book is about Mason Buttle, the biggest, sweatiest kid in his grade, and everyone knows he can barely read or write. Mason's learning disabilities are compounded by grief. Fifteen months ago, Mason's best friend, Benny Kilmartin, turned up dead in the Buttle family's orchard. An investigation drags on, and Mason, honest as the day is long, can't understand why Lieutenant Baird won't believe the story Mason has told about that day.
Meet Yasmin! (Picture Window Books, 8/1) by Saadia Faruqi, illustrated by Newbery Honor winning illustrator Hatem Aly, is a fun chapter book that should join the likes of Jasmine Toguchi by Debbi Michiko Florence and Lola Levine by Monica Brown. Yasmin Ahmad is a spirited second-grader who is always on the lookout for those "aha" moments to help her solve life's little problems. Taking inspiration from her surroundings and her big imagination, she boldly faces any situation assuming her imagination doesn t get too big, of course!
Finally, I reread Rebecca Stead's When You Reach Me. This is one of those books that make me wonder, "How did she do that?" It's such a perfect book, and if you haven't read it (or reread it lately), I think you should!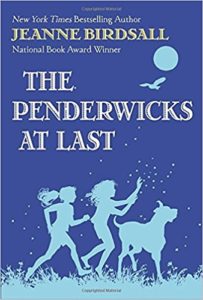 I have a special treat for you next week! Jeanne Birdsall will be on the newsletter answering six of my burning questions about the final book in The Penderwicks series, The Penderwicks at Last! Stay tuned…
I'd love to know what you are reading this week! Find me on Twitter at @KarinaYanGlaser, on Instagram at @KarinaIsReadingAndWriting, or email me at karina@bookriot.com.
Until next week!
Karina
Ginger Pye looks skeptical about my TBR pile.
*If this e-mail was forwarded to you, follow this link to subscribe to "The Kids Are All Right" newsletter and other fabulous Book Riot newsletters for your own customized e-mail delivery. Thank you!*