Happy Friday, archers and astral travelers! Today in reviews I'm looking at works by Rebecca Roanhorse and R.F. Kuang, and then there are fairytale retellings, awards finalists, book club picks, and more.
---
This newsletter is sponsored by Reborn, the first book in the Android Chronicles by Lance Erlick.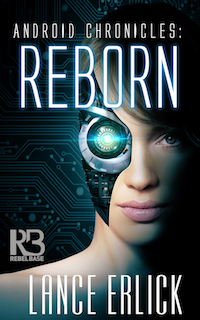 Synthia Cross is a state-of-the-art masterwork— the most perfect synthetic human ever created has been programmed to obey every directive. But Synthia is also showing signs of emergent behavior she's not wired to understand. Repeatedly wiped of her history, she's struggling to answer crucial questions about her past. And when her creator's true intentions are called into question, Synthia knows it's time to go beyond her limits—because Dr. Machten's fervor to create the perfect A.I. is concealing a vengeful and deadly personal agenda.
---
Do you love fairytale retellings? Like, REALLY love them? Here are 100 we recommend, you're welcome.
Bound by fate: It's a thing, and here's a post rounding up a few duos. I am particularly delighted to see my favorite half-insane gods Itempas and Nahadoth (from The Inheritance Trilogy) listed — their push-pull relationship lasts three excellent books, if you're looking for extended, delicious, world-shaking melodrama.
Trying to convince your book club to read more sci-fi/fantasy? Unbound Worlds has some suggestions for you. If they won't read any of these, you might just need to start a new group.
Want to get international with your horror reads? We've got a beginner's primer on Japanese horror! I'll be over here hiding under my pillow-fort.
And here's some awards news! The Arthur C. Clarke Award posted its shortlist; the Locus Award posted its finalists; and the NOMMO Awards announced their nominees.
Get yer cheap ebooks: Becky Chambers' much-loved The Long Way to a Small Angry Planet and A Closed and Common Orbit are on sale from Amazon for $2.99 — if "cozy, character-driven sci-fi" sounds like a thing you want, jump on these.
And now for reviews! We've got ghosts in the machine (so to speak) and an epic new fantasy.
"Welcome To Your Authentic Indian Experience (TM)" by Rebecca Roanhorse
Read it online courtesy of Apex Magazine.
I know we've had a spate of short stories in this newsletter; here's another! While we're all eagerly awaiting Roanhorse's fantasy novel debut, Trail of Lightning, you can read this award-winning piece.
Set in a near future in which virtual reality is commonplace, the story follows — well, you, since it's told in second person. Your name is Jesse Turnblatt, and you're a Vision Quest guide, making your living fulfilling the dreams of tourists (white ones in particular) by guiding them through an Authentic Indian Experience. When a customer shows up one day who won't follow the script, you find that more than just your job is on the line.
Roanhorse packs a mean punch in a small package, tackling appropriation, identity, and the long-reaching consequences of colonialism with gallows humor and scalpel-sharp prose. If this is any indication of what Trail of Lightning will be like, I absolutely cannot wait.
The Poppy War by R.F. Kuang
Occasionally a book comes along that is so surprising, it takes time to process what you just read. The Poppy War is one of those books. It starts off feeling like a pre-Industrial silkpunk fantasy, similar to Dao's Forest of a Thousand Lanterns or Liu's The Grace of Kings; it becomes a somewhat wry underdog story set in a military academy; and then suddenly you are reading a drug-addled, supernaturally-twisted meditation on the horrors of war and prejudice. I'm still recovering from the emotional whiplash, but I cannot wait for the next installment in the series.
Rin is a war orphan, raised by abusive foster parents who want to sell her off into a loveless marriage. She takes matters into her own hands when she decides to take the Keju, a nation-wide test that can send her to school and give her a shot at a future of her own choosing. Her stubborn determination sees her through and she receives a scholarship to the prestigious military academy of Sinegard. If she can hack it there, she'll become a general in the Empress's army, and she's determined to hack it — at any cost. And when war comes to Nikara, Rin is forced to face the darkest parts of both humanity and herself.
Kuang has noted in interviews that she was inspired by China's history including the Song Dynasty and the Sino-Japanese Wars, as well as other military sf/f like Ender's Game and The Grace of Kings, and I found that this context was key to processing the book. While you don't need to know anything about any of that to read it, a work this multilayered and intense benefits from some research (or at least some judicious Googling) after you turn the last page. The grisliest parts of the novel were based on actual historical events, which gives The Poppy War even greater impact. Fans of silkpunk, grimdark, anti-heroes, madcap twists and turns, and fantasy that holds up a mirror to the parts of reality we would rather ignore will want to grab this one ASAP.
And that's a wrap! You can find all of the books recommended in this newsletter on a handy Goodreads shelf. If you're interested in more science fiction and fantasy talk, you can catch me and my co-host Sharifah on the SFF Yeah! podcast. For many many more book recommendations you can find me on the Get Booked podcast with the inimitable Amanda.
Live long and prosper,
Jenn