Hi Kid Lit friends,
Forty-three years, on April 30, 1975, the North Vietnamese Army captured Saigon, marking the end of the war in Vietnam. Reports vary, but Vietnamese casualties are estimated to be between one and three million, Cambodian casualties are estimated to be around 240,000, and United States service person casualties were over 58,000.
---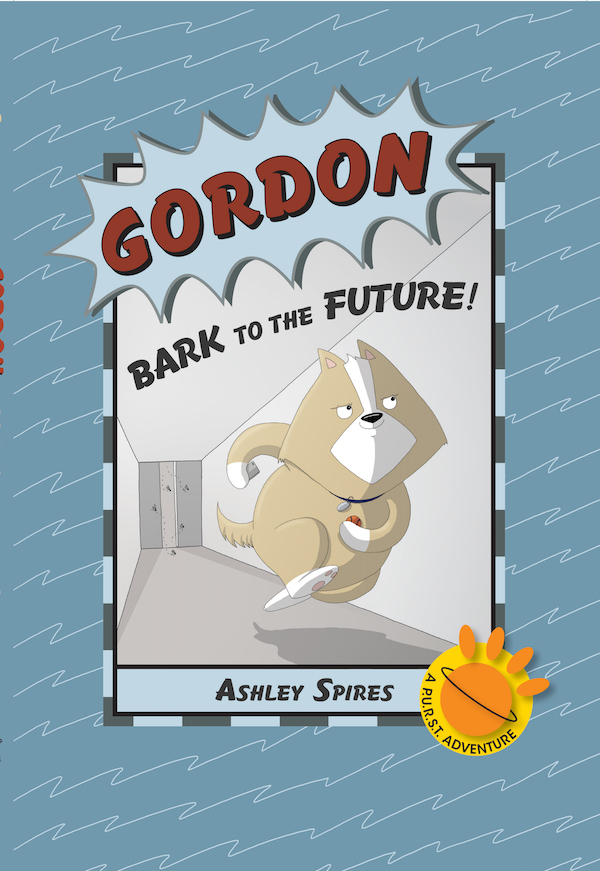 Sponsored by Gordon: Bark to the Future! by Ashley Spires from Kids Can Press
HOLY FUZZBUTT! Aliens have invaded, and Gordon's fellow space pets have been captured! Now Gordon will have to fight the enemy alone! Gordon's never been much of a fighter — his deadliest weapon is his mind. What's a genius dog to do? Time travel, of course! Will Gordon be able to save himself, his friends and his humans? And get back to the future? Kids won't want to miss this hilarious trip through space and time!
---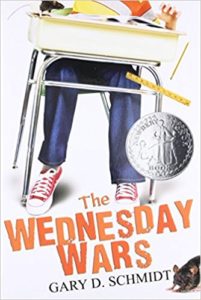 Our latest family read-aloud is the Newbery Honor winning book The Wednesday Wars by Gary D. Schmidt. The story is set in the late 1960's, during the heart of America's involvement in the Vietnam War. My kids have a lot of questions. How did the war begin? Who was fighting who? Why did America get involved? At the same time, I noticed that there are many children's books set during the Vietnam War from various viewpoints, and I thought I'd share the ones I have come across.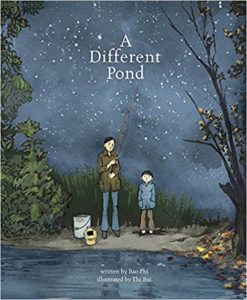 A Different Pond by Bao Phi, illustrated by Thi Bui, is a Caldecott Honor winning picture book about a simple event: a father and a son fishing before the sun comes up. Through the perfectly chosen words and gorgeous illustrations, this story recounts a family, assumed to be Vietnamese refugees now living in America, who has to work long days to make ends meet. The story is based on the author's own experiences growing up and fishing with his father at a small pond in Minneapolis.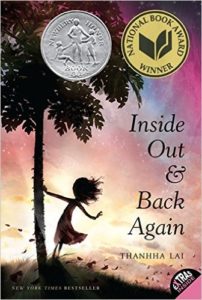 There are a handful of fictional middle grade books that shed light on various aspects of the Vietnam War. Inside Out and Back Again by Thanhhai Lai is a beautiful verse novel inspired by the author's childhood experience as a refugee—fleeing Vietnam after the Fall of Saigon and immigrating to Alabama. The companion book, Listen, Slowly, is about Mai, a girl raised in California, who can't wait to spend her vacation at the beach. Instead, she finds out that she has to travel to Vietnam with her grandmother, who is going back to find out what really happened to her husband during the Vietnam War.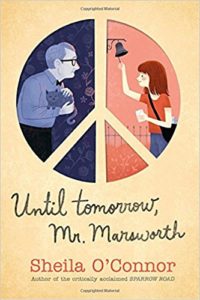 A recent middle grade book that came out this year set during the Vietnam War is Until Tomorrow, Mr. Marsworth by Sheila O'Connor. It is about eleven-year-old Reenie Kelly who begins writing letters to the neighborhood recluse, Mr. Marsworth. Through their letters, Reenie tells of her older brother Billy, who might enlist to fight in the Vietnam War. As a staunch pacifist, Mr. Marsworth offers to help Reenie.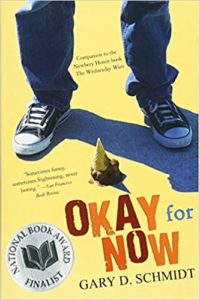 As I mentioned before, I am reading The Wednesday Wars out loud to my kids. I am a big fan of the author, Gary D. Schmidt (who has another book coming out this fall!). Two of his middle grade books, The Wednesday Wars and Okay for Now, are set in America during the Vietnam War. In the first book, the students live through endless atomic bomb raids and deal with members of their community fighting in the war. In the second book, the older brother of the protagonist returns from the war, changed forever both physically and emotionally.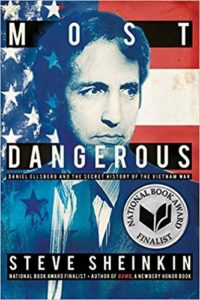 Two non-fiction books for middle grade readers are Most Dangerous: Daniel Ellsberg and the Secret History of the Vietnam War by Steve Sheinkin and Boots on the Ground: America's War in Vietnam by Elizabeth Partridge. In Most Dangerous, Mr. Sheinkin writes an engrossing book about the Pentagon Papers and the insistence of the United States government and it's Presidents to keep troops engaged in Vietnam.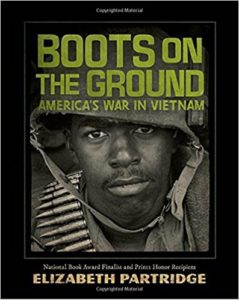 Boots on the Ground includes the personal stories of eight people—six American soldiers, one American military nurse, and one Vietnamese refugee. Each individual experience reveals a different facet of the war and moves us forward in time. Alternating with these chapters are profiles of key American leaders and events, reminding us of all that was happening at home during the war, including peace protests, presidential scandals, and veterans' struggles to acclimate to life after Vietnam.
New Releases
All of these books release this Tuesday unless otherwise noted. The book descriptions are from Goodreads, but I'll add a 
 if I particularly loved a title.
Board Book New Releases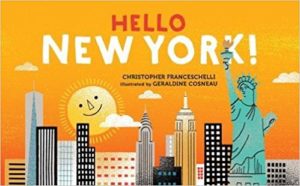 Hello, New York! and Hello, Paris! by Christopher Franceschelli, illustrated by Geraldine Cosneau (Abrams Appleseed)
From bestselling author Christopher Franceschelli comes Hello, New York! and Hello, Paris!, board books about the most visited cities in the world. Each book opens with a simple map that puts all of the city sites in context before taking readers on a journey of the landmarks in each city. Playful die-cuts peek into windows and under bridges on each spread, culminating in an iconic gatefold at the end.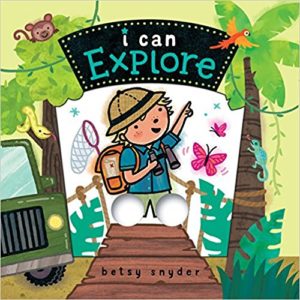 I Can Explore by Betsy Snyder (Chronicle)
Adventure awaits! Young readers help characters explore the world—from embarking on a jungle safari through touch-and-feel fabric leaves to riding a tandem bike through Paris—just by wiggling their fingers! Then, with two sets of hands, children assist these explorers as they head off on their next adventure in the gatefold finale. Active and adorable characters model both independence and teamwork, making this innovative board book perfect for interactive reading and playtime fun!
Picture Book New Releases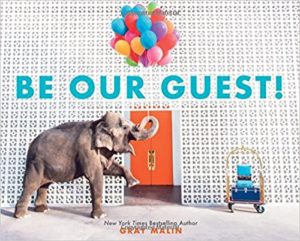 Be Our Guest! by Gray Malin (Abrams)
Welcome to the Parker Palm Springs, where you'll experience a delightful time away, filled with everything you'd expect from a sunny, California vacation. There's tennis courts and a lemonade stand, a gorgeous pool, and a lawn for croquet. But, the other guests and staff are more than a little unexpected…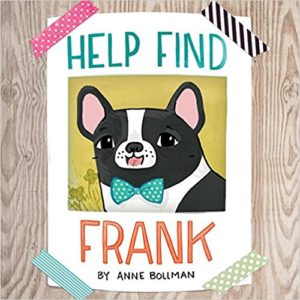 Help Find Frank by Anne Bollman (Sterling Children's Books)
Where, oh where, can Frank the French bulldog be? See if you can follow the clues and find the missing pup! Amateur sleuths will have loads of fun with this uniquely interactive book. Frank loves to run, play, and give slobbery kisses. (He also loves to eat cheese, but DON'T FEED HIM ANY! You've been warned.) Then he gets lost—and it's up to readers to find him. Is he at the park? The baseball field? Filled with detective-style evidence exhibits, maps, and detailed seek-and-find pages, this engaging story entices young adventurers to discover clues that Frank leaves behind—and eventually locate the little guy himself.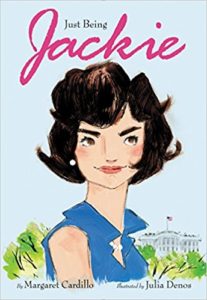 Just Being Jackie by Margaret Cardillo, illustrated by Julia Denos (HarperCollins)
Jackie Kennedy was an American icon of style and grace—but there was steel under that style. Her poise under fire, intelligence, and tireless work as First Lady earned her the respect of leaders worldwide and made her beloved by generations. Jackie's legacy also extended beyond her time in public life. She was a talented journalist, a preservationist who secured the legacy of national landmarks, and an editor of award-winning books.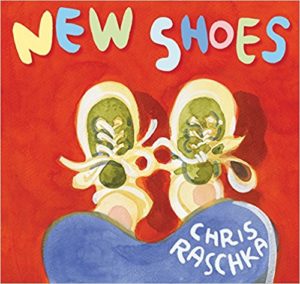 New Shoes by Chris Raschka (HarperCollins)
When a young child discovers a hole in a sneaker, mother and child embark on a big childhood adventure—a trip to the store to pick out new shoes. From having feet measured and making a selection to finally showing off the new shoes to a friend, this momentous child moment is treated with respect, excitement, and page-turning energy in a wonderfully age-appropriate picture book.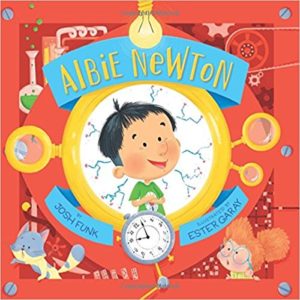 Albie Newton by Josh Funk, illustrated by Ester Garay (Sterling)
When precocious inventor Albie Newton enters a new preschool, he concocts the perfect plan for making friends. Unfortunately, it involves stealing the hamster's wheel, snatching the wings off of Dave's toy airplane, and generally making a giant mess. Now everyone's angry at Albie! Will his new invention delight the other kids enough to make everything right—and finally win their friendship?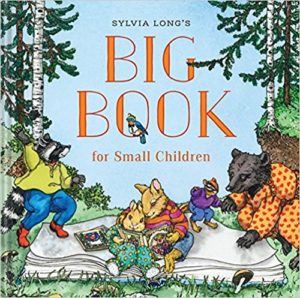 Sylvia Long's Big Book for Small Children by Sylvia Long (Chronicle)
From beloved stories like "The Three Little Pigs" and important early childhood concepts (colors, counting, ABCs) to her own family's favorite recipes and lullabies, this warm, joyous, and comprehensive collection is the perfect start to every child's library.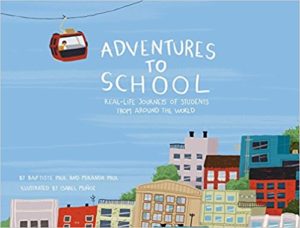 Adventures to School: Real-Life Journeys of Students from Around the World by Baptiste Paul and Miranda Paul, illustrated by Isabel Munoz (little bee books)
Children all around the world go to school. Whether they're from Japan, Ukraine, Ethiopia, or the United States, all students have the desire to learn about the world and shape the future. In Bhutan, children walk for three hours to make it to school, and in Pakistan, children travel by rickshaw. Some children in China must climb a heaven ladder, while children in Nepal must walk over a wire bridge. The treks of these students are unique, extraordinary, and even dangerous, and they signify the common determination, perseverance, and sense of adventure shared by young people around the world.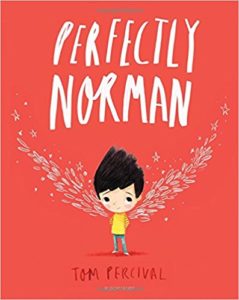 Perfectly Norman by Tom Percival (Bloomsbury)
Meet Norman.
Norman is normal–perfectly normal.
That's until he grows a pair of wings!
Norman loves his new wings, but he's worried about everyone will think. After all, they're definitely NOT normal. Norman decides to cover them with a big coat, but hiding such a big part of his life makes him feel miserable. Can Norman find the courage to be himself?
Middle Grade New Releases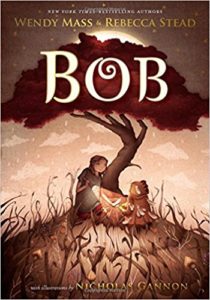 Bob by Wendy Mass and Rebecca Stead (Feiwel and Friends)
It's been five years since Livy and her family have visited Livy's grandmother in Australia. Now that she's back, Livy has the feeling she's forgotten something really, really important about Gran's house. It turns out she's right. Bob, a short, greenish creature dressed in a chicken suit, didn't forget Livy, or her promise. He's been waiting five years for her to come back, hiding in a closet like she told him to. He can't remember who―or what―he is, where he came from, or if he even has a family. But five years ago Livy promised she would help him find his way back home. Now it's time to keep that promise.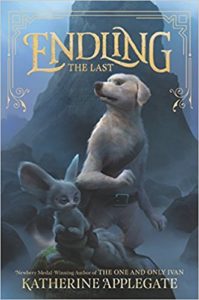 The Endling #1: The Last by Katherine Applegate (HarperCollins)
Byx is the youngest member of her dairne pack. Believed to possess remarkable abilities, her mythical doglike species has been hunted to near extinction in the war-torn kingdom of Nedarra. After her pack is hunted down and killed, Byx fears she may be the last of her species. The Endling. So Byx sets out to find safe haven, and to see if the legends of other hidden dairnes are true.
 The Alcatraz Escape by Jennifer Chambliss Bertman (Macmillan)
Legendary literary game-maker Garrison Griswold is back in action―this time with "Unlock the Rock." For his latest game, Griswold has partnered with the famous–and famously reclusive–mystery writer Errol Roy to plan an epic escape room challenge on Alcatraz Island. Emily and James are eager to participate, but the wave of fame they are riding from their recent book-hunting adventures makes them a target. Threatening notes, missing items, and an accident that might not have been an accident have the duo worried that someone is trying to get them out of the game at any cost.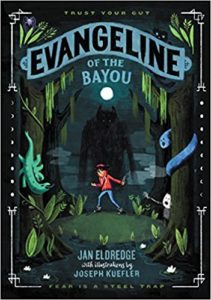 Evangeline of the Bayou by Jan Eldredge, illustrated by Joseph Kuefler (HarperCollins)
Twelve-year-old haunt huntress apprentice Evangeline Clement spends her days and nights studying the ways of folk magic, honing her monster-hunting skills while pursuing local bayou banshees and Johnny revenants. With her animal familiar sure to make itself known any day now, the only thing left to do is prove to the council she has heart. Then she will finally be declared a true haunt huntress, worthy of following in the footsteps of her long line of female ancestors.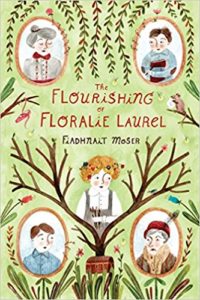 The Flourishing of Floralie Laurel by Fiadhnait Moser (Yellow Jacket)
Floralie Laurel, freshly expelled from Mrs. Coffrey's School for Young Girls, works as a flower seller in an English village with her guardian brother, Tom, miles and miles away from their real home in France. Tom and Floralie are drowning in debt, but fortunately, Grandmama arrives to save them. Unfortunately, Grandmama's idea of "saving" means sending Floralie to the Adelaide Laurel Orphanage for Unfortunate Children and shaping her into a proper lady-i.e., ridding her of imagination, daydreams, paintings, and poetry.
 Out of Left Field by Ellen Klages (Penguin Random House)
Every boy in the neighborhood knows Katy Gordon is their best pitcher, even though she's a girl. But when she tries out for Little League, it's a whole different story. Girls are not eligible, period. It is a boy's game and always has been. It's not fair, and Katy's going to fight back. Inspired by what she's learning about civil rights in school, she sets out to prove that she's not the only girl who plays baseball. With the help of friendly librarians and some tenacious research skills, Katy discovers the forgotten history of female ball players. Why does no one know about them? Where are they now? And how can one ten-year-old change people's minds about what girls can do?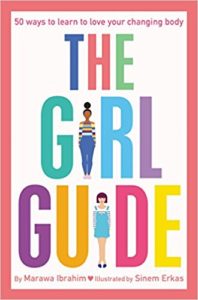 The Girl Guide by Marawa Ibrahim, illustrated by Sinem Erkas (HarperCollins)
Growing up is fun . . . but it's tough, too. There are a lot of unknowns and it can be weird and messy for girls. Worry not! This book covers EVERYTHING girls need to know, and it's all been reviewed and fact-checked by medical consultant Dr. Radha Modgil.
Learn how:
To make your body your best friend (not your enemy).
To get out there and do YOU (even when you don't want to move off the couch).
The thoughts and feelings that make you feel alone are shared by every girl on the planet.
To feel amazing through exercise, nutrition, and skin care.
And so much more!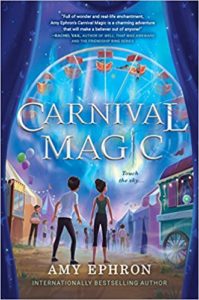 Carnival Magic by Amy Ephron (Penguin Random House)
Tess and Max are back in England for another summer with their Aunt Evie–this time by the seashore in South Devon. And they're incredibly excited about the travelling carnival that's come to town. There are rides, games, acrobats, The House of Mirrors–and even a psychic, with a beautiful wagon all her own. In a visit to the psychic's wagon, while Tess is being hypnotized, the wagon seems to move. Before Tess can shake herself out of the hypnosis, before Max can do anything, they seem to be travelling–along with the rest of the carnival–too quickly for the two of them to jump out. But where are they going and what awaits them? Will they be caught in a world different from their own? And do the Baranova twins, acrobats who miss their sister almost as much as Tess and Max miss their family, hold the keys to the mystery?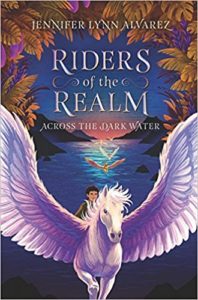 Riders of the Realm #1: Across the Dark Water by Jennifer Lynn Alvarez (HarperCollins)
Deep in the jungles of the Realm, the Sandwen clan live amongst deadly spit dragons and hordes of warring giants. But with their winged battle horses, they manage to keep their people safe. Twelve-year-old Rahkki is a stable groom for the Riders in the Sandwen army, taking care of his brother's winged stallion. The Sandwens believe they have tamed all the wild pegasi in their land, and turned them into flying warhorses. But when a herd of wild steeds flies over their village, Rahkki and his clanmates are stunned.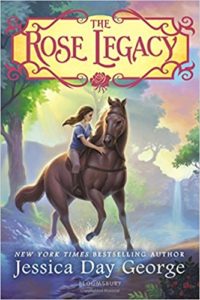 The Rose Legacy by Jessica Day George (Bloomsbury)
When orphaned Anthea Cross-Thornley receives a letter from a long-lost uncle, she wonders if she will finally find a true home. But she is shocked to learn that her uncle secretly breeds horses–animals that have been forbidden in her kingdom for centuries. More alarming is Anthea's strange ability to sense the horses' thoughts and feelings, an ancient gift called The Way. Confused and terrified, Anthea is desperate to leave, but when her family and kingdom are put at risk, can she embrace The Way and the exciting future it might bring her?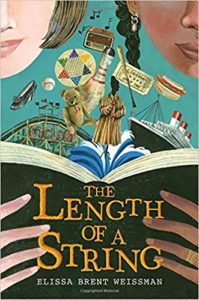 The Length of a String by Elissa Brent Weissman (Penguin Random House)
Imani knows exactly what she wants as her big bat mitzvah gift: to find her birth parents. She loves her family and her Jewish community in Baltimore, but she has always wondered where she came from, especially since she's black and almost everyone she knows is white. Then her mom's grandmother–Imani's great-grandma Anna–passes away, and Imani discovers an old journal among her books. It's Anna's diary from 1941, the year she was twelve and fled Nazi-occupied Luxembourg alone, sent by her parents to seek refuge in Brooklyn, New York. Anna's diary records her journey to America and her new life with an adoptive family of her own. And as Imani reads the diary, she begins to see her family, and her place in it, in a whole new way.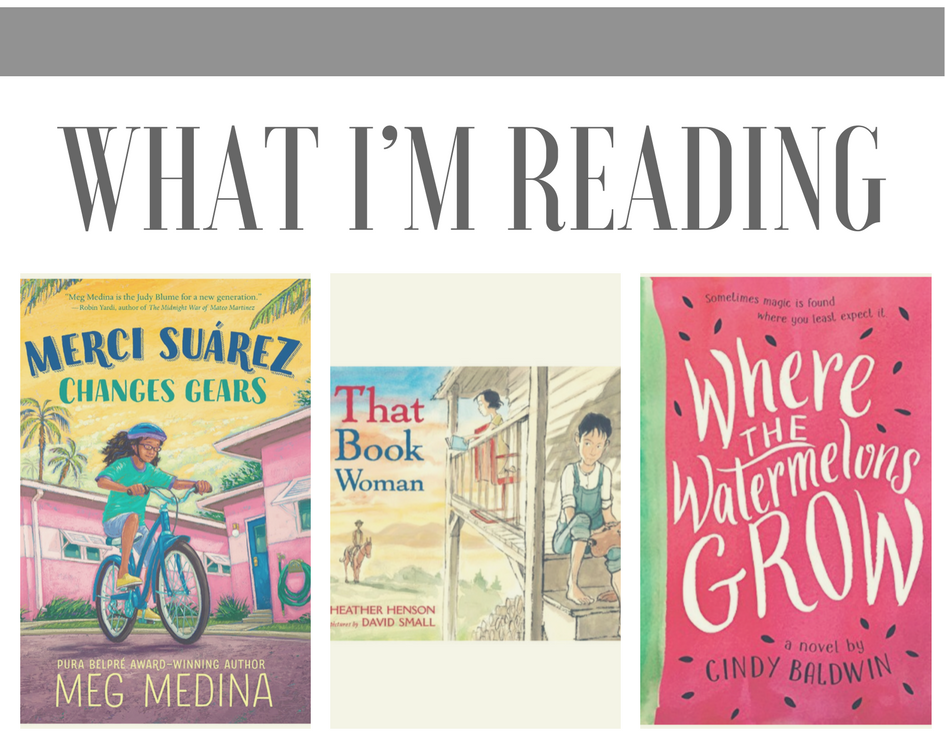 This week I read Merci Suarez Changes Gears (Candlewick, 9/11/18) by Meg Medina. This is Medina's first middle grade novel after a few YA releases. I loved this intergenerational story about a young girl learning how to navigate middle school, friendship troubles, mean girls, and her aging grandparents.
I was at a book conference last weekend and met Heather Hensen, a picture book and middle grade author. She wrote That Book Woman, a book I remembered loving when I first discovered David Small. I own the book, so I picked it up again this week and read it again. It is about the Pack Horse Librarians, people who brought books to the far reaches of the Appalachian Mountains. I loved it, because of course I did.
Where the Watermelons Grow (HarperCollins, 7/3/18) by Cindy Baldwin is a beautifully told story about a girl named Della who is growing up with a mom with schizophrenia. Set during a North Carolina summer, this book brings you deep into those stifling hot days which echo the main character's own suffocation at the burden of taking care of her baby sister and mom while also tending to the family farm and farm stand.
Around the web…
50 Must-Read Middle Grade Graphic Novels, via Book Riot
Best Summer Reads 2018: Picture Books, via Publisher's Weekly
Best Summer Reads 2018: Middle Grade, via Publisher's Weekly
I'd love to know what you are reading this week! Find me on Twitter at @KarinaYanGlaser, on Instagram at @KarinaIsReadingAndWriting, or email me at karina@bookriot.com.
Until next week!
Karina
It's always good to have a rabbit guard your book mail!
*If this e-mail was forwarded to you, follow this link to subscribe to "The Kids Are All Right" newsletter and other fabulous Book Riot newsletters for your own customized e-mail delivery. Thank you!*