This edition of Today in Books is sponsored by Flatiron Books, publisher of Girls Burn Brighter by Shobha Rao.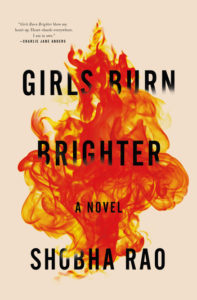 ---
 Anita Shreve Dies At 71
The author of The Pilot's Wife and The Weight of Water died of cancer on Thursday. Shreve had announced her illness and cancelled public appearances almost a year ago. "She was such a good friend and she was so generous about other people's writing," said friend and novelist Elinor Lipman. "It's really hard for me to imagine a world without Anita."
Bringing A Book Fest To The Bronx
Remezcla wrote a piece on Saraciea Fennell who's working to bring a book festival to the bookstore desert that is the Bronx. Fennell, who grew up in the Bronx and attended Title I public schools, wants to bring the festival she didn't have as a kid to her neighborhood. She's currently crowdfunding the project, and Elizabeth Acevedo and Daniel José Older have signed on to serve as the keynote speakers. Click here for the feature and here for the Kickstarter.
VIDA Calls For #SaferLIT
Non-profit feminist organization VIDA asked journals and presses to pledge for #saferLIT. The pledge includes not harassing or abusing anyone, nor being a bystander; publishing work free from bigotry, sexual exploitation, and abuse; and making your office, publication, and events as safe as possible. The organization promised to announce more #saferLIT initiatives as the year progresses.