Happy Tuesday, book lovers! There are a lot of excellent books out today and I hope you are able to get your tentacles on all of them.
I have a few awesome books for you below and you can hear about several more great titles on this week's episode of the All the Books! Rebecca and I talked about a few amazing books we loved, including Hurts To Love You, Emergency Contact, Improvement, and more.
---
Sponsored by Image Comics, publisher of Moonstruck by Grace Ellis, Shae Beagle.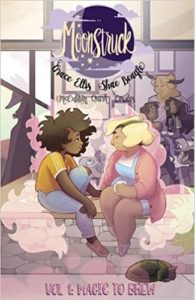 Werewolf barista Julie and her new girlfriend go on a date to a close-up magic show, but all heck breaks loose when the magician casts a horrible spell on their friend Chet. Now it's up to the team of mythical pals to stop the illicit illusionist before it's too late. The first chapter of the brand-new, all-ages, magical, coffee-laden adventure from Lumberjanes creator Grace Ellis and talented newcomer Shae Beagle.
---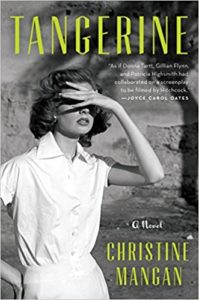 Tangerine: A Novel by Christine Mangan
Alice is dismayed when an old friend turns up in Tangier after an accident that caused a rift between them a year earlier. Then her husband goes missing. Suddenly everything Alice knows and believes gets turned on its head, and she will have to sort out the truth – even if it changes everything. What a debut! This is a slow burning, atmospheric suspense novel that has already been picked up as a film!
Backlist bump: The Talented Mr. Ripley by Patricia Highsmith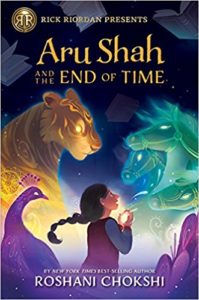 Aru Shah and the End of Time by Roshani Chokshi
A fantastic start to a new middle grade series! (We can never have too many!) This is a wonderful story about a young girl named Aru who is spending her summer break in the Museum of Ancient Indian Art and Culture. Oh, and she kinda accidentally awakens an ancient demon. In the ensuing chaos, Aru's mother and classmates are frozen in time, and it's up to Aru to save them. This book is a delight. I loooooved it.
Backlist bump: Nevermoor: The Trials of Morrigan Crow by Jessica Townsend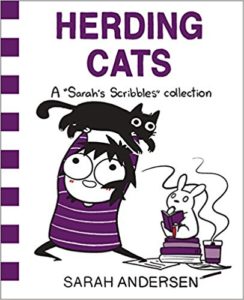 Herding Cats: A Sarah's Scribbles Collection by Sarah Andersen
A new collection from Sarah Andersen is a reason to celebrate. When I read her comics, I feel SEEN. I love her takes on life, whether it's imposter syndrome, her love of cats and books, her body image, or her love of sleep and solitude. She is the best!
Backlist bump: Heart and Brain: An Awkward Yeti Collection by The Awkward Yeti and Nick Seluk
That's it for me today – time to get back to reading! If you want to learn more about books new and old (and see lots of pictures of my cats, Millay and Steinbeck), or tell me about books you're reading, or books you think I should read (I HEART RECOMMENDATIONS!), you can find me on Twitter at MissLiberty, on Instagram at FranzenComesAlive, or Litsy under 'Liberty'!
Stay rad,
Liberty