Greetings, Audiobook fans,
You guys (and gals and gender non-conforming folk) are the absolute best. Last week, I slipped a link in to the end of this newsletter about a teacher who was raising money for headphones for her classroom, so kids with reading challenges could listen to audiobooks. It wasn't a ton of money, about $160 (nothing to sneeze at, to be sure, but doable). The campaign started in March and before the newsletter went out, it had raised $0. By the time I had poured my morning coffee out here in California, I checked and the campaign was at 100%, y'all got those kids their headphones! Thank you so much for stepping up. Hopefully, some of those kids will become lifelong audiobook lovers!
---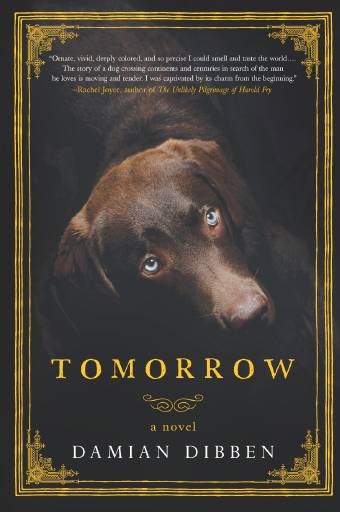 Sponsored by Tomorrow by Damian Dibben, new from Hanover Square Press.
Tomorrow tells the story of a 217 year-old dog traveling in search of his lost master. His adventures take him through the London Frost Fair, the strange court of King Charles I, Versailles and the world of the Sun-King and to nineteenth century Venice. As he travels through Europe he makes friends, falls in love (only once), marvels at the human ability to make music, despairs at their capacity for war and gains insight into the strength and frailties of the human spirit. Tomorrow draws us into a unique, century-spanning tale of the unbreakable connection between dog and human.
---
Perhaps you will be surprised to learn that I AM WRITING THIS FROM BEYOND THE GRAVE. What is it that killed me? Well, the last couple of newsletters, I've mentioned (the OBVIOUS FACT) that Dion Graham's voice might actually be too sexy for audiobooks. But here's the thing. When I write this newsletter, I feel like I'm just writing to the handful of people I have directly communicated with. I sort of forget that it goes out to a pretty wide audience. So you'll understand why I DIED OF EMBARRASSMENT when I saw this:
So, yes, I am dead now (actually Graham was super nice and emailed me to let me know about it and that it was all in good fun, which killed me dead all over again! P.S. I love him.)
Moving on….
Audie Awards!
Every year, the Audio Publishers Association gives awards for Audiobook of the Year, as well as Excellence in Design, Excellence in Marketing, and Excellence in Production. They've announced the finalists in all the categories (check out the full list here) but I'm just going to list the Audiobook of the Year nominees here. Finalists in all the categories can be found here. The winners of the Excellence Awards will be announced at the Audio Publishers Association Conference (APAC) on May 30. The winner of the Audiobook of the Year will be announced at the Audie Awards® Gala on May 31 at the New-York Historical Society.
The five titles competing for Audiobook of the Year are:


Born a Crime: Stories from a South African Childhood written and narrated by Trevor Noah, published by Audible Studios
From the judges, "Trevor Noah's formidable storytelling skills combined with his facility with various South African dialects and accents immerse listeners in this captivating account of his coming of age during the apartheid era."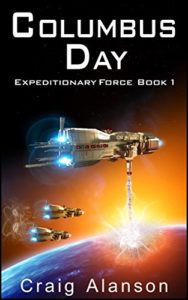 Columbus Day: Expeditionary Force, Book 1 by Craig Alanson, narrated by R.C. Bray, published by Podium Publishing
From the judges, "A rousing military science fiction adventure read with humor and gusto by R.C. Bray, chock-full of compelling characters from across the galaxy.

"
The Handmaid's Tale: Special Edition by Margaret Atwood and Valerie Martin, narrated by Claire Danes, Margaret Atwood, and a full cast, published by Audible Studios
From the judges: Claire Danes' flawless performance of this dystopian modern classic is supported by additional material written for the audio by author Margaret Atwood, extending the original work.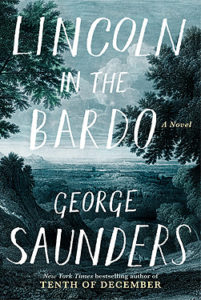 Lincoln in the Bardo by George Saunders, narrated by George Saunders, Nick Offerman, David Sedaris, and 163 others, published by Random House Audio
From the judges: "In a stunning choral performance featuring 166 voices, Saunders' innovative novel is transformed into an auditory experience unlike any other, revealing President Lincoln's grief after his son's death."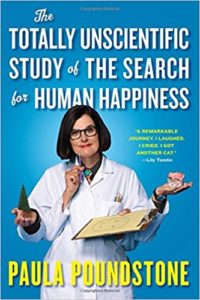 The Totally Unscientific Study of the Search for Human Happiness, written and narrated by Paula Poundstone, published by HighBridge Audio, a division of Recorded Books
From the judges, "Paula Poundstone infuses the story of her career as a comedian and her experiences as a parent with self-deprecating humor and sharp wit, framed by her search for personal happiness."
Book Riot Audiobooks Post Roundup
How to Find Audiobooks on Spotify by A.J. O'Connor
Audiobooks don't have their own genre on Spotify, so finding one can feel like going to a garage sale and rummaging around, trying to find the books, and then, when you find a box of books, turning it upside down, trying to find one you like. In short, it's a pain. But no worries! Rioter A.J. is here to tell you how (and where) to find free audiobooks on Spotify.
13 Fabulous Feminist Audiobooks by Ashley Holstrom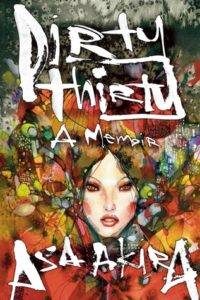 Ashley says that, "Feminist audiobooks are like an electrifying blanket for me. When I'm feeling stuck, I listen to one, and I start to feel better. I get enraged at injustice and then I get amped up to make a change." If you, too, would like to get amped to make a change, Ashley lists 13 of her favorites here. I've been hearing Rioters rave about Dirty Thirty for awhile, so now that I know the audiobook is so good, I have a feeling I'll be pumping that to the top of my list.
The 4 Most Perfect Audiobooks I've Ever Listened To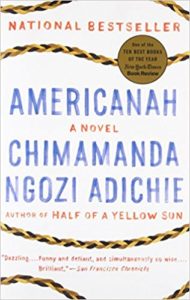 by Laura Sackton
Rioter Laura says that for her, perfect audiobooks "are the ones so utterly captivating that, after finishing them, I think, 'this is it. I will never listen to another audiobook as good as this, ever again.'" For me, this brings to mind Ready Player One by Ernest Cline and narrated by Wil Wheaton (SO excited/nervous about the movie), The Good House by Ann Leary, narrated by Mary Beth Hurt, and Americanah by Chimamanda Ngozie Adichie. What are Laura's top 4 picks? Check them out here.
My First Time With Audiobooks or What I Listen To When I'm Running by Matt Grant
LOL, running? I don't do that. But if you, better, healthier person than I, enjoy exercise, you should take a peek at what Matt listens to on his runs.
Hopefully that catches you up on any Book Riot audiobooks posts you may have missed this month.
As always, I love to hear what you're listening to, suggestions for the newsletter, or just condolences about my death-by-embarrassment at katie@riotnewmedia.com or on Twitter at msmacb.
Until next week,
~Katie