Hi friends,
Last month, New York, London, Milan, and Paris all had their fashion weeks. To be honest, the closest I get to fashion is faithfully watching every episode of Project Runway, but I have noticed many children's books about fashion designers emerging and I have loved them all. Here are the ones that caught my eye:
---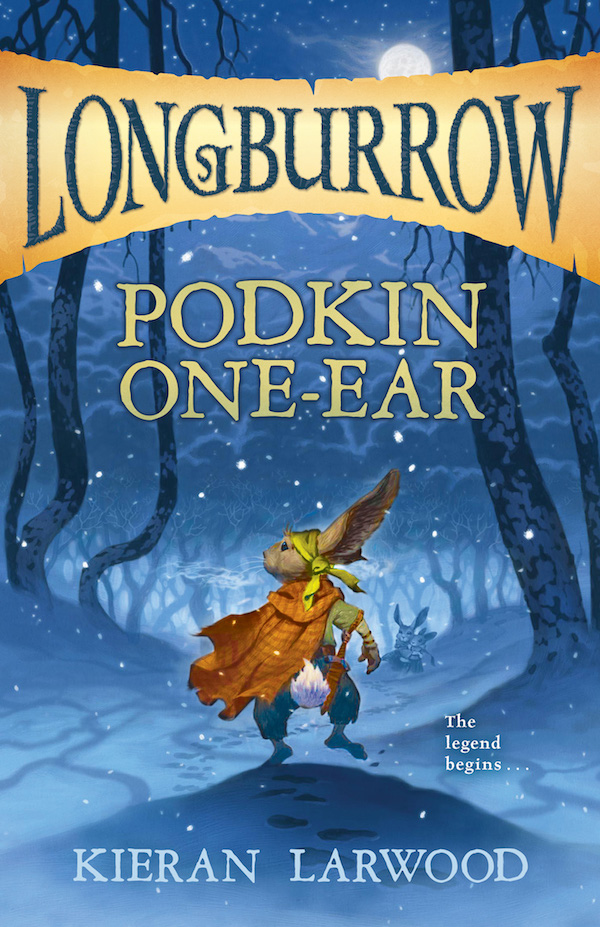 Sponsored by Podkin One-Ear by Kieran Larwood
Middle earth for middle graders! Redwall meets Watership Down in this breakout new fantasy series of good vs. evil starring three young rabbit siblings who prove that anyone—even little rabbits—can achieve great things.
---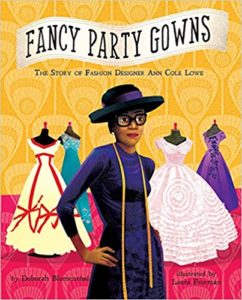 Fancy Party Gowns: The Story of Fashion Designer Ann Cole Lowe by Deborah Blumenthan, illustrated by Laura Freeman
This picture book was a fascinating look into the life of Ann Cole Lowe. She was taught to sew by her momma and grandma in their Alabama family shop in the early 1900s, making glorious dresses for women who went to fancy parties. When Ann was 16, her momma died, and Ann continued sewing dresses. It wasn't easy, especially when she went to design school and had to learn alone, segregated from the rest of the class. But the work she did set her spirit soaring, as evidenced in the clothes she made, including Jackie Kennedy's wedding dress and Olivia de Havilland's dress at the Oscars when she won for Best Actress in To Each His Own. Rarely credited, Ann Cole Lowe became "society's best kept secret."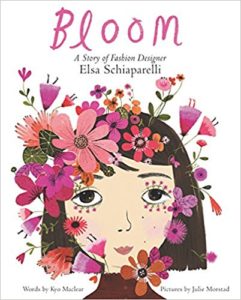 Bloom: A Story of Fashion Designer Elsa Schiaparelli by Kyo Maclear, illustrated by Julie Morstad
The illustrations in this picture book are breathtaking, perfectly capturing Schiaparelli's signature vibrant and bright style. In the 1920 and '30s, influenced by her friends in the surrealist art movement, Schiaparelli created a vast collection of unique fashion designs—hats shaped like shoes, a dress adorned with lobsters, gloves with fingernails, a dress with drawers and so many more. She mixed her own bold colors and invented her own signature shades, including shocking pink.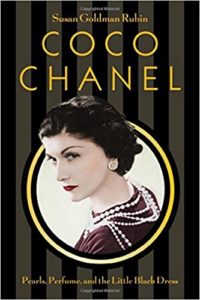 Coco Chanel: Pearls, Perfume, and the Little Black Dress by Susan Goldman Rubin
This middle grade book is a fascinating look into Coco Chanel, a woman who epitomized style and elegance. Beginning with the difficult years Chanel spent in an orphanage, Goldman Rubin traces Coco's development as a designer and demonstrates how her determination to be independent helped her gain worldwide recognition. Coco Chanel focuses on the obstacles Chanel faced as a financially independent woman in an era when women were expected to marry; as well as her fierce competition with the Italian fashion designer Elsa Schiaparelli; and some of her most memorable firsts for the fashion industry, including the little black dress, the quilted purse with gold chain, and the perfume Chanel No. 5. I found this biography intriguing!
For a lighter picture book that focuses more on a child's imagination, check out Crafty Chloe by Kelly DiPucchio, illustrated by Heather Ross. This was one of my kids' favorites when they were younger. When another girl has already purchased the most perfect birthday gift for Chloe's friend Emma, Chloe decides she'll make a present—something you can't buy in a store. But crafting isn't easy, and it's beginning to look like she won't have a great idea in time. Fortunately, with a good doodle session and a whole lot of glitter to inspire her, Chloe figures out just the thing to save the day—and with a little help from her trusty glue gun, she just might save a friendship, too!
New Releases!
All of these books release this Tuesday! The book descriptions are from Goodreads, but for some books I am going to add some commentary in italics and a 
 if I particularly loved a title.
Picture Book New Releases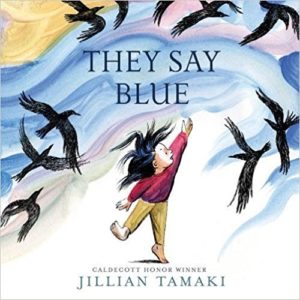 They Say Blue by Jillian Tamaki (Abrams)
In captivating paintings full of movement and transformation, Tamaki follows a young girl through a year or a day as she examines the colors in the world around her. Egg yolks are sunny orange as expected, yet water cupped in her hands isn't blue like they say. But maybe a blue whale is blue. She doesn't know, she hasn't seen one. Playful and philosophical, They Say Blue is a book about color as well as perspective, about the things we can see and the things we can only wonder at.
Note from Karina: This was one of my top 25 children's books to look out for from my first newsletter of the year. They Say Blue is gorgeous, gorgeous, gorgeous. This book is full of vibrant colors and energy. "My favorite line: Black is the color of my hair. My mother parts it every morning, like opening a window."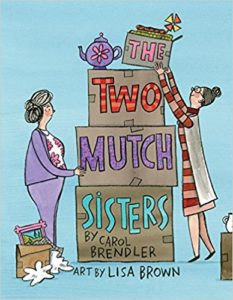 The Two Mutch Sisters by Carol Brendler, illustrated by Lisa Brown (HMH Books for Young Readers)
The two Mutch sisters have two of everything, and Violet believes they are as perfectly matched as the objects in their collections. Ruby, however, has other ideas. And she's ready to do something about them.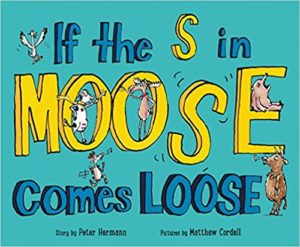 If the S in Moose Comes Loose by Peter Hermann, illustrated by Matthew Cordell (HarperCollins)
Rollicking, clever, and a great way to have fun with letters, If the S in Moose Comes Loose is a seriously wild ride from start to finish. When two of Moose's letters come loose, he vanishes. Poof! But his best friend, Cow, has an idea: she'll find a G, an L, a U, and an E and glue M-O-O-S-E back together, better than ever! But it's not as easy as it sounds….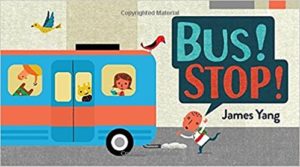 Bus! Stop! by James Yang (Viking Books for Young Readers)
"Bus! Stop!" a boy yells, as his bus pulls away one early morning. He must wait for the next bus. But the next one does NOT look like his bus at all. And neither does the next one, or the next. At first, the boy is annoyed. Then he is puzzled. Then intrigued. The other buses look much more interesting than his bus. Maybe he should try a different bus after all, and he's glad he does!
Note from Karina: When I first saw the cover for this book, I knew I was going to love it. It has a surprisingly funny vibe and each page was a surprise. I was utterly charmed by this story.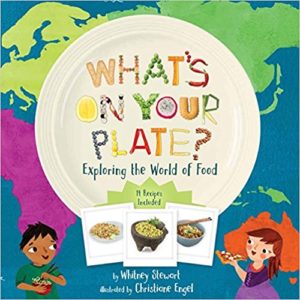 What's On Your Plate? Exploring the World of Food by Whitney Stewart, illustrated by Christiane Engel (Sterling Children's Books)
Come on a journey to see how people in different countries prepare, eat, and think about their food. Beautiful photographs and illustrations capture the food culture of 14 countries, from Brazil and Spain to Morocco, India, and China. Each spread includes an overview of the country and its native foods, photographs of the various dishes with pronunciations and descriptions, an easy recipe for kids to try, and an illustrated crop map of the country. With so many fun elements to intrigue them, young foodies will be excited to learn about how people eat across the globe!
Middle Grade New Releases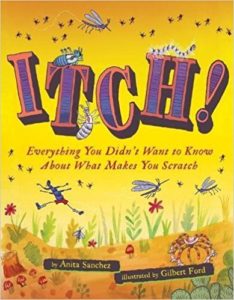 Itch! Everything You Didn't Want to Know About What Makes You Scratch by Anita Sanchez, illustrated by Gilbert Ford (HMH Books for Young Readers)
You can feel it coming on—that terrible, tortuous ITCH. As irritating as an itch is, it is also your body's way of sending you a message you can't miss, like you've brushed up against poison ivy or lice have taken up residence in your hair. None of which you'd know without that telltale itch! And there are so many things that make us itch—from fungus to fleas, mosquitoes to nettles, poison ivy to tarantulas!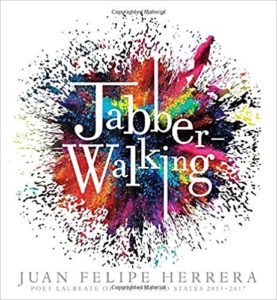 Jabberwalking by Juan Felipe Herrera (Candlewick)
Can you walk and talk at the same time? How about Jabberwalk? Can you write and draw and walk and journal all at the same time? If not, you're in luck: exuberant, blue-cheesy cilantro man Juan Felipe Herrera, Poet Laureate of the United States, is here to teach you everything he knows about being a real-life, bonified, Jabberwalking poet! Jabberwalkers write and speak for themselves and others no matter where their feet may take them — to Jabberwalk is to be a poet on the move. And there's no stopping once you're a Jabberwalker, writing fast, fast, fast, scribble-poem-burbles-on-the-run. Scribble what you see! Scribble what you hear! It's all out there — vamonos!
A Possibility of Whales by Karen Rivers (Algonquin)
Twelve-year-old Natalia Rose Baleine Gallagher loves possibilities: the possibility that she'll see whales on the beach near her new home, the possibility that the trans­gender boy she just met will become her new best friend, the possibility that the paparazzi hounding her celebrity father won't force them to move again. Most of all, Nat dreams of the possibility that her faraway mother misses her, loves her, and is just waiting for Nat to find her. But how can Nat find her mother if she doesn't even know who she is? She abandoned Nat as a baby, and Nat's dad refuses to talk about it. Nat knows she shouldn't need a mom, but she still feels like something is missing, and her questions lead her on a journey of self-discovery that will change her life forever.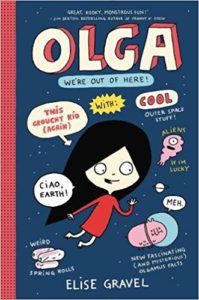 Olga: We're Out of Here! by Elise Gravel (HarperCollins)
In this second installment of a series Franny K. Stein creator Jim Benton called "great, kooky, monstrous fun," Olga wants to leave earth in search of Meh's home planet, but first she'll have to discover why Meh is acting so strange. Olga: We're Out of Here is jam-packed with facts and fun: Elise Gravel's classic comic illustrations, hilarious word bubbles, space travel facts, and a diverse cast of memorable characters.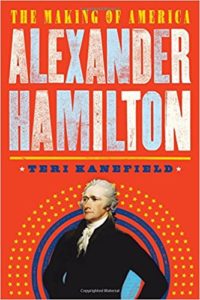 The Making of America: Alexander Hamilton by Teri Kanefield, paperback release (Abrams)
The America that Alexander Hamilton knew was largely agricultural and built on slave labor. He envisioned something else: a multi-racial, urbanized, capitalistic America with a strong central government. He believed that such an America would be a land of opportunity for the poor and the newcomers. But Hamilton's vision put him at odds with his archrivals who envisioned a pastoral America of small towns, where governments were local, states would control their own destiny, and the federal government would remain small and weak.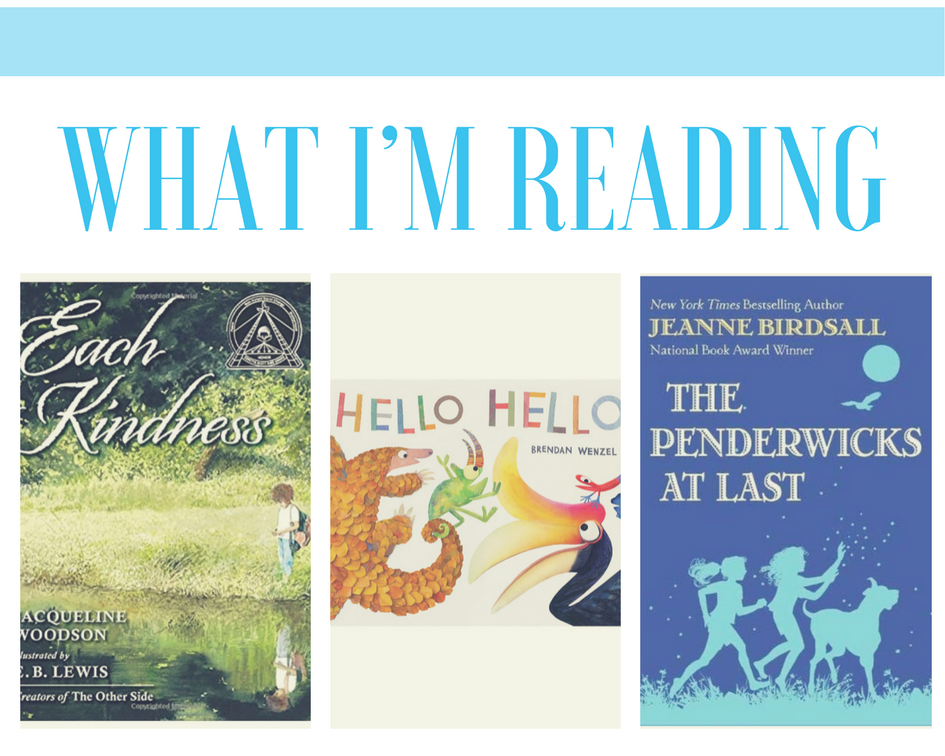 One of my daughter's favorite picture book is Each Kindness by Jacqueline Woodson, illustrated by E.B. Lewis. I picked it up at a bookstore the other day and I loved it. Woodson's story was nuanced and thoughtful, which made me grateful for books that reveal all the different parts of us that make us human.
I was happy to get an advance look at Hello Hello by Brendan Wenzel (Chronicle Books, 3/20/18). This picture book is fun and bright and sure to be a favorite among kids and parents alike.
I am reading The Penderwicks at Last by Jeanne Birdsall (Knopf, 5/15/18), a middle grade book, out loud to my kids at bedtime. This book is the fifth and final installment of The Penderwicks series.
Around the web…
Children's Literature Community Rallies Around #Kidlitwomen, via Publisher's Weekly
35 Winnie the Pooh Quotes for Every Facet of Life, via Book Riot
25 Biographical Picture Books for National Women's History Month, via Book Riot
The Best Children's and YA Books of March 2018, via Brightly
Have you entered the Penguin Clothbound Classics Giveaway yet? Check out Book Riot's Instagram account to enter to win! Contest ends March 13th.
I'd love to know what you are reading this week! Find me on Twitter at @KarinaYanGlaser, on Instagram at @KarinaIsReadingAndWriting, or email me at karina@bookriot.com.
Until next week!
Karina
*If this e-mail was forwarded to you, follow this link to subscribe to "The Kids Are All Right" newsletter and other fabulous Book Riot newsletters for your own customized e-mail delivery. Thank you!*