Happy Friday, friends! Today we've got reviews of On A Red Station, Drifting and Year One, some complete fantasy series, the Lambda nominees, Sandman news, and more.
---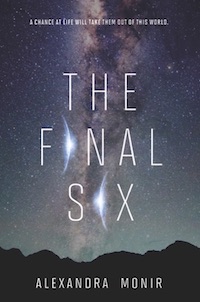 This newsletter is sponsored by EpicReads.
Perfect for fans of Illuminae and The Martian, this action-packed YA novel set in the near future will take readers out of this world and on a quest to become one of six teens sent on a mission to Jupiter's moon. When Leo, an Italian championship swimmer, and Naomi, an Iranian-American science genius from California, are drafted into the International Space Training Camp, their lives are forever altered. After erratic climate change has made Earth a dangerous place to live, the fate of the population rests on the shoulders of the final six, who will be scouting a new planet. Intense training, global scrutiny, and cutthroat opponents are only a few of the hurdles the competitors must endure.
---
The Lambdas are coming! The Lambda Literary Award has announced this year's finalists, and several personal favorites have made it to the LGBTQ Science Fiction/Fantasy/Horror, including Amberlough, An Unkindness of Ghosts, and The Prey of Gods. So many congratulations are in order!
Beat the post-Black Panther doldrums: We've got a list of books that might scratch that same itch! I can personally cosign The Killing Moon, Zoo City, and Akata Witch.
Calling all dreamers: New Sandman comics are coming, with brand new creative teams.
Internationally fantastical: Here are 10 fantasy series with inspirations that span the globe. Regular readers of this newsletter will recognize Forest of a Thousand Lanterns and Sorcerer to the Crown, and there's some overlap with the Black Panther list (hello again Akata Witch!).
It's coming from inside the house: If you like to be creeped out by sentient architecture, have we got some books for you.
A new take on the Hero's Journey: Rachel Hartman wrote a lovely essay about mythologizing your experience while writing. Author personal essays are a thing that I love, and this one is both insightful and provides some interesting context if you've read her books (I did love Seraphina).
From the Weird Cover Archives: It is perhaps not surprising that Philip K. Dick's novels inspired a lot of bonkers cover art.
And now: space and the apocalypse, those classic SF/F standbys.
On A Red Station, Drifting by Aliette de Bodard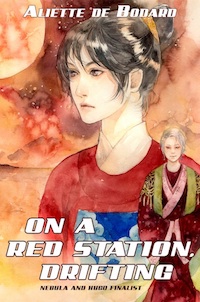 There's a new book in the Xuya Universe: The Tea Master and the Detective, currently available in a limited, signed hardcover, ebook coming March 31. This was an excellent reminder that I've been meaning to talk about On A Red Station, Drifting, my first intro to the Xuya Universe, for basically as long as I've had this newsletter.
Set on a generations-old space station, the novella follows Station Mistress Quyen as she struggles to deal with an influx of refugees and the aging of the sentient AI that runs the ship. The Dai Viet empire is at war, and many of the station's personnel have been called away by military service. Quyen is frazzled and cranky (and I do love a cranky protagonist), and her mood is only made worse by a high-handed relative, Linh, who shows up with other refugees. Linh is fleeing her own demons (and the law), and this novella follows Quyen and Linh as they try to find their footing in the upheaval that accompanies war.
On A Red Station, Drifting reminds us that no matter how far you are from the action, no one is left unscathed; it also gives us a window into a fascinating and vibrant, beautifully detailed new world. This was also the first book I ever read by De Bodard, and it made me a lifelong fan. Her ability to world-build is immense, and her prose is rich and vibrant with details. She also happens to be an excellent book recommender, as evidenced in her guest appearance on our Get Booked podcast.
De Bodard has a full history and chronology, with links to all the stories and novellas, on her site. Go forth and dive in!
Year One (Chronicles of The One #1) by Nora Roberts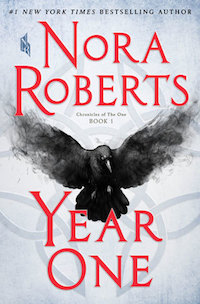 It's the end of the world, and a Chosen One will be born. While Nora Roberts has written paranormal romance before, this is her first foray into genre fantasy, and I enjoyed it. If you've read Roberts before, particularly her Circle Trilogy, you'll recognize her style immediately. If you haven't, you'll find what many of her longtime readers rely on: her prose is accessible, her plotting is solid, and she loves to hop from character to character.
I've been describing this first installment in her new series as Stephen King's The Stand except with magic and by Nora Roberts, and I stand (heh) by it. The world has been decimated by a magically-unleashed killer flu, and some of the survivors have discovered they possess strange new powers. Inevitably, some choose to use their powers for good — and some for evil. Starting in New York City, Year One follows a few of the survivors as they fight to find safety and protect themselves and their loved ones whilst dealing with crumbling infrastructure, evil sorcerers, and murky prophecies. This one goes on the "popcorn reads" shelf — it's an immersive read, perfect for a snowy weekend.
And that's a wrap! You can find all of the books recommended in this newsletter on a handy Goodreads shelf. If you're interested in more science fiction and fantasy talk, you can catch me and my co-host Sharifah on the SFF Yeah! podcast. For many many more book recommendations you can find me on the Get Booked podcast with the inimitable Amanda.
Your fellow booknerd,
Jenn