Welcome back to In The Club, a newsletter of resources to keep your book group well-met and well-read. Let's dive in.
---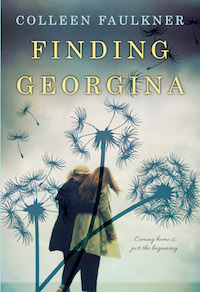 This newsletter is sponsored by Finding Georgina by Colleen Faulkner.
What happens after you get what you've always wanted? In Colleen Faulkner's thought-provoking and emotionally compelling novel, a mother is reunited with the daughter who was abducted as a toddler—only to face unexpected and painful challenges …
---
The current big story in Book Club World: Barnes & Noble is starting one across their stores! It'll be run by B&N booksellers and meet in-stores, and they'll be having special content and promotion around them. The first pick is Meg Wolitzer's The Female Persuasion, and I'll be very interested to see what the next pick is like and if they're sticking with hardcovers (which run counter to my sense of what format most book groups read in).
Almost as big: We're starting a book club! It lives on Instagram it's called Persist: A Feminist Book Club, and our first pick is Too Fat, Too Slutty, Too Loud by Anne Helen Petersen. (And it's a paperback!)
Speaking of Instagram Book Clubs: Reese Witherspoon has picked BR favorite The Widows of Malabar Hill for March!
Want something recent and overlooked? Here are 10 suggestions from writers, editors, and reviewers with books they feel could use more love, for the group that wants to read currently but is tired of bestseller lists.
Continuing in Read Harder suggestions: Genre books in translation! I cosign Invisible Planets, it's an amazing anthology.
For completists and followers of O'Neal's Razor: Here are some YA fantasy series that are either already done or will be finished in 2018. Enthusiastic cosign for the Nemesis series, Star-Touched Queen, and Wintersong! I do love a good duology, and there's tons of world-building and character development to discuss.
For history buffs: Elisa put together a list of 10 books about the Cold War, including fiction and nonfiction. For my imaginary Page To Screen book club, we'd pair one of those with a viewing of the 2015 remake of The Man From UNCLE.
For horror enthusiasts: Horror manga, for the group that is not scared of the dark.
Sometimes, you just want to have feelings, and here are some comics that can help with that. Comics are a great choice if you want something quicker, and books that are heavy on feelings are always great discussion fodder.
Remember: you should enter our Instagram giveaway! We're giving away $500 worth of gorgeous Penguin Clothbound classics.
And that's a wrap: Happy discussing! If you're interested in more science fiction and fantasy talk, you can catch me and my co-host Sharifah on the SFF Yeah! podcast. For many many more book recommendations (including the occasional book club question!) you can find me on the Get Booked podcast with the inimitable Amanda.
Your fellow booknerd,
Jenn
More Resources: 
– Our Book Group In A Box guide
– List your group on the Book Group Resources page