This edition of Today in Books is sponsored by Penguin Teen, publishers of Down and Across by Arvin Ahmadi.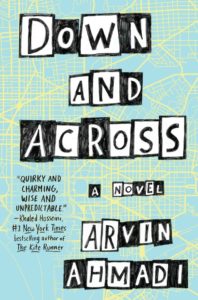 ---
Lee And Twain Dropped From Minnesota Curriculum
Harper Lee's To Kill a Mockingbird and Mark Twain's Huckleberry Finn were both dropped from the Duluth school district class curriculum due to the risk of students being marginalized and humiliated by the novels' use of racial slurs. The books will be available in the school libraries, but will be replaced in ninth and 11th-grade English classes. According to the local newspaper, no specific complaints were filed by students, but the titles' use created an uncomfortable atmosphere. The NAACP has voiced support for the move, while the National Coalition Against Censorship has criticized the decision.
ALA Announces Youth Media Award Winners
The American Library Association announced the top books, video, and audio books for children and young adults. Winners included Piecing Me Together, written by Renée Watson who received the King Author Award; We Are Okay, written by Nina LaCour, winner of the Printz Award; and Jacqueline Woodson, winner of the Laura Ingalls Wilder Award. Click here for the full list of winners.
Jay Asher Expelled From Writer's Organization
Jay Asher, a writer of best-selling young adult novels, was expelled from the Society of Children's Book Writers and Illustrators over sexual harassment allegations. According to SCBWI executive director Lin Oliver, claims against both Asher and illustrator David Diaz were investigated; both were found in violation of the society's harassment code and banned. The news came to light in result of a School Library Journal piece about harassment in children's publishing.