Welcome back to In The Club, a newsletter of resources to keep your book group well-met and well-read. Let's dive in.
---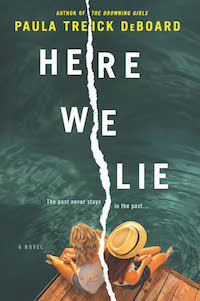 This newsletter is sponsored by Here We Lie by Paula Treick DeBoard, new from Park Row Books.
Megan Mazeros is a girl from a modest Midwest background, and Lauren Mabrey is the daughter of a senator from an esteemed New England family. Complete opposites on paper, the two become roommates at a private women's college and forge a strong friendship. The summer before senior year, Megan joins Lauren's family on their private island off the coast of Maine, as a last hurrah before graduation. But late one night something unspeakable tears their friendship apart. Many years later, Megan publicly comes forward about what happened, revealing a horrible, long-buried truth.
---
The Read Harder recs continue! Here are suggestions for celebrity memoir and Oprah Book Club selections.
Speaking of Oprah: The latest Book Club pick is Tayari Jones' An American Marriage 🎉.
Need some positive lit? Here are 10 books about overcoming the odds to inspire you and brighten your day/month/year.
Nature writing from the female perspective: This interview with Blair Braverman and Emily Ruskovich explores women's nature writing, both nonfiction and fiction, and is a great discussion starter!
Downton Abbey book club! We've got a list of diverse reads for Downton Abbey fans, and this is a golden opportunity to discuss one of your favorite shows alongside a book that expands on its world and timeline. I want to do this yesterday.
For awards trackers: The PEN America Literary Award finalists have been announced, and it's a hell of a list. The Debut Fiction category in particular is calling my name! The Bram Stoker nominees have also been announced, if horror is your group's jam.
Get regional: Kelly put together a Latinx YA reading list, organized by country! It includes both fiction and nonfiction, and has a ton of great picks for a group discussion.
And that's a wrap: Happy discussing! If you're interested in more science fiction and fantasy talk, you can catch me and my co-host Sharifah on the SFF Yeah! podcast. For many many more book recommendations (including the occasional book club question!) you can find me on the Get Booked podcast with the inimitable Amanda.
Your fellow booknerd,
Jenn
More Resources: 
– Our Book Group In A Box guide
– List your group on the Book Group Resources page